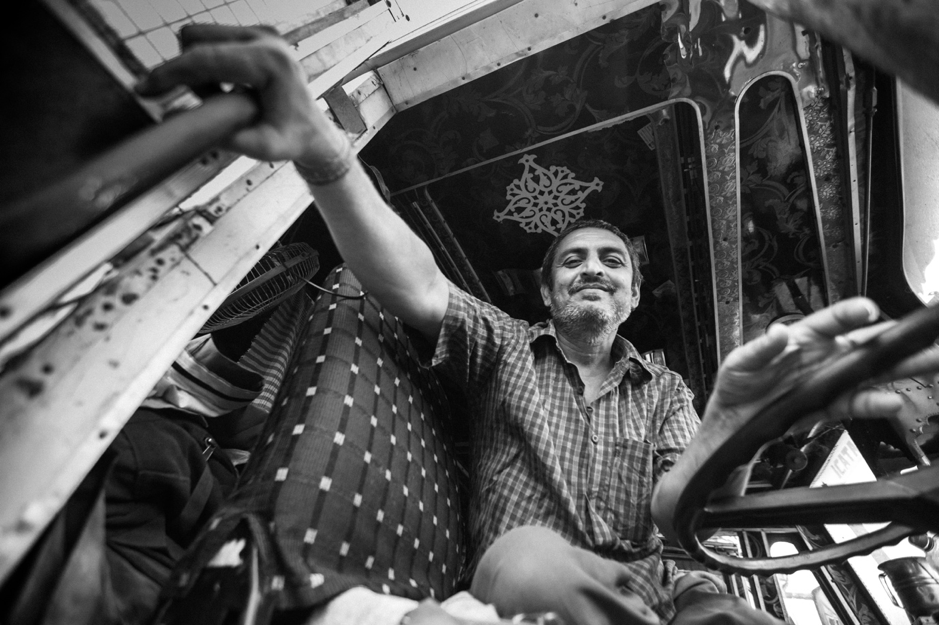 Mission 2020- Freedom for Truck Drivers in India | LocoDrive
With a pay scale lying between Rs. 10,000- Rs. 15,000, 53% of truck drivers in India suffer from health problems, with 23% troubled with lack of proper sleep, 18% from physical stress and 12% from mental health problems.
Support in delivering Food for Truck Drivers and their families: Donate in COVID-19 Driver Relief Fund
There is a symbiotic relationship that brews between the economic growth of a country and infrastructural development and investment. Whether it is a developing nation or a developed one, as the economy scales up, it acts as a catalyst for a much swifter transportation sector. The transportation industry holds the onus for facilitating movement of goods and people, which is why it has a direct impact on the development of a country.
The Indian transportation industry runs on an expansive highway network, with a robust freight movement all throughout. In fact, data suggests that on-road movement of freight in India constitutes of 63% of the sub total of movement of goods. The country documents a staggering 2.2 million heavy duty trucks and 0.6 million light duty trucks in its array that is tasked with carrying a load of 3000MMT (million metric ton) on an annual basis.
With such a vast network in its arsenal, the Indian transportation industry has been flourishing at a CAGR of 15%. The freight volume in the country has reached 1,325 billion ton-km, and by 2025, we should see the volume become twice the current size. On top of that, approximately 14% of our GDP is being contributed to steadily by transportation and logistics in the country.
While this paints a highly rosy picture on the outside, the reality is far from that. The harsh ground truth relays that the Indian transportation sector remains unsympathetic and has a merciless demeanour. It is inconsistently divided, with a lack of organisation and a host of obstacles to get through. The issues in this industry stem from inept infrastructure, a disregard for the industry by the authorities, ignorance towards upscaling and embracing technology and an inadequate structure of rules and guidelines in place.
While transporters across the nation deal with these challenges to the best of their abilities, it is the magnanimous truck drivers who bear the brunt. Touted as the backbone of this prodigious industry, truck drivers in India have been arduously battling the consequences with little to no respite.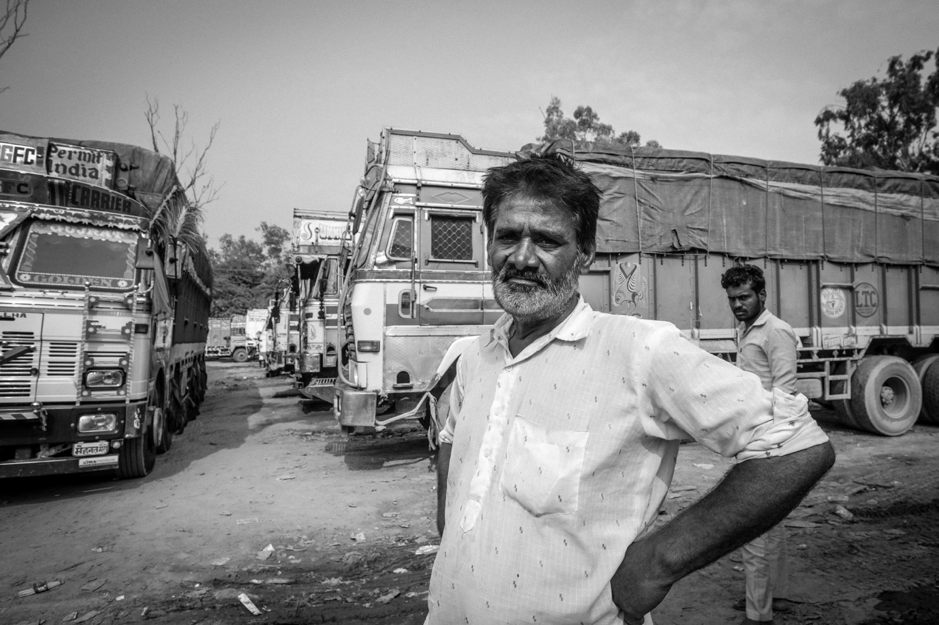 How it started?
The Indian transportation and logistics industry provides more than 22 million of the population with employment opportunities, from transporters to freight managers to the humble truck drivers. In totality, an approximate 8.5 million trucks of all shapes and sizes ply on the winding roads and highways of India. Thus, the statistics would well point towards the presence of at least 9 million truck drivers. But as things stand, the number of truck drivers in the country can barely touch the 5 million mark. So it is no surprise to learn that 28% of the majestic 8.5 million trucks in India are quietly sitting idle, waiting for a driver to steer the wheel. This begs us to question, why such a shortfall?
As per reports, an average truck driver in India earns somewhere between Rs. 10,000-15,000 in a month. This number in reality aligns perfectly with India's long standing history of underpaying truck drivers. Taking into consideration that this industry is dominated by single truck owners, fleet owners in general do not take heightened labour costs into account, in fear of running over their profit margins.
Statistically speaking, there should be a surge in employment opportunities for truck drivers in the nation. More than 60% of India's cargo and freight is moved each year by the transportation industry, which yields a compound growth rate of approximately 3 times greater than India's GDP. Theoretically, this should lead to more than a million jobs for truck drivers every year. But due to the highly unorganised framework of this industry, these numbers simply stay put on paper, with their implementation not seeing the light of day.
While the industry has witnessed a sea change in the decades gone by, the truck drivers seem to be stuck in a quicksand. Privatisation took the lead in the 90's, which opened up a stream of employment opportunities for the rural population apart from agriculture. The Indian economy went global, giving rise to the need for minimum wage employment. This, coupled with a guaranteed employment time, saw the industry widening with a plethora of truck drivers.
The truck to driver ratio in the country was documented as 1:1.3 throughout the late 80s, moving well into the early 90's. This translated roughly into availability of 1 driver per truck back in that time. Freight movement posed no problems, in fact, the industry seemed to be thriving, to say the least. For every 1,000 trucks, there was a slew of about 1,300 drivers.
The sweet nectar of employment opportunities made it easy for the rural populace to ignore the concept of education completely. This profession invariably started losing value, and was not being given the respect it deserves. The harsh working conditions, added on to an unfair payment configuration, ensured that education held no merit in this field for a long time. Many truck drivers in the country have barely finished primary school. Since the employment opportunities are quick, people who do get into this industry and become truck drivers decide to skip school entirely to start earning as soon as possible. A large portion of truck drivers in India come from families that are in dire straits.
The abysmal condition of Indian truck drivers
It is not unknown that truck drivers appear at the bottom of the chain when it comes to respect. This fragment of the Indian transportation sector has historically been privy to an astounding lack of approbation and dignity. It is a fact that truck drivers do not get deserved respect from civic authorities like police personnel and check-post officials during the transit of freight. On many occasions, discriminatory behaviour by authorities have been reported by many truckers, especially while crossing toll plazas or entering markets. There is also a predominance of corruption in several areas leading to unexpected delays and harassments during cargo movement. Moreover, there are state-specific laws in several regions leading to unnecessary complications. Most drivers do not have the educational background to deal with these legal complications, so they end-up with unnecessary troubles with authorities.
While the demand for truck drivers in the country has steadily been on the rise, the truck driver community is still reeling under the pressure of pay disparity. The undulating dynamics in terms of pay scale is one of the prime reasons for socio-cultural barriers coming up. In contrast to their counterparts oversees who take home around $40,000 annually, the truck drivers in India earn a meagre annual income of approximately $1,800-$2,400 on an average. The gap is widening with each passing year, and has created a substantial vacuum in the industry.
Another factor that adds on to this is their poor lifestyle decisions, some habits by choice, others due to bleak circumstances. Since drivers are forced to stay on the roads for days or weeks, away from their families, it invariably takes a toll on their health. Lack of proper sleep and food compels them to make do with unmodulated pit stops and makeshift eateries. The authorities too turn a blind eye towards providing adequate sanitation and rest stops to ease out this issue.
50% of drivers in the country undertake trips that are of over 12 hours with no breaks to speak of. Moreover, 46% of them continuously drive for the better part of six hours on their trips. In a bid to make deliveries on time, stressed out drivers have no option but to neglect their body's cry for help. In a study conducted by Kantar IMRB, in conjunction with Castrol India, findings revealed that truck drivers suffer immensely from physical stresses such as back pains (21%), joint pains (14%) and neck problems (12%). On top of that, such pressures relegates them to mental health problems, from depression to anxiety to insomnia.
Another long standing problem in the life of truck drivers is poor sexual health practices. HIV/AIDS continues to be a major public health issue in the country, and the truckers community has long been associated with transmission of sexually transmitted infections and HIV. One-third of the truck drivers in India indulge in unprotected intercourse with multiple CSWs, leading to a prevalence of STI symptoms in the 21% of the pool.
Negligence is also witnessed in case of providing the truck driver workforce with benefits. Medical, health and life insurance facilities are blatantly ignored. In the wake of a country that reports over 4.5 lakh road accidents each year, 30% of which involve commercial vehicles, absence of such benefits is indeed alarming.
The transportation industry in India has gained the tag of being unorganised and a propagator of labour intensive work, with no compensations like medical and retirement benefits in sight. This leads to a sense of bleak to non-existent career prospects within the driver community. Remuneration fails to come their way on time, and is not enough to sustain their life, let alone for their families, resulting in a pandemic crisis of absent job satisfaction. With no respite from these issues in sight, the truck driver community in the country is trying to valiantly battle for survival each day.
Introducing "Mission 2020"
In addressing societal challenges, companies have long run their Corporate Social Responsibility (CSR) programs. But here societal impact and shareholder returns are pursued separately. But today it is not enough for companies to pursue societal issues as a side activity. At LocoNav, uplifting the lives of the drivers is a part of our core business. The pursuit of societal impact is an integral part of our strategy and value creation. Hence the program LocoDrive was born!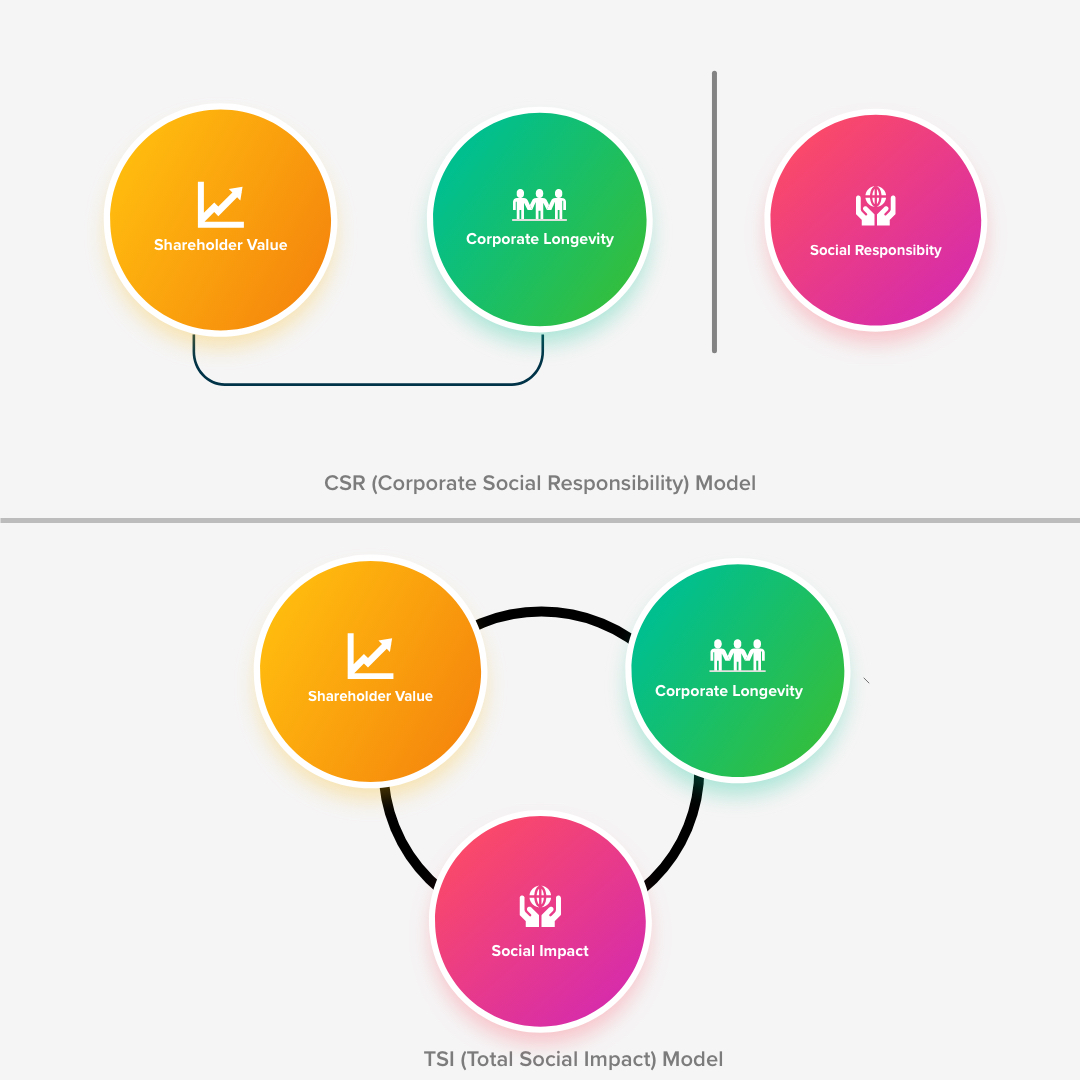 The foundation of the LocoDrive initiative comprises of a complex and intricate network and training profile. It takes on the values of sustainability and corporate strategy, culminating into a structure that relays holistic growth and development for all stakeholders involved. The partnership between the internal entities of the organisation with the external elements and institutions (the drivers in the system pipeline and the customers) is directly proportional; growth in business is going to directly impact the growth in the society, and vice versa. On adoption of the framework by Jane Nelson ("Leveraging the Development Impact of Business in the Fight Against Global Poverty"), the plot of Total Social Impact (TSI) against Total Shareholder Return (TSR) depicts that the LocoDrive program sitting at the upper right quadrant, displaying a feature of using core business to make positive contributions to the society.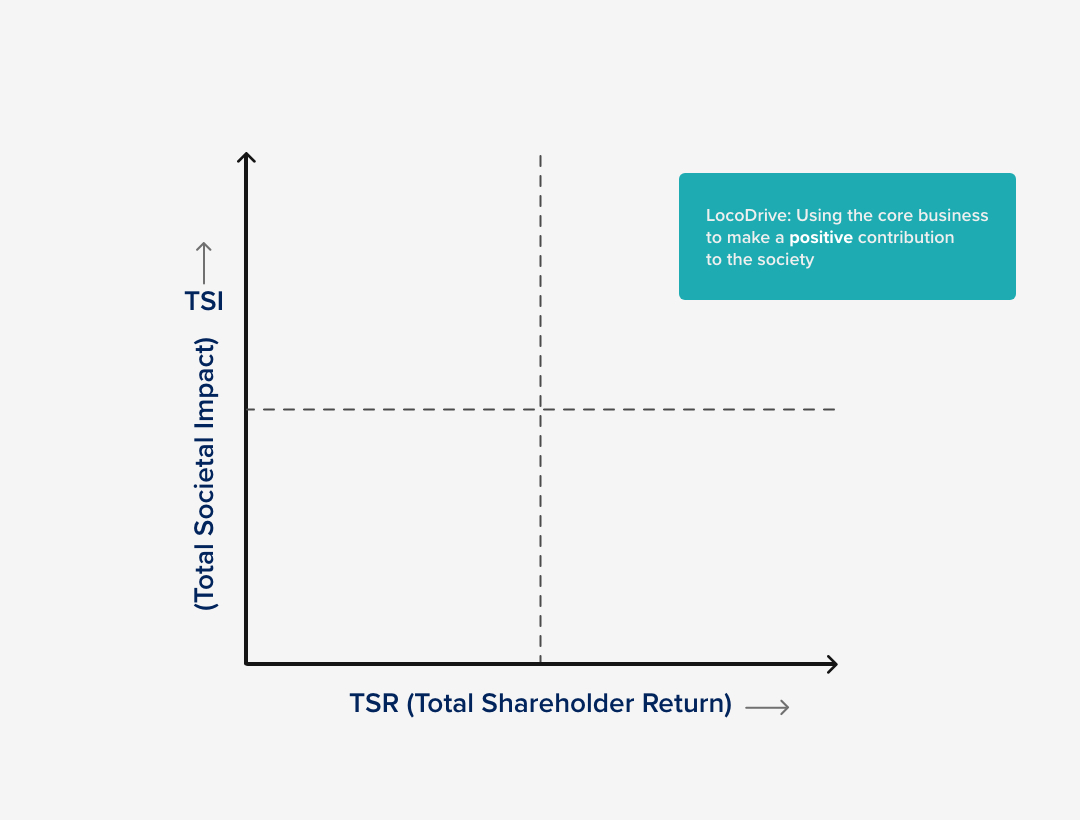 The LocoDrive program works on the proposition that in order to subject a truck driver to proper skill development, he must be made aware of certain internal and external pressures, along with a blend of technical and inter-personal training.
Once a driver comes into the LocoDrive ecosystem, he is introduced to the three pressure frameworks: coercive, normative and mimetic. Coercive pressures demand that the expectations of external stakeholders, be it government agencies or other regulatory bodies, are appropriately met. Normative pressures focus on immaculate work ethic, professional codes and a general sense of responsibility towards the society and the environment. And lastly, mimetic pressures dictate that the vision and goals of LocoNav are "mimicked", i.e., the clarity and conceptualisation with which the organisation is moving forward and hopes to achieve is understood and enthusiastically shared by the drivers. These three areas of pressure are moderated by top level management and conveyed to the drivers in the ecosystem by means of rigorous training.
The training then moves onto honing and fine-tuning technical skills, along with behavioural patterns. This is an important aspect to ensure that personality traits should be developed that lead to a more well-rounded workforce in the country. This entails a combination of physiological and psychological guidance, in conjunction with technical trainings that work on the fundamentals. When the training comes to a close, the LocoDrive driver is well and truly prepared to venture out into the industry as a changed man.
Under the umbrella of the LocoDrive program lie a host of benefits for the truck drivers of the nation.
A promising career program path: The program will foster a performance evaluation scheme, wherein trained drivers after 6 months of being on the job will be assessed. Demonstrating promising performance will entitle them to move on forward with their career, leading them to fall into a better pay scale band, along with additional incentives to propel their career growth.
Life and health insurance: Taking the safety and security of the truck drivers into account, LocoDrive will provide an insurance claim of upto Rs. 34 Lakh for them, along with their family members. This step will be taken to ensure a secured life and future for truck drivers and their dependants back home.
Access to driver relief fund: A separate incentive comes in the form of the driver relief fund, under which additional costs in times of emergencies will be covered by LocoDrive. For unforeseen circumstances, LocoDrive will ensure that the drivers are never left in the lurch.
A sense of accountability towards environment and regulatory norms: Under the training provided to drivers in the LocoDrive program, they will be sensitised towards the impact of their work on the environment. Bringing the concept of sustainable development into the picture, the drivers will become more mindful of emission norms, pollution checks and traffic rules and regulations.
Enriched family life: LocoDrive aims at providing the driver community with adequate work-life balance. With a steady and secure income, along with designated working hours, the truck drivers can enjoy their family life, alleviating the stress of missing out on spending quality time with their loved ones.
Access to Child Education Program: A special Child Education Program is also a part of the LocoDrive venture, which entails sponsorship for the education of the children of truck drivers in the LocoDrive ecosystem to build a better world for them, and to enhance the country's future workforce with quality education and better career opportunities.
Respect in society: Under this flagship program, truck drivers can work towards bridging the socio-economic gap that they have witnessed so far. The intent is to generate a well-groomed and confident rank of drivers in the country. Developed inter-personal skills will lead to a better communication channel between drivers and the society, allowing people to see them beyond simply being a truck driver.
Access to Driver Entrepreneurship Program: To propel their careers forward, LocoDrive will help the top performing drivers kick start their own ventures, providing them with business loans, working capital and insurance. A multitude of business connections and load opportunities will also be furnished to the drivers, arming them with the ability to scale up in their profession.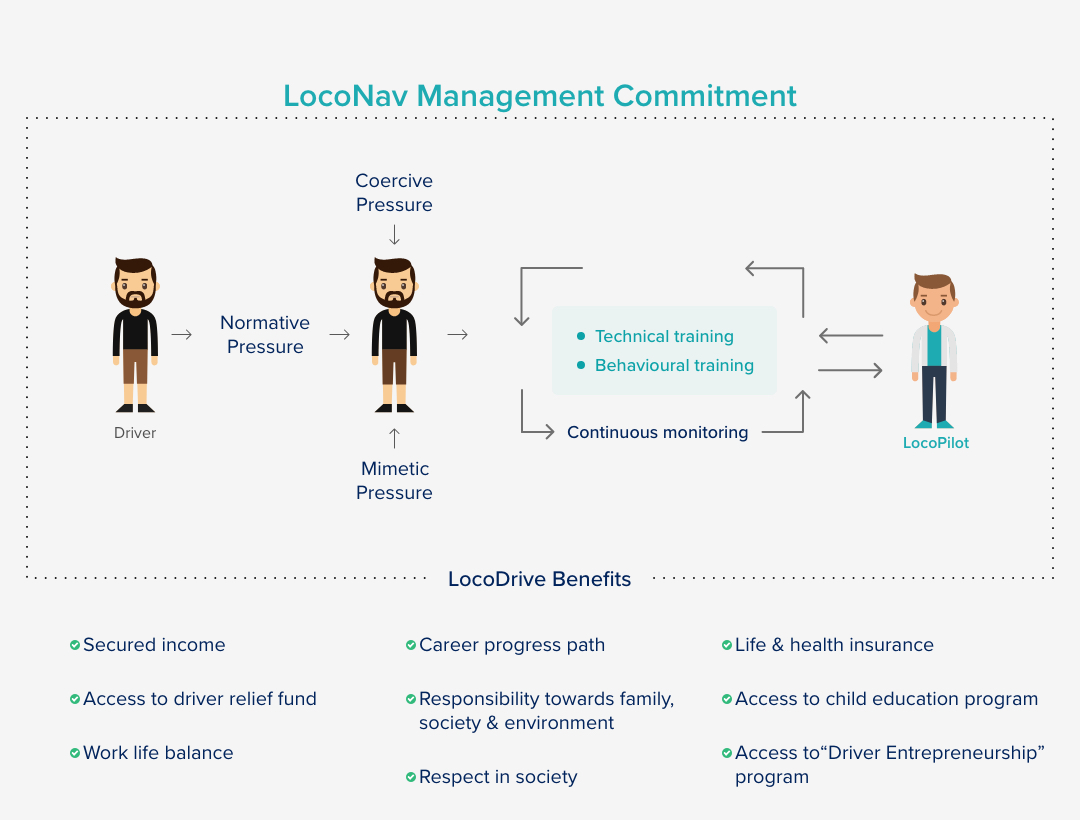 As George Dei said:
Inclusion isn't bringing people into what already exists; it is making a new space, a better space for everyone
LocoNav is aimed at empowering drivers through LocoDrive program with a means to take full control over their lives and their career paths, coupled with inculcating a sense of freedom in them to expand their horizons and live a life enriched with respect and dignity.