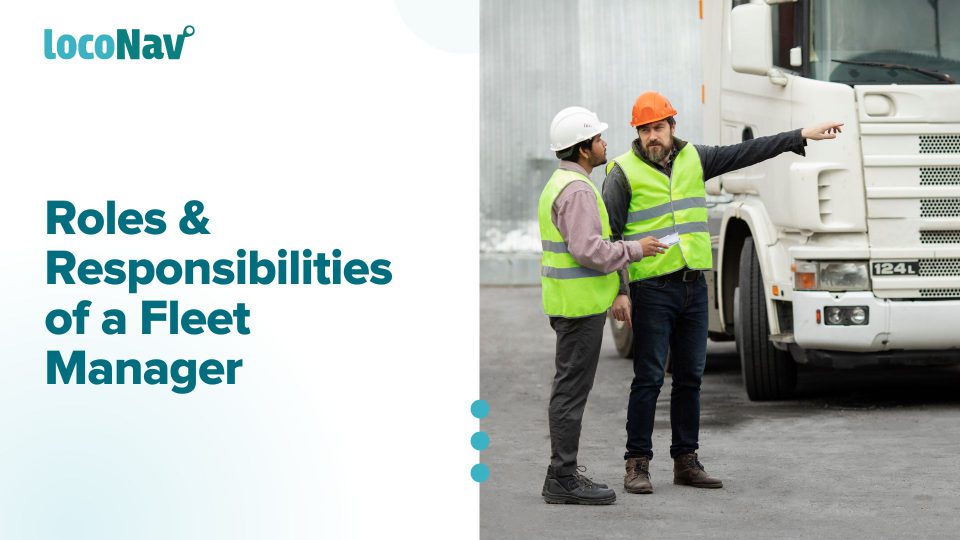 Essential Duties Of A Fleet Manager
Have you ever considered how all your products are delivered on time? From vegetables and milk to all online shopping deliveries. There is a significant amount of work involved in taking these deliveries from the warehouse to the delivery van and all the way to the end destination.
Optimising fleet management is a vital and sometimes neglected business activity. But that may have a big influence on the bottom line for organisations that utilise mobile workforces and fleets of vehicles. Your fleet manager is the master behind the scenes who control every detail, big and small, ensuring that each activity stays on schedule to accomplish corporate goals.
In this blog, we will highlight the important duties of fleet managers that make your fleet operations a success. 
Manage your fleet efficiently with LocoNav's Fleet Management Solutions!
What is a Fleet Manager?
Each fleet has its own set of unique activities and obstacles that fleet managers assist in navigating. A fleet manager manages a company's fleet operations in order to make it run efficiently, safely, and in accordance with laws and regulations.
A fleet manager is a person in charge of a company's fleet of vehicles. This encompasses everything from hiring to sustaining fleet efficiency. Fleet managers are in charge of controlling and overseeing the costs of the vehicles that their companies own or lease. They may also design driving schedules and implement standards based on company objectives to handle vehicle utilisation and driver behaviour.
Responsibilities of a Fleet Manager
A fleet manager's responsibilities vary depending on the industry and size of the fleet, but they are in charge of the company's vehicles, its drivers, and senior management.
Towards Fleet Vehicles
The fleet manager is in charge of overseeing the complete vehicle lifecycle process. The first step is to investigate the best vehicle options and design a fleet depending on a company's operations and budget, followed by overseeing their procurement.
Fleet managers are then in charge of processing and maintaining vehicle licences and registration, as well as insurance. When a vehicle can no longer be used for its intended function, the fleet manager decides whether to lease, sell, reassign, or discard it.
The fleet manager must manage the following actions to guarantee that vehicles always function safely and efficiently:
Dispatching and scheduling (Achieve effective scheduling by using LocoNav's trip management functionalities)
Inspection and upkeep
Utilisation and route planning (Make sure your drivers follow the most optimal route using LocoNav's route optimisation feature)
Tracking in real-time
Performance monitoring, documentation, and enhancement (Monitor vehicle and driver performance using LocoNav's performance scorecards)
Towards Fleet Driver
A fleet manager is in charge of the following driver management operations:
Monitoring, correcting, and improving driving behaviours and operations
Driver mentoring, coaching, and rewards
Assisting with driver recruiting, discipline, and termination
Establishing driving schedules
Monitoring driver attendance, health, and other conditions
Ensuring that drivers follow all required transportation regulations
Keeping in close contact with drivers
Driver education on risk management measures, safety requirements, and other topics (Use in-cab and on-road dashcam footage to coach drivers on real-world best driving practices)
Towards Company's Senior Management
Fleet managers report to the management teams of their companies. A manager must guarantee that the fleet assists in the achievement of company goals while utilising available resources.
A fleet manager is accountable to upper management for the following:
Issues and bottlenecks discovered in fleet operations
Fleet performance and costs (Record all fleet performance metrics using LocoNav's comprehensive reporting system)
Budgets and significant purchases
Fleet operating expenses
Conclusion
Though it used to be a position that was exclusively focused on managing your fleet's schedule, fleet management tasks and responsibilities now include the ability to lead and coach not only the fleet staff but also drivers and various management levels.
A fleet manager may also be the servicing or office manager for a small business, therefore they have additional responsibilities in addition to overseeing the fleet. A successful fleet manager develops a cooperative, working relationship with all internal corporate functions related to the fleet function.