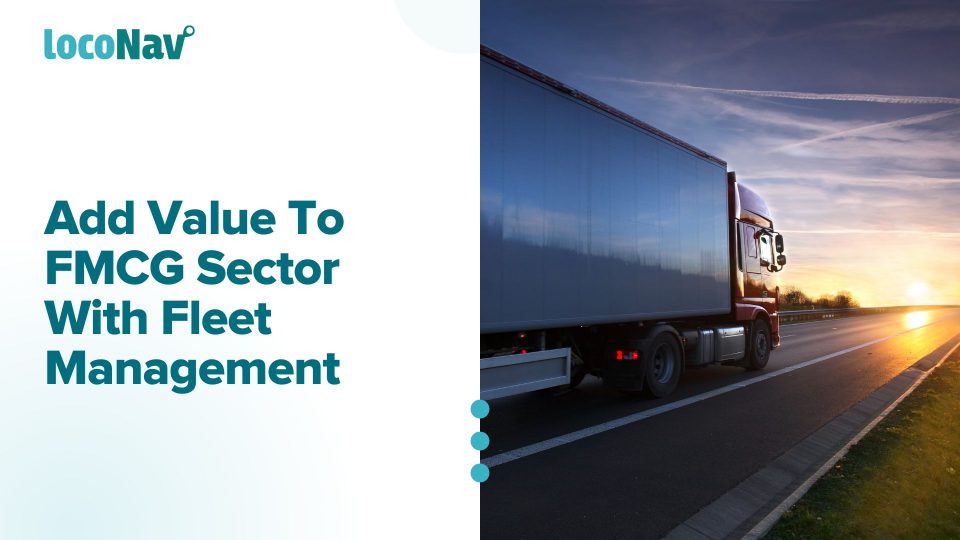 Why Should You Invest In FMCG Fleet Management?
The Fast Moving Consumer Products (FMCG) industry is the most prominent in terms of consumer goods production, packaging, and delivery. In general, FMCG goods have a relatively short shelf life and may require refrigeration. Therefore the timely distribution of these products is a vital component that determines industry performance.
As a result, FMCG companies want speed, safety, and precision in product delivery all the way to the last mile. Tight deadlines are set for transporting perishable commodities over great distances in a short amount of time. Businesses and distributors are turning to technologies such as GPS-enabled tracking software to help them overcome the hurdles of transportation and delivery.
In this blog, we will explore the various benefits of investing in FMCG fleet management.
Manage your fleet efficiently with LocoNav's FMCG Fleet Management Solutions!
Roadblocks in the FMCG Supply Changes
Here are some of the main challenges that a fleet in the FMCG industry faces:
Inadequate infrastructure leads to an excessive increase in total logistics costs, which have a substantial impact on delivery and operational efficiency. Poor roads, an imbalanced transportation system, and a lack of technical assistance are all major issues for the FMCG industry.
It is highly difficult to coordinate the many FMCG supply chain segments, such as vendors, carriers, transporters, warehouses, and clients.
For FMCG supply chain partners, the lack of real-time data transparency is a hurdle.
It is challenging for FMCG companies to make quick decisions and come up with innovative solutions to difficulties.
Counterfeit products undermine firms by draining income and tarnishing brand image. Clients get a rough deal since, even after paying more money, they get low-cost goods that are plagued with health and safety hazards.
Benefits of Fleet Management for the FMCG Industry
Implementing a GPS-based FMCG Fleet Management Solution in can help firms in a variety of ways.
Reduce Fuel Costs
Unauthorised or inefficient routes, rash driving, excessive speeding, unnecessary idling, vehicle misuse, and other factors will result in increased fuel costs. This can be addressed by utilising a GPS tracking device that is automated. These solutions will help to assure on-time deliveries by taking the quickest and most direct route, so minimising fuel expenditures.
Prevent Perishable Goods Damage
FMCG goods necessitate continuous temperature monitoring; even minuscule changes will destroy the goods, resulting in a potentially large loss. FMCG Fleet Management Solutions will assist in monitoring temperature levels in real-time so that notifications are sent on events of temperature change. It also offers anti-theft options such as engine immobilisers, which will assist fleet operators in responding in the event of vehicle theft.
Keep Track of Driving Patterns
Drivers operate your fleet, and their on-road behaviour and practises with the vehicle are decisive factors for your business' brand value and vehicle lifespan. As a result, it is critical to monitor risky and unprofitable driver behaviour to preserve the engine's longevity.
An FMCG fleet management solution, such as LocoNav, will enable fleet managers to track driver behaviour, providing unbiased data, eliminating high-cost maintenance, ensuring driver safety, and eliminating malpractices. Accountability for their conduct will make your drivers more conscious of their driving habits while on the road.
Deliver On Time
Each late delivery harms your business and your brand's market image. Manually assigning routes and trip plans for your fleet without monitoring leads to missed and delayed deliveries, which generate a terrible impression among consumers.
However, with FMCG fleet management, you can optimise and automate all of your trips, routes, and deliveries, as well as track and monitor them. Any contingencies, like accidents or bad weather, will be prepared in advance and communicated to the drivers in order to avoid delays and re-routing.
Create Insightful Reports
You can automatically generate large numbers of figures generated from prior records, history, and statistics and transform them into useful and actionable information and reports, report on various Alerts & Alarms issued, and so on using the FMCG fleet management solution. This can provide beneficial ideas and deviations to processes with accuracy while also saving a lot of time.
Plan Efficient Routes
You know how difficult it is to decide on a route plan if you work in the FMCG business. A delivery booking system supports managers in scheduling delivery dates and routes to efficiently carry products to the final client.
Arranging trucks and planning routes get difficult in instances when clients have short-notice demands. A fleet management system like LocoNav can automate route planning while saving a significant amount of money on transportation expenditures.
Conclusion
A fickle consumer base, increased corporate competitiveness, distribution issues, limited resources, and increased complexity in all aspects of business operations characterise the FMCG industry. As a result, an FMCG Fleet Management Solution employs integrated strategies ranging from various equipment to sophisticated software. It provides a more modern and up-to-date approach to supply chain management. IoT empowers truck tracking technologies in more ways than one that extends beyond the delivery.