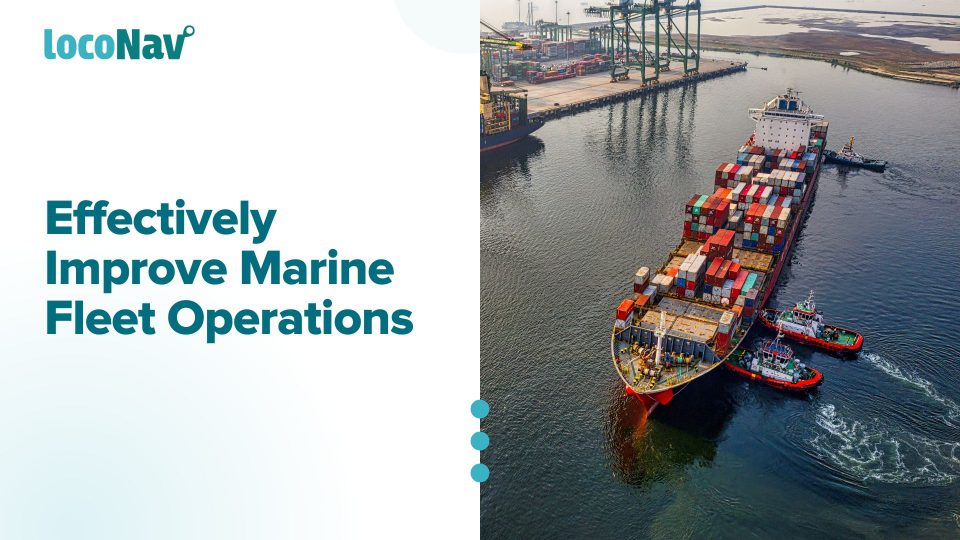 4 Ways To Optimise Maritime Fleet Management Operations
Maritime transport is one of the most important ways of transportation and shipping in the world. Consequently, maritime fleet management is an important solution. It has been around for ages, assisting humans with their travel and commercial needs. Despite the development of new means of transportation, sea transportation remains vital. According to estimates, the sea transports over 90% of the world's shipments.
Improvements in maritime transportation have been made over time. With the development of modern ships, the transport sector has become more effective and risk-free. The most recent cutting-edge ships have eliminated distance and time limits. You can now travel from one end of the world to the other in less time. Advances in shipping technology have resulted in a broader range of nautical services.
In this blog, we will discuss some basics of maritime fleet management and how you can improve the functioning of your maritime fleet.
Manage your fleet efficiently with LocoNav's Fleet Management Solutions!
What is Maritime Fleet Management?
Ship owners and managers are constantly under pressure to make operations cheaper and more efficient. Therefore it is critical to extract relevant operational intelligence from maritime fleet management data.
To properly manage a modern fleet, whether it consists of a few or hundreds of vessels, data smart maritime fleet management software is required. It is a solution based on an integrated approach that can provide the knowledge required to increase efficiency, save operating expenses, and remain competitive in the maritime industry.
To ensure the value of your data and achieve success, a maritime fleet management system deployment requires acquiring and migrating data from multiple sources. It is critical to have exposure to domain expertise and best practices from past implementations.
How Does Maritime Fleet Management Optimise Operations?
Here are 4 ways a Maritime Fleet Management System can help your feet
Accurate Planning
When it comes to optimising fuel management across any fleet, planning and preparation are critical initial steps. This is why having access to the correct data, reports, and a mix of dashboards intended for various job functions within an organisation comes in handy.
You must keep all of your data in one central, easily accessible area. And, in order to enhance management success and simplify decision-making, all users must be able to access the same data whether at home or in the office.
You'll need powerful analytics tools to report on a variety of activities. For example, comparing vendors and contracts, and tracking your fleet's location, route, fuel consumption, and ship speed, among other things.
Maximise Available Cash Flow
Optimizing fleet operations necessitates precise cash forecasting, cash flow management, counterparty risk management, and maximising available capital (credit).
A comprehensive set of financial management tools that are usually integrated within a maritime fleet management system suffice for this requirement.
Improve Fuel Efficiency
Knowing where your fleet is going, how much fuel is being consumed, and how much fuel is left onboard is critical. It is critical to track fuel usage because it is one of the most expensive expenses in any fleet-related organisation.
The maritime fleet management software assists you in keeping track of the vessel's fuel consumption. As a result, you can simply identify which of your fleets is consuming the most fuel and, as a result, you can readily judge which vehicle is working inefficiently and consuming too much fuel.
A maritime fleet management system helps you analyse trends of refuelling, fuel consumption, and fuel drainage to help you maximise the efficiency of your fuel.
Ensure Regulatory Compliance
To eliminate the potential difficulties of operational error and the costs related to regulatory compliance across your fleet, best practice procedures and rigorous auditing systems must be established. A maritime fleet management system helps you keep track of all necessary documents and licensing requirements to make sure your maritime fleet is compliant with government norms.
Conclusion
Technology has assisted several industries to achieve better economies and operational scale over the years. Using a marine fleet management system, the fleet manager saves time that would otherwise be spent reorganising data from multiple vessel inspectors and can also verify that all compliance-related issues are addressed and the loop is completed. This would not be the case if it were managed on spreadsheets or emails, with multiple non-conformities going unnoticed and resulting in significant penalties.