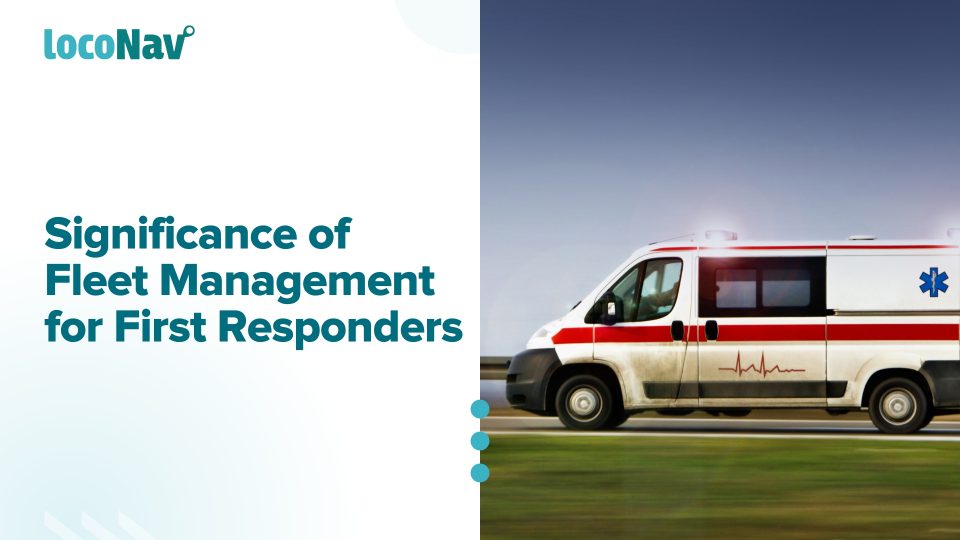 Significance of Fleet Management Solutions For Emergency Services
Every second counts in an emergency, thus it is critical for emergency vehicles to get to their locations as soon as possible. The majority of the vehicles handle crucial situations, such as roadside patrols, ambulances, accident recovery vehicles, and bank security vehicles, among others.
As it becomes more difficult to track each vehicle, many fleet owners are beginning to adopt fleet management systems to track their vehicles. Similarly, fleet management systems for emergency vehicle tracking provide a way to keep a track of vehicles that are on active 'runs.' This substantially assists fleet management in dispatching the nearest vehicle to the location. With punctuality being utterly important, this solution assists in minimising arrival delays to locations where lives can be saved.
In this blog, we will discuss the importance of deploying a fleet management solution for emergency fleets.
What are Emergency Services?
Emergency services are organisations that protect public safety and health by responding to and resolving various emergencies. Some of these agencies exist expressly to respond to specific types of emergencies, while others deal with impromptu events as part of their regular duties. Many of these agencies participate in community awareness and preventive initiatives to assist the public in efficiently avoiding, detecting, and reporting emergencies.
Emergency services are frequently seen as first responders. There are three main types of emergency services.
Police Personnel
Fire Fighters
Emergency Medical Services
Main Obstacles for an Emergency Services Fleet
A few prevalent issues that poorly affect emergency services fleet management operations include
Cost control is a constant concern for fleet managers. And when it concerns fleet management costs, fuel is a key role. An increase in oil price swings might make fuel cost planning even more difficult.
Similarly, optimising emergency fleet routing is crucial for vehicles to get to their destinations on time during natural disasters. Because disasters have a significant impact on transport systems, the efficiency of an emergency transport system can be critical during the mitigation phase.
Ambulances, fire trucks, and police vehicles are dispatched to a certain site as soon as feasible. Failure to use appropriate technology to track cars and optimise routes can lead to higher expenditures, wasted fuel, and, ultimately, failure to respond to an emergency in time to preserve property or lives.
All fleet managers have the problem of preventing risky driving behaviours, and emergency fleet management is as vital. Drivers in emergency response scenarios must be extremely cautious since they may be under stress or operating in substandard conditions.
4 Benefits of Fleet Management for Emergency Service Fleets
Amidst all these issues, fleet management rises as a hero for emergency services fleets. Here is how
Promote a Safer Work EnvironmentInstalling fleet tracking software allows managers to discuss safe driving behaviour with their personnel. Transparent dialogues concerning drivers' abilities to track their speed, harsh braking, and acceleration are the first step toward managing and coaching better behaviour to establish a secure environment during emergencies.
Build Better Maintenance SchedulesMaintaining emergency response vehicles effectively is a critical, but also monumental, task. Simplifying vehicle maintenance routines also relieves managers of the stress of manually tracking schedules based on employee reports.

Setting preventative maintenance routines saves time and money, which means more money can be spent where it can have an impact on the job for people in need. Managers can also get proactive alerts for routine preventive maintenance and proactively track vehicle service and completion dates, giving them more control over scheduling and making better, data-driven utilisation decisions.

Improve Fleet EfficiencyShift change can be a perplexing experience that steals precious minutes from those in need. Vehicle tracking gives you visibility into your vehicle's present location and allows you to reclaim valuable time.

With telematics, fleet managers only need to look at a digital display to see which vehicle is available, enabling first responders to get into vehicles faster and spend more time attending to people in an emergency. Fleet management software reduces fuel-wasting behaviour, which is one of the most expensive costs for most fleets in any business.

When almost every second counts, enhancing route efficiency is an absolute must. With autonomous asset tracking and automated warnings, route optimisation helps to more efficient communication and improved vehicle use. In the event of an emergency, fleet management software allows managers to rapidly adjust vehicle routes and timetables based on vehicle locations, current task assignments, and kilometres driven.

Use Valuable Data InsightsFleet metrics help fleet managers make the most of limited resources by providing thorough usage information on miles travelled, engine hours, days used, number of trips, and more. Integrate with navigation systems to acquire up-to-date weather and traffic data to route vehicles more efficiently in changing conditions.