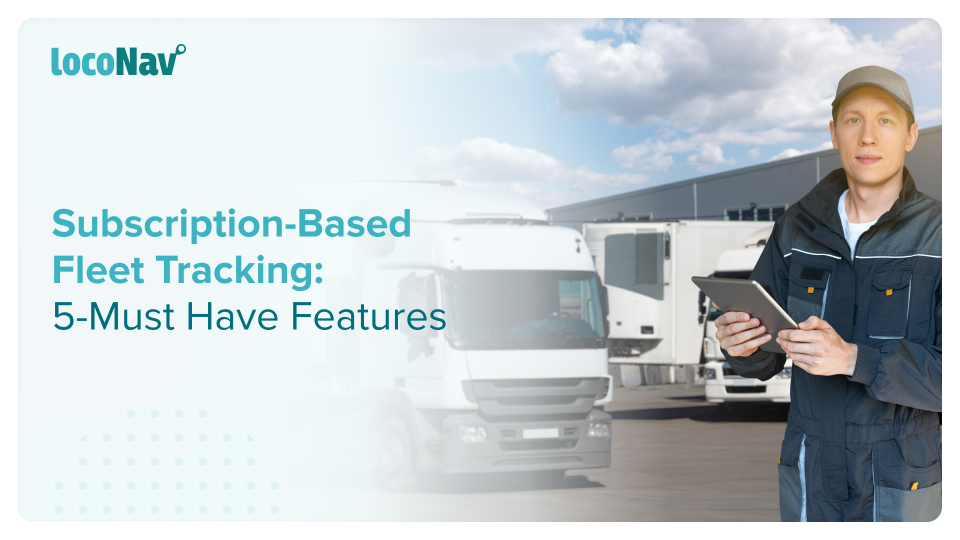 Everything You Need To Know About Subscription Based Fleet Tracking
Without a question, transportation plays a significant role in global supply chain and logistics management, aiding overall economic growth. This industry has undergone significant technological changes in the recent few years. More and more fleet managers are turning to fleet management solutions to enhance fleet utilization, reduce waste, and restrict fuel costs to keep the transportation sector up and running.
If you run a fleet and want to compete in today's market, you have probably thought about investing in a subscription-based fleet tracking app. These apps assist your fleet in keeping track of its vehicles, drivers, and assets by capturing crucial data such as vehicle location and diagnostics using hardware and software. Before investing in any fleet technology, you should be aware of the associated costs. Fleet tracking software has varying pricing structures, but there are key factors to keep in mind during your search.
Manage your fleet efficiently with LocoNav's Fleet Management Solutions!
What is the Use of Subscriptions in Fleet Tracking Apps?
With so many fleet tracking solutions on the market, each one is expected to be capable of more than just tracking. When a corporation buys a fleet tracking service, it is making a long-term commitment.
However, if we look on a daily basis, fleet managers may not be equally distributed throughout the year. Some fleet vehicles are only used seasonally and may not require tracking all year. Subscriptions give customers the ease of having a fleet tracking app available whenever they need it, without the limits of a year-long commitment.
What Kinds of Costs are Associated with Fleet Subscription Apps?
While actual figures may vary depending on the provider you choose, there are some costs that are generally associated with fleet subscription apps:
Setup Cost
Many fleet tracking programs charge an initial fee for setting up the fleet tracking software, installing the devices, and activating them. These are one-time charges that are typically assessed per device. As a result, while budgeting your expenses, multiply the setup cost with the number of vehicles in your fleet that you wish to track. If you are on a tight budget, seek for providers who provide free installation and setup.
Software Cost
Naturally, you will want a fleet tracking software that works in tandem with your fleet tracking hardware. In most circumstances, the two are constructed concurrently. Conduct research on the software you intend to use to ensure that it is simple to use, assists you in obtaining the data you require, is compatible with all of your devices and links to your tracking hardware.
Hardware Cost
For your subscription based fleet tracking apps to work on your fleet vehicles, you will need to deploy certain tracking devices on your vehicles. Usually, these hardware costs are an upfront one-time investment. Be sure to check the price point of the trackers along with their features, and most importantly, the shipping costs of these hardware devices.
What are the Important Features You Should Look For in a Subscription Based App Tracking?
Your fleet tracking app's price is not your only worry. You want to ensure that your fleet is getting the best of the best in terms of safety, efficiency, and production. The top fleet tracking applications provide a number of functions that you can utilize on a daily basis.
#1 Software Compatibility
If your fleet tracking app does not synchronize with your fleet management software, you will not get the most out of it. When your data is consolidated, everything is up to date and ready to be used to make decisions and identify any problems as soon as they happen.
#2 Ease of Usage
Your subscription-based fleet tracking app should be understood by even the least tech-savvy member of your workforce. It will not benefit your fleet if it demands hours of training and a lengthy adjustment time. When the software is simple and uncomplicated, it will be simple to integrate into your daily activities.
#3 Real-Time Tracking
You will constantly be behind if your app does not work in real time. You can easily address difficulties and convey status to drivers and consumers using real-time location tracking.
#4 Unlimited Users
The software must be capable of covering your complete fleet. Even if you can cover your complete fleet right now, your company needs room to expand. Look for a fleet tracking solution that bills based on the number of assets, not the number of users.
#5 Access Levels
Everybody in your fleet does not require the same level of access to your fleet tracking app. Access should be adjustable so that everyone has access to the features they require.
Why is LocoNav the Best Subscription Based Fleet Tracking App?
A fleet tracking app, such as the one provided by LocoNav, when combined with its Fleet Management Solutions, can handle a variety of jobs efficiently. Certain issues, such as traffic congestion, accidents, extreme weather, or global pandemics, that are certain to have a negative impact on your business or service, necessitate the implementation of fleet tracking software.
Choose a fleet tracking app that is scalable and capable of addressing operational inefficiencies, identifying non-compliance, and other anomalies or discrepancies. It will assist fleet managers and owners in successfully addressing challenges and making strategic decisions to reach higher levels of operational efficiency and profitability.