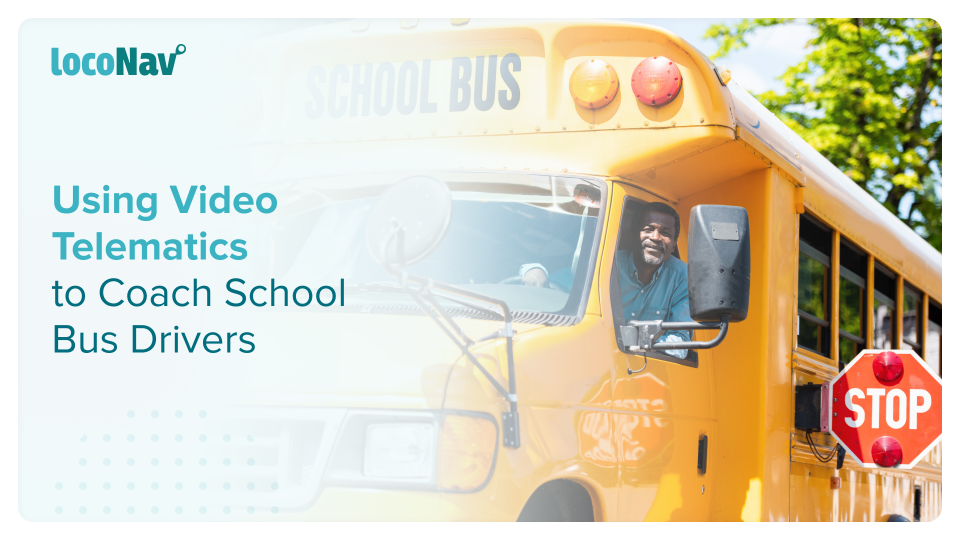 Using Video Telematics to Coach School Bus Drivers
Ensuring the health and safety of students on school buses is a priority for any school. GPS and IoT-based telematics technologies have made significant breakthroughs in recent years. And Video Telematics is at the forefront of emerging technologies, promising an unparalleled degree of visibility and intelligence to take school bus safety and reliability to a whole new level.
In this blog, we will explore Video Telematics technology and how insights derived from it can be employed to coach school bus drivers.
How is your School Bus Fleet Incomplete Without Video Telematics?
Most parents regard school buses as a handy and dependable mode of transportation for their children. It is true that school bus fleets are widely available, easily accessible, and comfortable modes of transportation. They do, however, have certain basic safety flaws that should not be neglected, and can be easily rectified.
School buses are generally on a strict schedule. However, there can be delays due to unaccounted traffic. This may motivate the driver to over speed or drive recklessly in order to make up for the lost time. This endangers not only the children but the drivers and the vehicle itself.
It is absolutely necessary that school buses be driven by verified drivers only. While the school authorities can ascertain who drives the bus on the school premises, it may not be the case everywhere. Your school bus driver may willingly or unwillingly have to give up the driving duty to a driver unapproved by the school administration.
Drivers may use their phones while driving or engage in other activities that reduce their driving concentration. Distracted driving is a pertinent cause of road accidents and can endanger the health and safety of school children.
Pick-ups and drop-offs are generally fixed for school buses. This means that the driver is required to follow a specific route that is created and approved by the school administration. Drivers may, however, deviate from that route due to personal reasons or to cut down time. This is an unwanted scenario in the case of school bus transit.
To keep an update on delays and traffic during a trip, it is important to keep a check on idling events. This ensures that any delays caused are absolutely unavoidable.
Advanced Video Telematics Solutions at Ridiculously Accessible Prices!
How Can LocoNav Video Telematics Improve Driving in School Buses?
LocoNav Video Telematics offers more than just video footage. It is an important tool for improving the driving behaviour of school bus drivers. The video footage and driving alerts generated during a trip can act as an effective coaching method for drivers. They can analyse their own driving behaviour and take corrective action.
Drivers are more accountable when using video telematics systems. The performance cards of these solutions are regularly assessed and monitored. Drivers can be appropriately instructed using the recorded footage of occurrences on the dashboards of buses. Video telematics technologies provide a real-world context for driver performance. This allows vehicle owners to focus on specific needs for increasing driver performance.
The LocoNav Video Telematics Solution is capable of monitoring and flagging the following events, which can later be used to properly coach school bus drivers:
Distracted Driving
The driver monitoring system (DMS), often known as the driver attention monitor, is an excellent instrument for tracking the driver's attentiveness and other in-flight actions. It employs cameras with infrared detectors that can detect a driver's facial and eye movements.
This device provides incredible visibility and assists businesses in monitoring their drivers, particularly on lengthy travels. If a driver is not paying attention and takes their eyes off the road, the system will notify them. Real-time alerts assist drivers in regaining concentration and are an excellent approach to resuming safer driving practices.
Stop Sign Violation
Video clips augment fleet telematics data by providing context for incidents and assisting you in understanding why they occurred. Fleet telematics can inform you how fast a driver was travelling before a collision, as well as the time and location. A Video Telematics system, such as LocoNav, will, however, also tell you whether the driver ran a stop sign, which caused the accident.
Tailgating
A Tailgating warning is issued when your driver follows another vehicle for a lengthy period of time below the safe Time-To-Collision (TTC) standard. A Tailgating Warning has the power to ensure that every driver in your school bus fleet drives safely. This offers fleet managers actionable insight to better manage their drivers.
Forward Collision
FC Warnings are intended to identify and alert the driver to a hazard in front of them, giving the driver enough time to brake or swerve to prevent a collision. A forward collision warning system warns the driver if a collision is imminent. This not only protects the driver's safety but also protects the students on the school bus.
Lane Drifting
If there is a chance that the vehicle will unintentionally leave the moving lane, the system will offer visual and audible notifications to advise the driver to take action. The device visually monitors the travelling lane's left and right side lane markers. If the vehicle is in danger of leaving the travel lane unintentionally, the system lights an indicator and a warning sound is generated.
Posted Speed Violation
This feature uses GPS to synchronise the vehicle's position with a database of speed restriction information to alert drivers if they are exceeding the speed limit. This assists drivers in maintaining a safe driving speed. Another way this is done is when the dashcam captures a posted speed limit sign and measures the vehicle's speed against it. It then alerts the driver to slow down, hence improving safety.
Final Thoughts
Your fleet will be safer if your drivers are safe. Driver training must be continuous in order to improve driving behaviour. Video telematics allows you to personalise and improve the effectiveness of your coaching.
A good video telematics solution like LocoNav enables managers to recognize not just drivers who could benefit from additional instruction but also the precise behaviours they need to break by categorising video clips based on triggers. Small changes in driver behaviour have a major impact on safety, as well as fuel and maintenance costs.