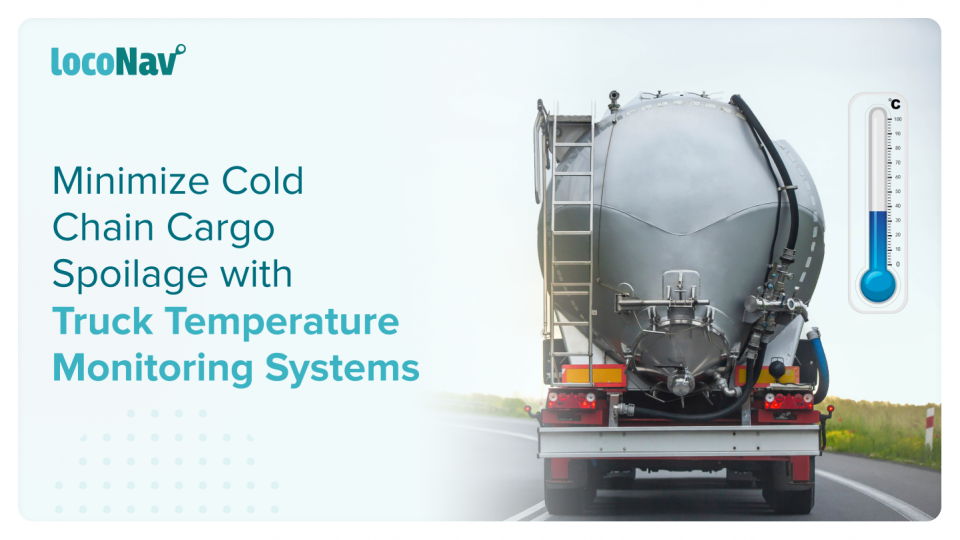 Truck Temperature Monitoring System: Why should you be using it?
Perishable foods, pharmaceuticals, flowers, and many other essential goods all have one thing in common. Transporters need to keep an eye on them during transit to ensure they reach their designated destinations in fresh and usable condition. That is the core concept we're diving into, observing temperatures in logistics and employing a Truck Temperature Monitoring System.
Truck temperature monitoring systems are based on the idea of employing technology to ensure product freshness and prevent wastage by observing the temperature of a truck carrying cargo throughout its journey.
Let's begin by addressing what a temperature monitoring system is.
What is a truck temperature monitoring system?
A truck temperature monitoring system in fleet management refers to the restriction of temperature within the cargo hold of a vehicle. In recent years, temperature monitoring systems have become a vital aspect of transporting medicinal, clinical, food, and other temperature-sensitive goods.
A truck temperature and humidity monitoring system allows you to seamlessly monitor, control, and regulate the temperature and humidity in the cargo hold. A temperature monitoring system ensures that temperature-sensitive products remain safe while being transported and minimizes the chance of losses incurred due to product spoilage.
Why is a temperature monitoring system important in trucks?
When your company is in charge of delivering temperature-sensitive goods, an undisrupted logistic chain is crucial. It requires you to maintain precise temperatures and even the slightest deviation from it can lead to rejected shipments. It is a difficult endeavor when even one degree up or down can result in huge losses because of unhappy clients. Truck temperature monitoring is used to avoid this exact scenario
Temperature monitoring is important in trucks because rejected consignments can affect your fleet in the following ways:
The fleet owner is mandated to provide monetary compensation to the shipment owner for the spoiled goods, either by direct payment or insurance claim.
It can seriously damage the reputation of your fleet and can cause friction between you and your clients.
You will be required to dispose of the shipment which requires both money and extra effort on your part.
Disposing of a large volume of products such as food or other perishables is not at all environment-friendly.
What are the challenges solved by the truck temperature monitoring system?
Challenge 1: Let's assume a pharmaceutical business develops a temperature-sensitive medicine. Its shipments must be stored at a certain temperature to ensure quality. Sure, the corporation will deliver the medicine in a chilly, temperature-controlled area, but what if the setting itself isn't monitored?
Solution: Temperature-sensitive commodities necessitate a monitoring system. The monitoring system keeps track of the temperature and ensures that nothing goes wrong. It also collects, stores, and manages temperature data. In the event of a problem, the temperature monitoring system sends warnings or notifications to everyone who is connected to it.
---
Challenge 2: Assume a driver is carrying temperature-sensitive items and wishes to take breaks along the way.
Solution: The driver can check the truck temperature monitoring system to see what the current temperature is. It will assist the driver in adjusting and maintaining the temperature based on the length of their break.
The temperature monitoring system will also provide the driver with information and insights. It will assist in guiding judgments during the trip and acting per temperature reports and statistics.
---
Challenge 3: Assume you're shipping a drug that must be maintained below 20 degrees Celsius. Everything is going swimmingly. But what if the transport truck is in an accident?
Solution: Even though your transportation partner may not be engaged in an accident, the temperature of the conveying medium may be compromised. With fast notifications and warnings, you can detect temperature variances and rectify the situation before a consumer receives damaged items.
---
What are the benefits of using a temperature monitoring system in trucks?
Get Alerts in Real-Time
You will receive automatic warnings for activities such as temperature extremes. In this manner, you can determine whether and to what extent the quality of your items may be compromised.
Get Notified of all Temperature Changes
A little temperature change will trigger the temperature monitoring system, and you will receive a warning of the rise or fall in temperature. It will allow you to swiftly contact the logistics staff and alert them of the problem.
Reporting in Depth
The temperature monitoring system will generate results automatically, allowing you to analyze patterns and take appropriate action.
Analytical Power
Once you get the hang of a temperature monitoring system and its reporting structures, you can use the reports to analyze trends and set up new SOPs. This will help you in enhancing your customer service to a great extent.
FAQ
How is temperature monitored in a truck?
A temperature monitoring system's working is dependent on electrical signals. The system has 2 metals of different types. These metals are fixed in a manner wherein they generate an electrical signal in case there is a temperature change. This signal is transmitted to the user in the form of a readable temperature change alert.
Which industries are using truck temperature monitoring systems?
The industries that are most commonly known to use truck temperature monitoring systems are:
Agricultural
Food & Beverage
Pharmaceutical
Chemical
Can a truck's temperature be monitored remotely?
Yes, you can remotely monitor your truck's temperature. This can be accomplished by fixing a WiFi-enabled temperature sensor on your truck and downloading a corresponding application or software on your computer/phone.
Which companies provide the best truck temperature monitoring systems?
LocoNav provides world-class temperature sensors along with top-notch software to make the best truck temperature monitoring systems.