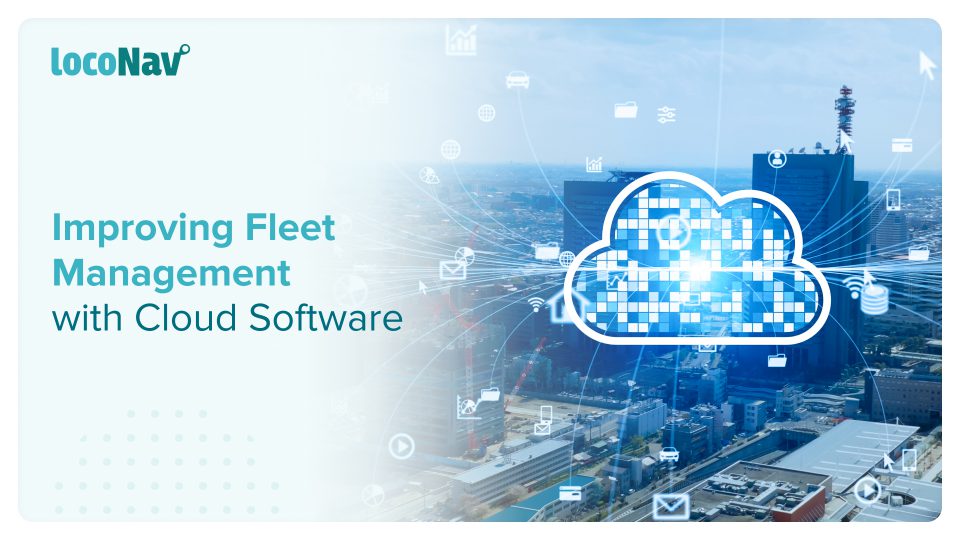 What is Cloud Based Fleet Management Software?
Daily issues in every industry area we work with are similar to a game in which you must build tactics or methods to tackle problems. Cloud based fleet management can be your savior.
In today's hyper-competitive environment, an efficient and profitable transportation business relies on technology. Technology, from automation to IoT to in-fleet GPS car tracking solutions, is the secret sauce that helps fleet managers reach organizational goals. Cloud-based tools are leading the charge toward a new and enhanced fleet management landscape as technology becomes more deeply embedded in corporate operations.
In this blog, we will outline some cloud based fleet management basics.
Why is Fleet Management Software Moving From the Web to the Cloud?
General trends have shown that fleet management is largely moving from web to cloud based solutions. Let's see why that is:
Knowledge is power, and nowhere is this more true than in cloud based fleet management. Fleet managers can maximize fleet tracking even when connectivity is a barrier by combining digital tools. With cloud connectivity, GPS trackers have grown more efficient. With the latest in linked technology and software, live fleet tracking takes end-to-end fleet movement transparency to the next level. Despite different degrees of wi-fi access, a fleet manager can keep track of their fleet's positions, ETA, and status in real-time.
If you use a cloud-based system, technology constraints will not stymie your transportation company's expansion. While you can tailor your present technology to your current size and scale, the flexibility that cloud-based technologies provide makes growth easier to achieve.
Better Customer Relationships
Moving to the cloud simplifies the integration of mission-critical systems and eliminates duplication of effort. This is maybe most helpful when combined with customer relationship management. Deep, cloud-based CRM integration goes beyond simply connecting with your accounting and tracking systems to make it easier for your sales and customer care personnel to set up and track customer experience funnels.
Cloud-based Software as a Service (SaaS) system and data mirroring not only ensure that your day-to-day operations can continue in the event of a disaster, but also safeguard the treasure trove of information you've accumulated over the years.
Transportation firms face a plethora of risk barriers, ranging from changing and demanding regulatory frameworks to a growing focus on cybersecurity. Cloud based fleet management, with its extensive insights, reporting mechanisms, and deep recordkeeping tools, provides a solution that can assist businesses to manage this issue even if they lack the technical knowledge to help them mitigate these challenges.
Common Issues Faced When Switching to Cloud Based Fleet Management
Despite the fact that many firms are rushing to adopt cloud computing procedures, it is not a simple task. Cloud migration has its own set of issues. Whether you want to leverage cloud infrastructure, platforms, or software services, these options can help you manage a successful move.
#1 Financial Implications
Long-term costs of cloud migration are offset by higher efficiency, decreased administrative costs, and streamlined operations. However, getting there can feel like an (expensive) uphill climb.
Financial issues pervade practically every aspect of migration. There is an immediate cost to migrating, as well as the long-term financial risks of poor or slow acceptance and training after the migration has occurred.
#2 Upskilling Requirements
Despite the numerous advantages of cloud computing, the complexity of migration prevents many firms from moving forward. Finding employees with the necessary expertise to handle an effective move is one of the most difficult challenges.
As more businesses turn to the cloud, competition for migration expertise has heated up. Unfortunately, demand for cloud professionals outnumbers supply (at least for now).
Top Problems For The Fleet Business Solved By Cloud-Based Software
Fleet management units can use cloud computing to eliminate physical infrastructure and gain access to virtual machines provided by cloud service providers. These machines can be used for data storage, processing, and supplying the computing power required to execute their applications.
These can assist fleet owners by lowering costs, time, and space requirements. This infrastructure can also be changed into a web-based application SaaS (Software as a Service), allowing it to run from both the user and the client's end.
Fleet owners make significant investments in their IT infrastructure to facilitate connectivity with remote fleets. Traditional infrastructures can only be improved to a particular extent due to space, time, and money constraints.
Cloud based fleet management solutions minimize limitations by allowing users to scale as needed with a pay-as-you-go model, removing the need for a complex license process.
Devices that generate data at the source can be set to interface with current systems, allowing for data filtration as needed. The ability to operate over intermittent networks eliminates the need to maintain a constant connection with the devices. Real-time device monitoring and data analytics analysis of the incoming data stream assist enterprises in making better-informed decisions while also increasing device dependability, connectivity, and usefulness.
For any organization, data is gold, and its protection should never be disregarded. With so many vendors available, data leaks are common, which can be detrimental to the firm.
Cloud based fleet management software has a variety of designs and firewalls. Users can work in a separate zone of the cloud and have complete control over their networking environment, including IP addresses, regions, and so on. It also offers a variety of networking alternatives in light of the region's public exposure. 
Furthermore, the security features can be scaled up based on the volume of data handled by the company, and a variety of compliance requirements can be met in order to meet the overall infrastructure's security standards.
Business Aid Provided By SaaS Companies
Using a SaaS provider for your cloud based fleet management delivers the following benefits:
Unlimited Access: Cloud based fleet management software is not restricted to the computer on which it is installed; it can be accessible by multiple users, on as many devices as needed, via a web browser or mobile app.
Instant Upgrades: With cloud based fleet management, product, feature, and general software updates may all be put out instantly. This means you'll always have the most up-to-date version of the product without having to actually upgrade software or equipment—all for free.
Easy Access: Cloud based fleet management software is simple to use while remaining secure. Users can use secure login credentials to log in via their mobile app or a web browser.
Integrations and application programming interfaces (APIs): Cloud based fleet management software includes features such as integrations and application programming interfaces (APIs) that enable you to safely draw data from multiple fleet management solutions into one central location for optimized reporting and analysis.
Conclusion
Unlike conventional systems, cloud based fleet management software is designed and constructed expressly to be hosted in the cloud, providing a more secure service and allowing for a more robust, cost-effective product. Consider cost, security, data management, your fleet's overall needs, and what solutions (such as GPS tracking or ELDs) you may wish to combine with the software when selecting fleet management software for your fleet.