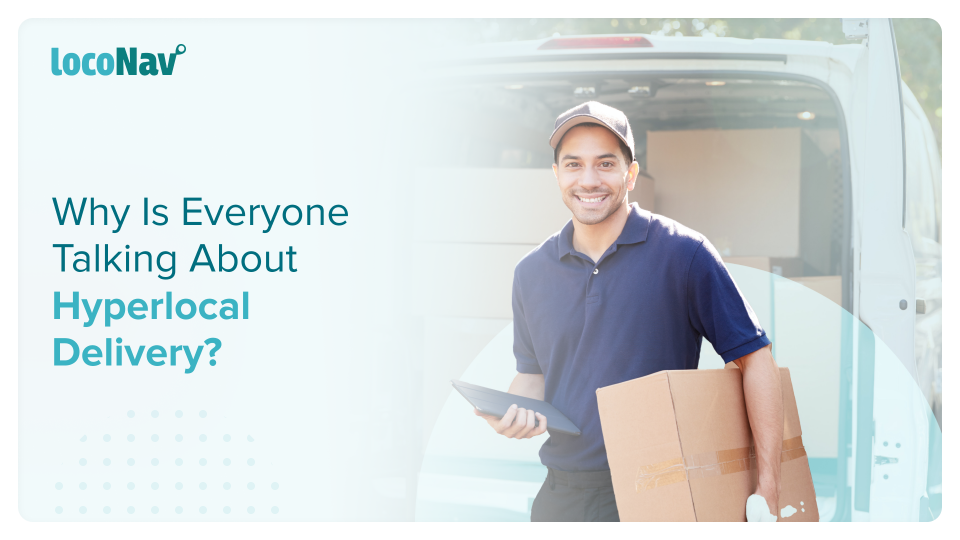 What is Hyperlocal Delivery & How Does this Model Work?
Did you forget to buy groceries for dinner? Or do you urgently need medicines? These scenarios do not really strike the kind of fear they used to in the previous decade. Practically everything you need urgently can be delivered to you in no more than 2-3 hours. This has been made possible through hyperlocal delivery.
In recent years, consumers have experienced unprecedented levels of convenience when shopping. We can have food, groceries, household goods, or prescriptions delivered to our door in a matter of minutes with just a few clicks. The hyperlocal delivery model is the delivery business concept that powers these lightning-fast deliveries.
I'm sure you're wondering what the meaning of hyperlocal delivery is. 'Hyperlocal' means a 'small geographical area'. The pick-up location where the order is packaged and the customer's address must share the same pin code. The unique selling point of hyperlocal e-commerce enterprises is their capacity to offer products and services at breakneck speed.
Since you're still reading, I'm assuming you wish to implement a hyperlocal delivery model for which you need to understand what it is.
Hyperlocal Delivery Model
Hyperlocal is the latest buzz in eCommerce and it means a shopping service that caters to a small local area. The basic delivery model is highlighted in the image below: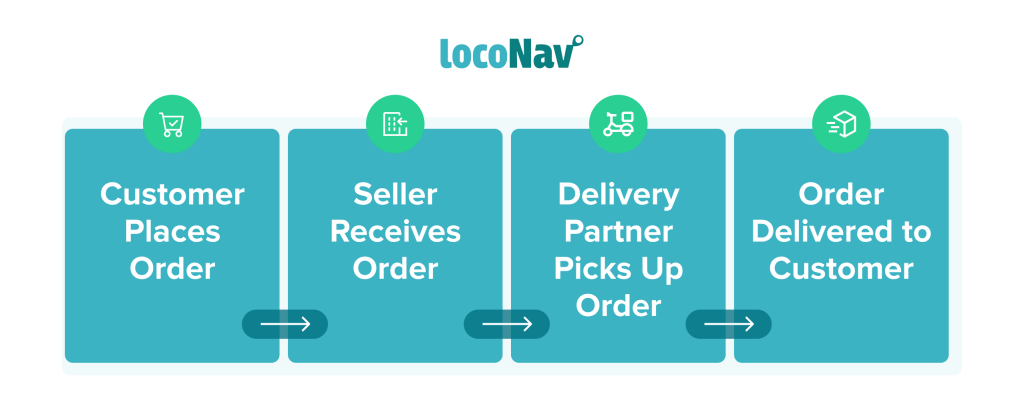 How does the hyperlocal delivery business operate?
The operation of a hyperlocal delivery business is quite simple. eCommerce brands that deal in essential products such as food, household items, hygiene products, grocery, and medicines partner up with local stores that sell those products. These eCommerce businesses allow small offline shops to reach out to their prospective customers while ensuring product delivery in a timely manner. A hyperlocal business's service area could range from a few meters to a few kilometers from the business's location.
Given the hyperlocal business' very targeted geographic distribution, local ventures are nearly guaranteed visibility and clients until they establish quality products and fast service. It guarantees fast product delivery from the customer's very local reputable store.
What industries make use of hyperlocal delivery?
A hyperlocal business model operates mostly in the delivery of groceries, medicines, regular home products, food, and even services such as carpenters, painters, decorators, and so on. The unique selling point of hyperlocal e-commerce enterprises is their capacity to offer goods and services at incredible speeds.
What are the types of hyperlocal delivery models?
Before we go any further, let's take a look at the many models that exist in hyperlocal delivery to assist you to choose one.
Single Store Model: A single store model often sells things from a single vendor. It can be used when an offline retailer decides to create an app for their items, or it can be implemented by a company that already has an app and has decided to stock its own inventory rather than selling the items of another retailer.
Aggregator Model: Because it requires less capital, an aggregator model is among the most frequent hyperlocal delivery strategies. The company operates as a middleman between offline consumers and retailers under this arrangement. The company has no assets or inventory; it just connects with other retailers and sells its products through its own platform.
Hybrid Model: Customers who use the store pick model typically order things online but pick them up from the stores themselves. This strategy is commonly used by businesses that wish to provide their customers with the products they desire at a time that is convenient for them.
Store Pick Model: In general, a hybrid model is one that integrates more than one of the other models. Some retailers, for example, allow you to order things online and pick them up in-store.
Key advantages of hyperlocal delivery service
Local stores are struggling to survive and thrive in this digital age, as businesses are transferring to online platforms. The hyperlocal delivery approach is assisting all such retailers in remaining competitive and expanding their consumer base. Apart from that, the hyperlocal delivery model has numerous other advantages, such as:
Quick delivery
Single dashboard order management
Increased operational transparency
No need to create an internet store
How does hyperlocal delivery promote business growth?
While the most notable feature of hyperlocal delivery is that it makes essential products easily accessible to consumers, it also promotes small business growth for retailers. Some of the most important features for businesses are highlighted below:
Hyperlocal Delivery Systems make use of local offline stores to ensure a quick delivery. This gives more exposure to said stores and increases their order volumes and subsequently drives their business growth.
Most hyperlocal delivery systems come with their own order management dashboard which gives the vendors complete visibility to analyze how their store is benefitting from the hyperlocal business model.
Most offline stores have been struggling with the invention of eCommerce stores. The hyperlocal delivery system helps them negate some of that impact.
Adopting a hyperlocal business model requires little to no investment but results in great returns.
Keyword: hyperlocal delivery system
FAQ
What is the difference between hyperlocal and last-mile delivery?
The process of transporting items from a central hub to the customer's door is known as last-mile delivery. It is the final stage of an intricate fulfillment procedure used by eCommerce organizations.
The technique of delivering items directly from a vendor to a customer is referred to as hyperlocal delivery. It requires a courier agent to pick up things from a vendor and then deliver them to the customer's address.
What challenges arise with hyperlocal delivery?
Since the market is big and unstructured, the challenges that accompany hyperlocal delivery are many. Some of which include:
Competition
Profit-Sharing With Hyperlocal Business
Difficulty in Expansion
How to deal with hyperlocal constraints?
In contrast to the growing appeal of the hyperlocal delivery model, there are still a number of challenges that come with it. Some of these constraints are:
Lack of proper route planning
Ineffective delivery partner management
Managing delivery customizations
You can deal with these by:
Leveraging data to project future demand
Maintaining a fleet of optimum size
Investing in a proper route planning software