TS e Challan: Telangana Traffic Police Challan
A challan is a document released in the name of a vehicle driver in case he/she is found breaking the traffic rules & regulations. A person is liable to pay a penalty if a traffic challan is issued in Telangana state. The penalty depends on the type of violation in accordance with the Motor Vehicles Act, 1988. The Telangana traffic police have the authority to issue a challan to a person who does not follow the traffic rules. If the document is electronically generated through the Electronic Challan System, then it is referred to as e-challan.
How to Pay Telangana Traffic e-Challan Online?
From parking your vehicle in an unapproved place to jumping the red light and crossing the maximum speed limit to committing any other traffic offence, all of them are violations for which a person is liable to pay a fine. If found guilty, a person will receive an e-challan either on their mobile phone through SMS or at their registered address. There's a grace period of 60 days within which a person is expected to make the e-challan payment. It is always a good idea to pay the fine as soon as possible to avoid any legal actions.
Here are the steps for traffic e challan payment online in Telangana:
Step 1: Visit Parivahan Challan Page
Step 2: Enter your challan number, vehicle number, or DL number on the page
Step 3: Add the Captcha code and click on the 'Get Detail' tab
Step 4: A new page will open where you can get every detail about the e-challan
Step 5: Click on 'Pay Now' under the Payment column and proceed further
Step 6: Choose the mode of payment from the given options. You can pay through net banking, credit card, or debit card
Step 7: Once the payment is received, a confirmation message will be sent to the registered mobile number
How to Check Telangana E Challan Status online?
In case you have misplaced the e-challan sent to you or deleted the challan SMS received from RTO, you can still get every detail about the traffic challan online. Here are the steps by which you can check the traffic fine and e-challan status online:
Step 1: Visit Parivahan Portal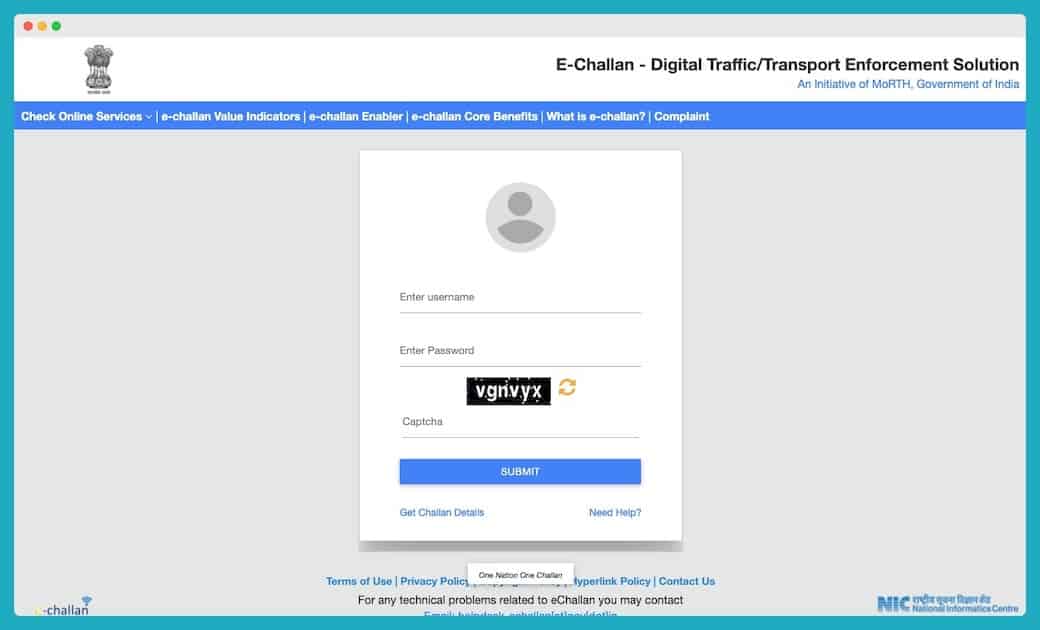 Step 2: Click on the 'Check Challan Status' tab on the homepage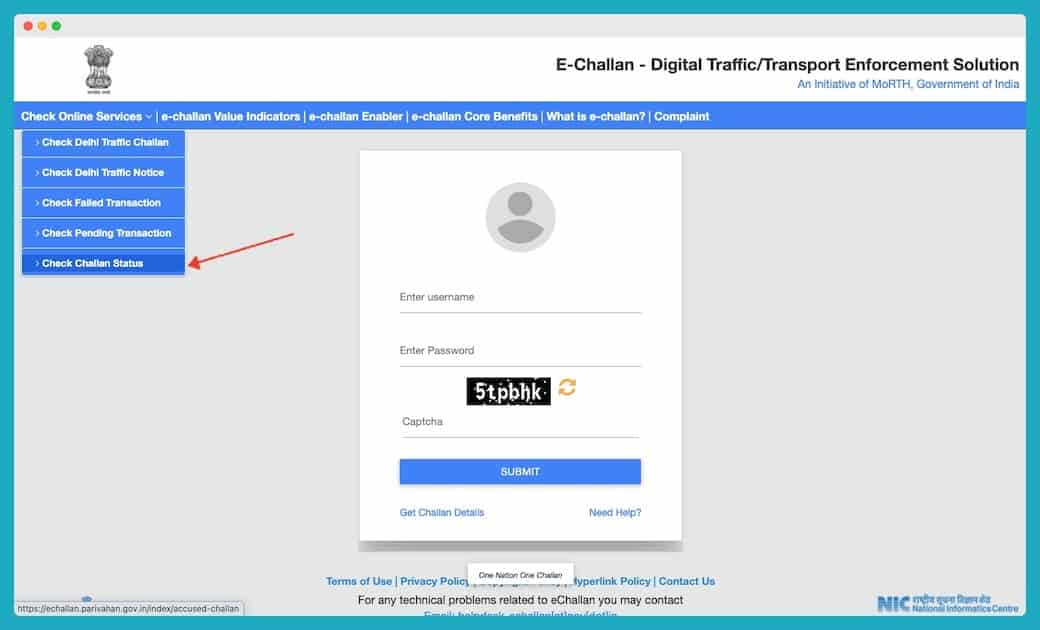 Step 3: A new page will open where you need to enter either your DL number or vehicle number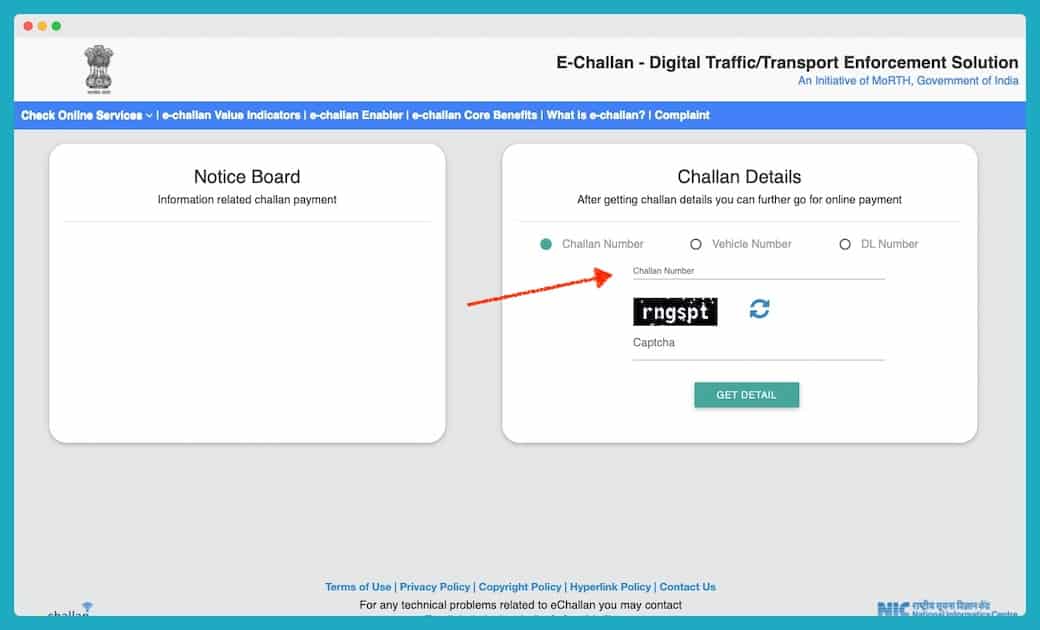 Step4: In case, there's no fine and e-challan against you, a Challan Not Found' dialogue box will open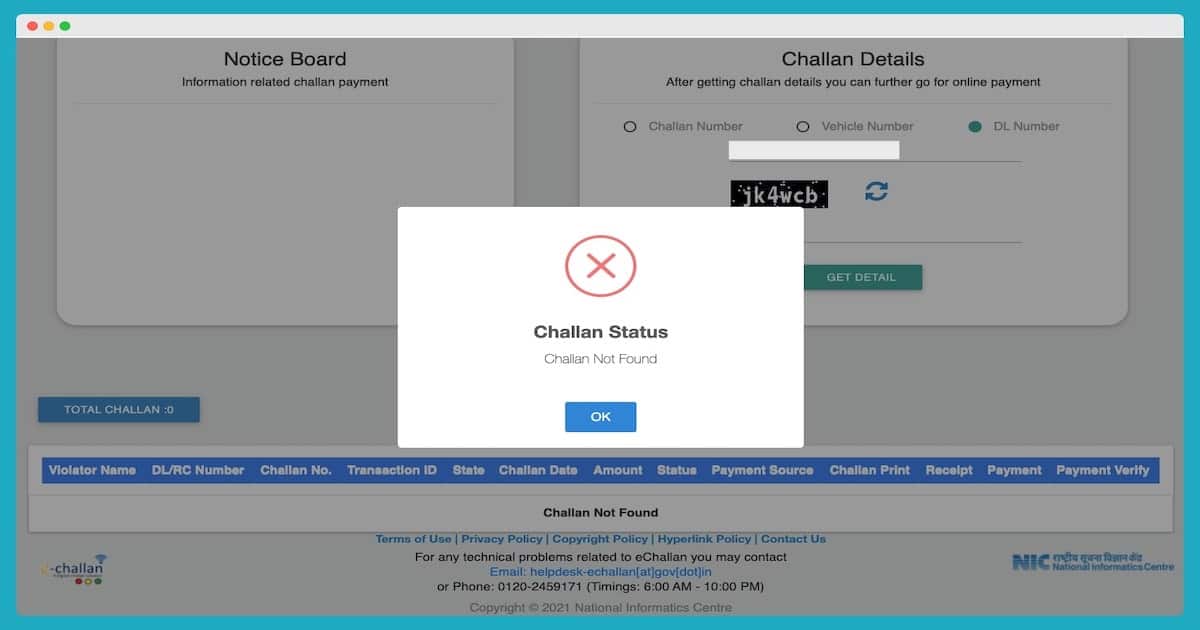 Step 5: If there's a pending fine or e-challan against your name, then a page will open that will show you all the details about the challan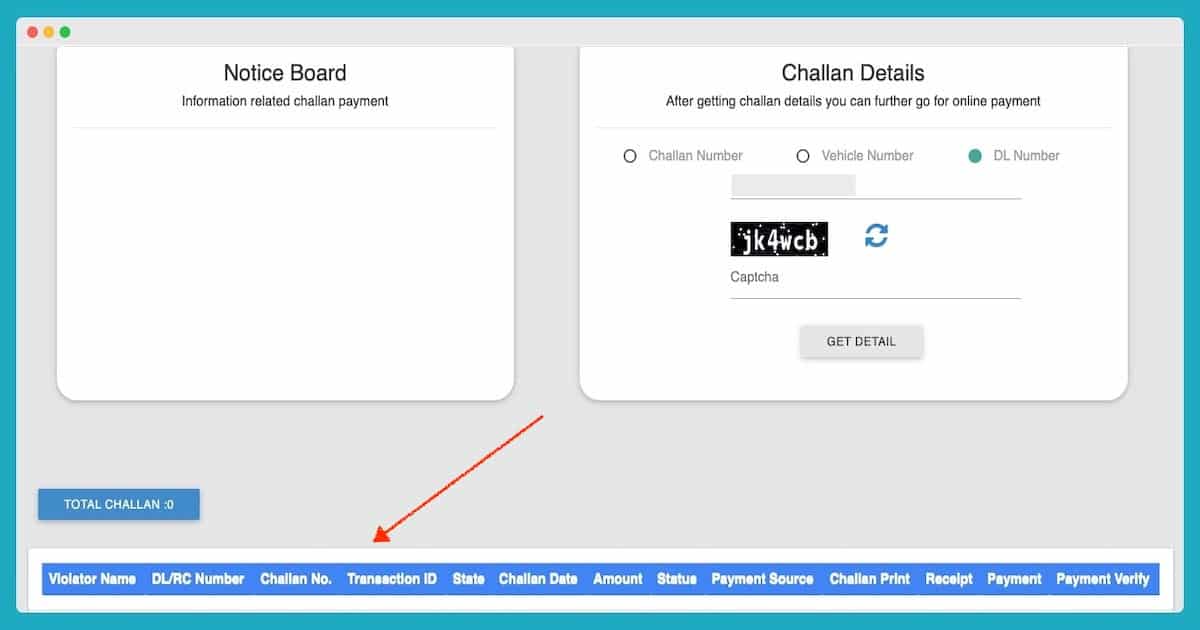 Telangana State Police Integrated e-Challan System & its working
The Integrated E-Challan System has been initiated by Telangana State Police to make it more convenient for people to pay fines. Those who are liable to pay a fine do not have to wait in long queues at the e-Seva centres anymore. They can pay the amount by just swiping a card as traffic police have personal digital assistant (PDA) machines with them. Telangana Traffic Police has taken this step to improve the traffic challan system. As per the integrated e-challan system, the traffic police station has launched excellent PDAs inbuilt with GPRS connectivity and an attached card reader. Therefore, the violator can pay the e-challan on the spot using a credit or debit card.
The PDAs have wireless access to the traffic police central server and help in generating the on-the-spot printed challan, at the same time, giving details about the previous challans of the violator. The violator can then pay the fine either by cash or by swiping the card. The e-challan created using PDAs gets registered with the traffic police server. This method of utilizing the PDAs has made the process of paying a fine very easy and convenient. The offender is then given a formal receipt once the fine is received.
These are the exclusive characteristics of the Telangana State Police Integrated E-Challan System:
It has live connectivity to the e-challan main server
On the spot challan issued, even during server issues
Onscreen keyboard for nighttime enforcement
Upgraded servers and computer systems are employed
15 Mbps bandwidth for the traffic Police Station to stay in touch with the e-challan server
PDAs and e-challan software are customized accordingly
Traffic Rule Violations & Penalties List in Telangana
Traffic rule violations are an offence in our country for which penalties are set as per the Motor Vehicles Act, 1988. These penalties are more or less the same for every state. Here are the penalties for some types of traffic rule violations for two, three, four and six wheelers in Telangana:
| Traffic Rules | Fines |
| --- | --- |
| Driving a motor vehicle and not carrying a licence | Rs. 500 |
| Driving a motor vehicle and not having proper registration | Rs. 2000 |
| Driving a motor vehicle and not having updated insurance | Rs. 1000 |
| Driving a motor vehicle when you are less than 18 years old | Rs. 500 |
| Entering No entry area | Rs. 200 |
| Violating One-way | Rs. 200 |
| Violating U-turn | Rs. 200 |
| Entering a prohibited area | Rs 200 |
| Driving a motor vehicle at an unusual speed or negligent driving | Rs 200 |
| Traveling on the footboard of a vehicle | Rs. 50 to RS. 200 |
| A person who is physically/mentally challenged and driving a vehicle | Rs. 200 |
| Running away after committing an accident | Court |
| Driving a vehicle that is unsafe to use | Court |
| Not wearing a helmet | Rs. 200 |
| Driving a motor vehicle that is overweight | Rs.1000 per tonne or court |
| Driving a vehicle without permission | Action by RTO |
| Unauthorized interference associated with a vehicle | Rs. 100 |
| An unauthorized person driving a vehicle | Rs. 1,000 |
| Driving on the wrong side of a road | Rs. 1,100 |
What is 12 Point System of Penalty by Telangana Traffic Police?
The government of Telangana has designed a point system to diminish traffic-related violations. If a person gets more than 12 points in two consecutive years, then the government has the authority to withdraw the DL for one year. In case the person still violates the rules, then the licence can be cancelled for two years. For a person holding a learner driving licence, he/she should not exceed more than 5 points, or else a permanent driving licence will not be issued.
Here are the points allotted to different types of traffic violations:
| Traffic Rules | Penalty Points |
| --- | --- |
| Not wearing a helmet/seat belt while driving | 1 point |
| Driving a vehicle without insurance or with hazardous substances | 2 points |
| Rash driving or taking the wrong route | 2 points |
| Drunk driving (two-wheelers) | 3 points |
| Drunk driving (four-wheelers) | 4 points |
| Drunk driving (Government vehicle) | 5 points |
| Car/Bike race | 3 points |
| Driving without a PUC certificate | 2 points |
| Parking on the highways | 2 points |
| Committing any crime such as chain snatching while driving | 5 points |
| If cases are filed under IPC 279, 336, 337, 338 sections | 2 points |
| If cases are filed under 304 (A), 304 (II) | 5 points |
You can check the list of traffic violations and traffic penalty points from the official website of Telangana State Police. Select "DL Penalty Points" on the page. After that, the licence number and date of birth have to be entered. Those who have their number registered with RTA will get the update about the penalty points through SMS on a regular basis.
What are the road safety rules you should know while in Telangana?
To avoid a Telangana (TS) E-challan, here are some basic traffic rules that all vehicle drivers must follow:
Drive on the left side of the road: When driving, stay on the left side of the road. Allow traffic to pass safely via your right if there are no dividers or lanes.

Overtake from the right: After flashing the indication or blaring the horn, always overtake from the right side. Overtaking on the tiny lanes is not recommended since it may endanger the lives of others.

Respect traffic signals: Do not disregard traffic signals, as doing so might result in hefty fines. If there are any pedestrians around, be especially patient.

Never park in a designated 'No Parking Zone.' Also, avoid parking on busy corners or in the middle of the road, as this may obstruct other drivers and cause accidents or confusion.

Understand and obey the road markings and informatory signals: Every driver should be aware of and obey the road markings and informatory signals. These omens foreshadow what is to come. They also specify what you are and are not permitted to do when driving in the lane.

Slow down at roundabouts and intersections: Always slow down and sound your horn to alert oncoming traffic when approaching a corner, intersection, or roundabout.

Check traffic fines online in Telangana

and pay them on time.

Carry the following documents: A vehicle owner must keep the following documentation in his vehicle at all times: The following documents are required: a driver's license, a registration certificate, an insurance certificate, and a Pollution Control Certificate (PUC) Commercial Vehicles Certificate: Tourist permits and a fitness certificate (for commercial vehicle)

Honking: Only use your horn when it's really required, such as when overtaking, changing lanes, or traveling through a narrow lane. Blowing horns in front of schools and hospitals is prohibited.

Stick to the Speed Limits: When driving in the city or on the highway, always stick to the posted speed limits.

Never talk on a cell phone while driving: Never chat on a cell phone while driving. If you need to make an urgent call, park your car on the side of the road and then dial.

Never drink and drive: In Telangana, the legal limit for alcohol in the blood is 30 milligrams per 100 milliliters of blood. Anything you do above could result in a hefty fine, incarceration, or a permanently revoked license.

Give pedestrians priority: Always allow pedestrians to cross the road first. If there is a zebra crossing ahead, you should slow down or stop. Make way for school-aged youngsters and the elderly.
Frequently Asked Questions About Traffic e-Challan in Telangana
If a person has more than 10 pending challans in his/her name, then a charge-sheet will be booked against him/her after which the vehicle will be seized. The person has to appear in court for retrieving the vehicle. These challans are issued on violations such as inappropriate parking, overspeeding, violating stop lines and jumping signals.
It is less likely to get penalized for a wrong challan. However, if in case this happens by mistake, then a person can report it by either writing to the Traffic Police or by reporting the same on the traffic police website.
You can check and pay your e-challan through our Vahan Jankari web application. There, you will be able to check your traffic challans for multiple vehicles, and can easily pay your dues simply by entering your vehicle number.
If a person does not submit the challan dues on time, then the case is most likely to proceed to court. The vehicle owner is called to give clarification for not paying the e-challan. If a person does not appear in front of the court, then his/her licence is suspended.
Any person wanting to download the e-challan receipt can do it from e Challan Parivahan website by MoRTH. You need to enter either challan number, DL number, or vehicle number on the main page. Enter captcha code after which you get every detail about the e-challan as well as the download link of the receipt.