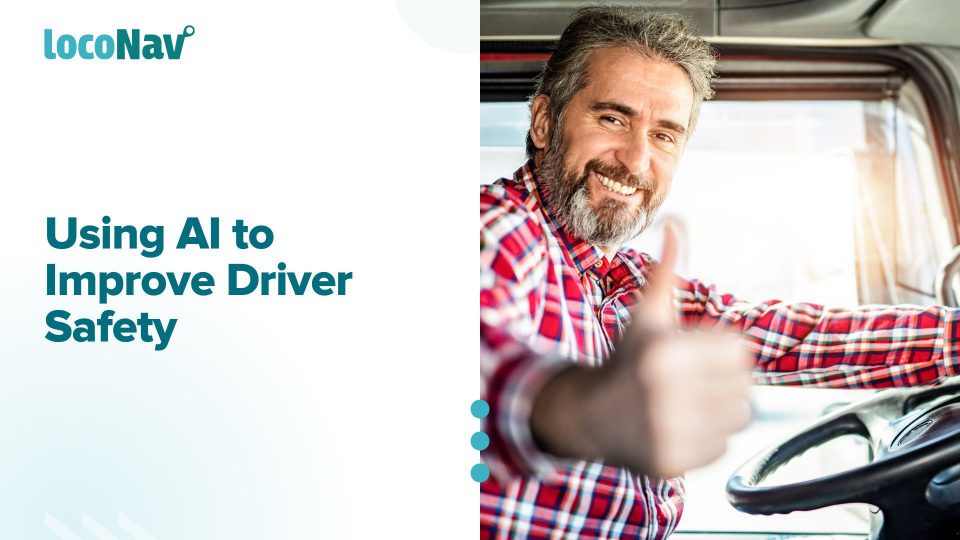 How Can AI Enhance The Safety Of Fleet Drivers?
Today's roads are becoming increasingly congested, increasing the likelihood of accidents and resulting in injuries and deaths. Every year, over 1.3 million people die as a result of road accidents worldwide.
As a result, transportation companies are starting to take advantage of artificial intelligence (AI) to reduce risk in-cab and on the road, manage expenses better, and improve overall compliance. (IoT, Machine Learning (ML), and Predictive Modelling are the key AI applications that help power fleet operations.
This technology makes highways safer, promotes a culture of safety, and modernises the trucking business. The data given by AI solutions assist fleet managers in making more efficient decisions to increase driver safety while managing costs and fleet operations.
In this blog, we will explore how AI can improve driver safety, amongst its other benefits.
Prioritise Driver and Fleet Safety
With an AI-powered fleet security system in place, fleets can detect unsafe driving behaviour and typical compliance violations like speeding, distracted driving, and driver weariness, among other things. This data provides fleet management with insight into driver performance and allows them to identify where drivers need to improve or be compensated.
Without a dependable safety system that provides real-time intelligence to identify concerns, fleet managers cannot properly measure a driver's competency. However, AI-powered video safety mechanisms learn to detect unsafe driving behaviours and alert drivers in real-time to rectify them. In addition to warning drivers when they need to make a correction, the AI-powered dashcam will also reward them for driving safely. This results in a much-needed balanced safety culture.
In-cab audio alerts advise drivers of potentially unsafe driving behaviour and alert them to probable accidents in real-time. For example, if a driver follows too closely behind another vehicle, the driver will be promptly warned and will be able to change their driving at that time. It is not necessary for a fleet manager to watch the video later and summon the driver to their office. Making it easy to interact with a driver and track the utilisation of a vehicle benefits a trucking company's proof of liability and workflow.
Other Benefits of Using AI For Your Fleet
Other than fleet safety, there are numerous benefits that make AI a valuable addition to your fleet operations. Some of these include
AI can not only recognise items but also distinguish between lifeless objects and people. The technology has even been used to identify pedestrian traffic. Pedestrian crossings in larger cities can pose a significant risk of accidents.
Dashcams allow the driver to observe all sides of the car, as well as sensors that identify any objects in the vehicle's vicinity. Today's AI-powered dashcams and sensors use integrated technologies to detect pedestrian crosswalks, providing drivers with information for trying to navigate pedestrian-heavy cities.
Making Traffic Management Easier
AI in transportation makes use of closed-circuit TV cameras and sensors that can capture vital information while driving to detect traffic conditions and prepare drivers for delays. This data is saved using cloud AI systems, which provide a faster way to save traffic pattern recognition in order to predict the condition of roadways.
Tracking Vehicle Maintenance
Data is used by AI-based technologies to gather insights and create predictions. These data-driven projections aid in identifying potential fleet vehicle wear and tear. With instant access to this data, fleet managers can better spot and address driving behaviours that cause long-term damage to cars.
AI can foresee problems and identify over-exertion locations in a vehicle. Some examples include AI-powered camera systems that monitor tyre tread depths based on miles travelled, or similar systems being used as surveillance to offer proof if vehicle parts are stolen.
The Future of AI
AI is revolutionising the automotive sector in numerous ways. More innovations are being developed all the time, with vehicle-to-vehicle connectivity at the forefront, allowing for the sharing of vehicle data such as speed, location, and any road dangers. Overall, AI is emphasising safety and assists drivers in managing congested highways and staying alert to risks.