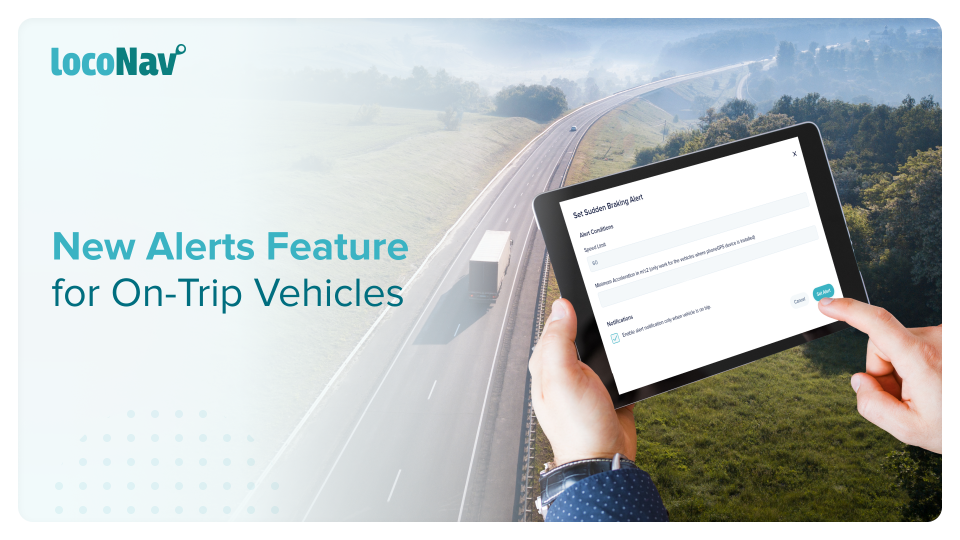 LocoNav Introduces New Alerts Feature for Vehicles on Trip
The need for concrete and continuous data is something the fleet management industry has acknowledged and adopted. Nearly all fleet management solutions available today provide you with a mountain of information. This may range from something as minute as vehicle speed to real-time driving behaviour alerts. But is all this information important?
While acquiring thorough user feedback we have observed that most fleet managers are only interested in receiving alerts as and when their vehicle is on a trip. This aids in reducing the clutter and ensures that dissemination of the most critical alerts is not missed out. In our mission to continually make the LocoNav platform relevant and helpful for all our users, we have introduced a new alerts feature for on-trip vehicles. 
Manage your fleet efficiently with LocoNav's Fleet Management Solutions!
HOW IS THE NEW ALERTS FEATURE BENEFICIAL?
By leveraging this all-new feature update fleet managers can:
Increase Their Convenience:
With managing a fleet being a tough enough job as it is, our new feature update allows users to choose to receive alerts of vehicle performance and driver behaviour only while a vehicle is on a pre-defined trip.
Ensure Better Vehicle Utilization:
When you receive such condensed data, you can keep a better track of your vehicle utilization. By choosing to receive alerts of just on-trip vehicles, you can analyse metrics on a trip level instead of just making important decisions based on vehicle movement metrics.
The most important aspect of alerts, no matter which level, is how quickly you receive them. LocoNav will continue to provide 24*7 instant trip alerts to ensure maximum trip efficiency.
Obtain Multi-Purpose Data:
By obtaining trip-specific data, you can receive actionable insights that will help you maximise the efficiency of each trip, which will ultimately maximise your fleet's profitability.
Please Note: While the feature allows you to subscribe to alerts for the vehicles that are only on a trip, you may continue to receive and be notified of all additional alerts as well.