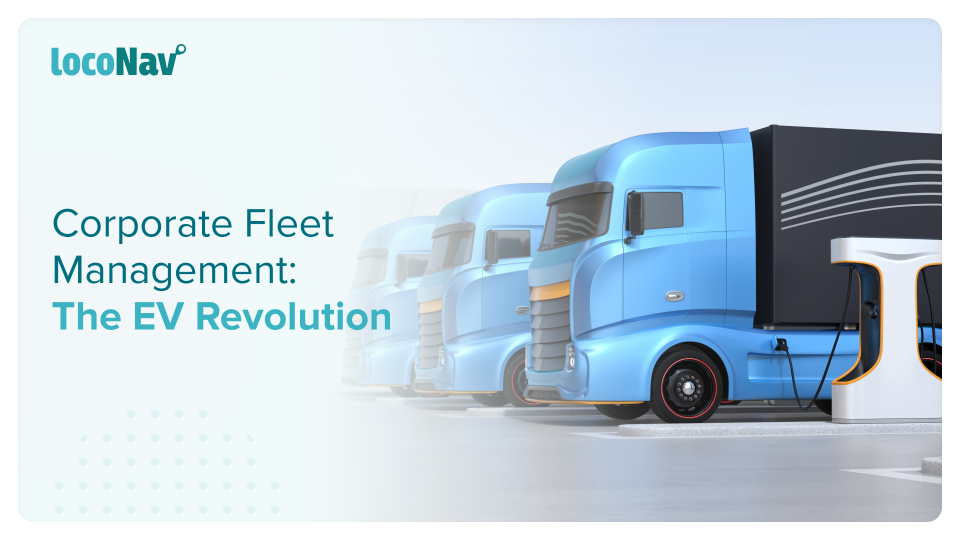 Electric Vehicles Will Revolutionize Corporate Fleet Management
As of 2020, the transportation sector accounts for 27% of carbon emissions in the world, which many scientists think is hastening climate change. As we make progress toward decarbonizing the electricity supply, transportation will be the next major sustainability challenge. Organizations can significantly reduce the risk of climate change by making the transition to electric fleet vehicles, providing at-work charging for employees, or converting parking lots into EV-friendly spaces.
However, the benefits to business go beyond simply having a positive impact on the environment. Corporate EV Fleet Adoption is increasing in the corporate world and here's why.
Why is EV Adoption Increasing in the Corporate World?
However, the benefits to business go beyond simply having a favourable effect on the environment. Here are 4 of the most important reasons why businesses are considering and implementing electric vehicles for their corporate EV fleet.
Reduce Costs and Maintenance
Transitioning to electric vehicles can assist businesses in lowering the total cost of ownership of fleet vehicles, transportation networks, and public transportation fleets. Organizations can save significantly by lowering fuel costs and taking advantage of government incentives and tax breaks. 
Maintenance costs are reduced for corporate EV fleet because they are inherently more reliable than ICE vehicles due to fewer mechanical components prone to malfunction and often provide better information to allow more proactive maintenance. Furthermore, implementing 'at work' charging, which occurs while employees are at work, can improve efficiency and ensure that fleet drivers always start the day fully charged, enhancing savings across your entire organisation.
Contribute to CSR Activities 
Regulations are constantly changing, but switching to EVs reduces the risk of your organisation failing to comply with increasingly rigorous government regulations, safeguarding your reputation.
With consumers and employees increasingly concerned about the environmental impact of the businesses they buy from and work for, organisations that switch to corporate EV fleet can enhance brand reputation by displaying green leadership and stronger sustainability qualifications – improving customer loyalty, appealing to potential new recruits, and improving employee engagement.
Monetize EV Facilities 
Electric vehicle charging stations should not be viewed as a cost to your company, but rather as a potential source of value in several ways. Businesses that set up on-site generation and storage infrastructure to support EV charging can directly generate revenue while also taking advantage of supply-side incentives. These opportunities will only grow as vehicle-to-grid technology advances.
The indirect benefits can be even greater. Installing charging infrastructure allows consumer-facing businesses, particularly retailers and leisure companies, to monetize their EV facilities and generate a new revenue stream. 
Increases Employee Loyalty & Retention
Employees benefit from improved health and safety as a result of improved local air quality and less exposure to harmful NO2 and other pollutants. Installing EV infrastructure, such as smart charging, can boost recruitment since your business will be providing easy access to on-site charging stations.
Demonstrating a commitment to reducing your organization's carbon footprint from daily commutes or fleet has been shown to increase employee engagement, improve your attractiveness as an employer, and improve retention. as well as lower commuting costs
Key Considerations for Corporate EV Managers
Large changes can be managed successfully. The key is in the preparation. You must consider the location of charge points and how they will connect to the grid strategically.
You can use simulation models that we can provide to get a greater comprehension of where to place your charging infrastructure to minimize costs.
The next suggestion is to connect your current IT stack to a general optimization system for electric vehicle charging.
Takeaway
It is now clear that electric vehicles will quickly replace the traditional combustion-engine vehicles that we have used for nearly a century. Consumers and fleet management companies will increasingly gravitate toward this option, and by the end of this decade, Electric Vehicles should be the norm.
In order to keep up with this change, fleet management companies must also update EV fleet management systems that are capable of handling the new set of variables, obstacles, and benefits that a Corporate EV Fleet brings.