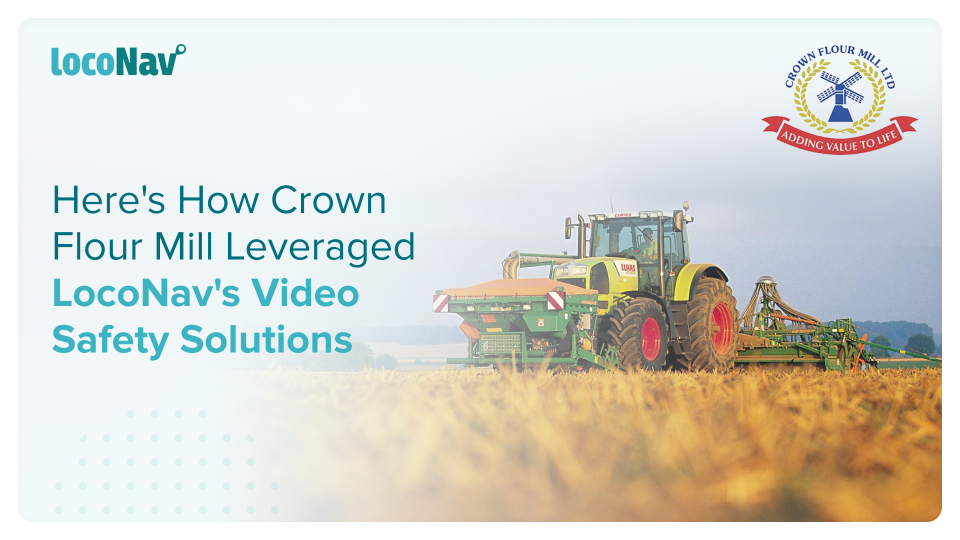 Crown Flour Mill Uses LocoNav's Video Safety Solutions To Safeguard its Flour Produce and Drivers In-Transit
Nigeria procures approximately 4 million MT of wheat per year for use in bread, noodles, biscuits, and pasta. The growth of the market for these convenience products, which are primarily consumed in urban areas, is being driven by 6.8 percent GDP growth and 3.8 percent annual growth in the urban population. This demand calls for safe transportation of the raw materials needed to fulfill it. This is where Crown Flour Mill stepped in.
Crown Flour Mill (CFM) is one of Nigeria's three largest wheat millers; it was purchased by Olam International in January 2010. CFM has been in the wheat milling business in Nigeria for over four decades. Incorporated in May 1971; it commenced milling operation in 1981 with only one product- Flour.
Manage your fleet efficiently with LocoNav's Fleet Management Solutions!
CFM previously relied on very basic tools to monitor the movement of its cargo; and given the complexities of in-transit accidents, theft, and safety challenges in Nigeria, Liability Risk Prevention was a major driving factor that demanded modern tech adoption. Crown Flour Mill deployed LocoNav's Video Safety Solutions developed using Video Telematics to solve the aforementioned challenges using real-time in-cab and on-road visibility, while also setting driver KPIs for their safety and performance.
During the 8-week pilot program on 10 CFM vehicles, the customer gained hands-on experience with LocoNav's Video Safety Solutions. CFM has been able to use LocoNav solutions in the following ways:
Liability Risk Prevention – with the option to reconstruct an accident/incident because LocoNav's Video Safety Solution gives on-device recording and 200+ hours of incident video recording, with the footage being accessible for up to 6 months on the cloud. This has aided in offering evidence to authorities in the event of an incident to protect the company's financial interests as well as the drivers'.
Driver and Cargo Safety – aided in the implementation of safe driving practices by providing in-cab configurable audio alerts for adverse events such as forward collision, lane drifting, speed limit violations, distracted driving, stop sign violations, and more.
LocoNav also enabled the fleet manager to track drowsiness, Cell Phone Usage, Face ID and distracted driving via the driver-facing camera, as well as 100 minutes of live streaming per vehicle/month. These features have aided in further establishing driver performance KPIs to improve driver and cargo safety.
Smart Analytics – CFM was also able to identify possible factors leading to accidents and vehicle abuse using the LocoNav analytics.
The success of the pilot program has resulted in CFM using LocoNav's Video Safety Solutions for 300 vehicles, 30% of its total fleet size. The customer is looking to bring 100% of its fleet on board by the end of the year and reap operational and commercial benefits from the deployment.
LocoNav is dedicated to fostering safe, efficient, and sustainable business operations while developing more resilient solutions. Operating in over 50 countries, LocoNav is democratizing access to fleet technology across global emerging and high-growth markets. Powered by AI and IoT LocoNav solutions empower fleet owners and operators to achieve operational efficiencies and cost savings along with driver and vehicle safety.