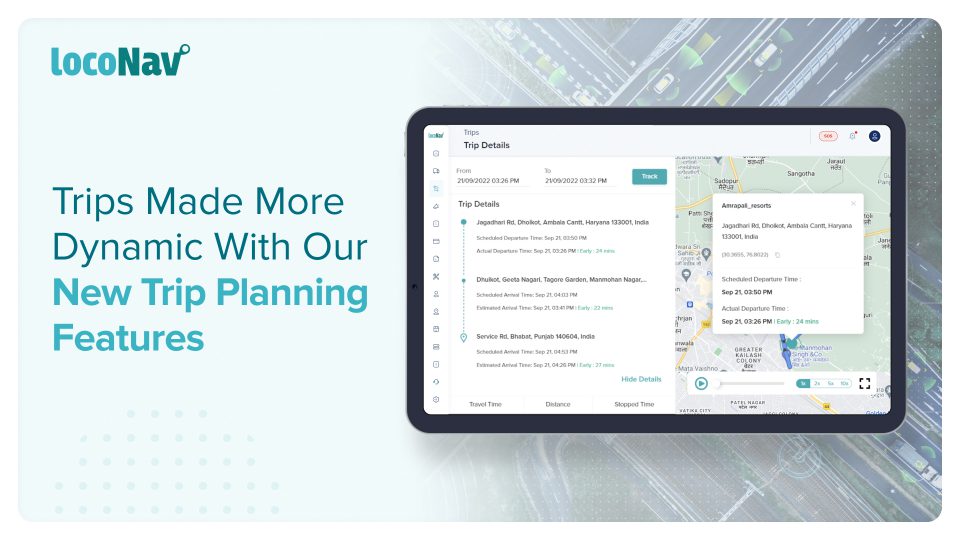 Trips Made More Dynamic With Our New Trip Planning Features
Effective trip planning can be the make-or-break factor in your fleet management approach. LocoNav is committed to giving every company and user a great platform experience. As a result, with each new product we introduce, we are devoted to investigating new methods to improve our services. We are pleased to announce the availability of additional capabilities in our "Trips" module.
With our latest feature updates you will be able to:
Easily access ad hoc trip creation
Create trips at the touch of a button
Edit trips more dynamically
View the ETA status of individual trips on the map
Set alerts based on ETAs to manage the post-delivery operations.
Let's take a look at all these updates in more detail.
Manage your fleet efficiently with LocoNav's Fleet Management Solutions!
Feature Update: Individual Trip Creation
Many users of the platform struggle with trip creation as the option to create or edit trips were not easily discoverable via the main page and ad hoc trips were not easy to create. The new trips module update has an easy-to-locate "Create Trip" button along with an "Edit Trip" button that helps in easier trip management, scheduling, and rescheduling of vehicles basis the availability.
How Will The Individual Trip Creation Feature Benefit You?
Customization Possibilities: Create trips with or without a vehicle and make changes easily as per your trip requirements.
Ease of Use: Edit an ongoing or priorly created trip without going through the process of adding a new trip.
Trip Planning Flexibility: Assign and reassign vehicles during downtime without affecting the scheduled trip.
Efficient Management: Create ad hoc trips directly from the platform and allocate vehicles based on their availability to ensure smooth operations.
Feature Update: Visibility of Individual Trip ETAs on Map & Arrival Alerts
Earlier, updates were distributed over numerous trip tabs on the dashboard, as a result, it was difficult to monitor the real-time status of ongoing trips. Now fleet managers can track all ETA and arrival updates on the map itself. With this new update, users will be able to check the ETA status of individual trips on the map and even create notifications based on the projected remaining time to manage post-delivery processes.
LocoNav integrates with a maps solution provider that shares ETA for different trips. We utilize the data provided by them and provide the same information on our platform. Certain internal factors such as trip start time, and halt time at checkpoints are used at our end to update the ETA accordingly.
How Will The Arrival ETAs Feature Benefit You?
Maximize Efficiency: By viewing the ETA status of all individual trips on the map fleet managers can better analyse timelines and maximize fleet productivity.
Proactive Alerts: Set different alerts for different locations and get assistance in operation scheduling whenever a vehicle leaves or arrives at a checkpoint.
Data Analysis: To efficiently plan your future deliveries, contrast the information of scheduled time with the actual time taken to accomplish a journey.
Proper Management: Stay up to speed on the specifics of your journey by tracking the ETA of forthcoming checkpoints and individual places in one spot.
PLEASE NOTE Individual Trips and Arrival ETAs are gated features. Reach out to your LocoNav Key Account Manager to learn more about the activation process today!