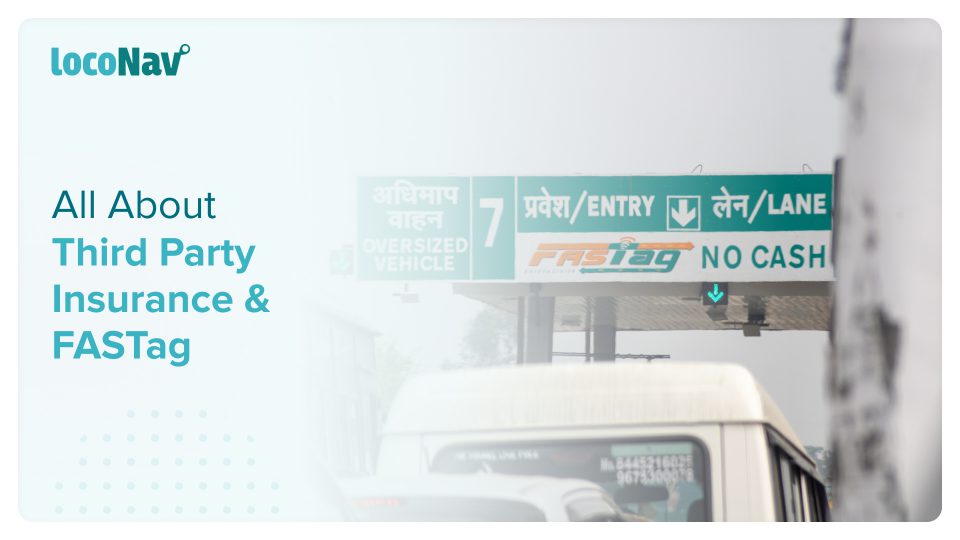 Is FASTag Mandatory for Third-Party Liability Insurance?
Considering Third-Party Insurance? Then this blog is for you.
Having been an avid driver for almost 4 years now, I cannot stress enough how important car insurance is. Auto insurance not only covers your vehicle in the event of an accident. It also safeguards you from financial obligations, medical bills, and legal ramifications. Auto insurance is crucial because it provides financial protection in the event that you cause a car accident or harm someone else's vehicle. Car insurance can also cover damage to your car caused by an accident or another covered risk, such as objects falling, fire, or theft.
While the need for insurance has been perfectly highlighted above, there are a few hoops to be jumped to actually acquire it. One of them is owning a FASTag. FASTag is a sticker that contains a Radio Frequency Identification (RFID) microchip that may be read to collect data. The data collected includes vehicle data, and the FASTag profile is linked to the issuing bank. A FASTag reader gadget can be used to read the RFID tag and scan the vehicle. The server at the toll plaza contacts the bank directly, which then sends the money to the toll booth.
Get LocoNav's FASTag and save your time and money on highways
Let us now see what third-party insurance is, and what government mandates have been issued regarding FASTags.
What is Third-Party Insurance?
Third-party car insurance only covers harm to a third-party person or vehicle. They are entitled to the first party's insurance coverage in the event of bodily injury, death, or damage to third-party property or person. As a result, the second party, or the first party's insurance provider, pays the damages on the first party's behalf. Because of the limited scope of coverage, third-party vehicle insurance is less expensive than comprehensive insurance.
According to the Motor Vehicle Act of 1988, a person is required to obtain at least third-party internet vehicle insurance. This insurance coverage is a legal requirement, and anyone who does not have it will be fined or face legal consequences. As a result, it is recommended to get third-party insurance as soon as you purchase a vehicle.
What Government Mandates for FASTag have been Made Public?
Old Mandates
Following the introduction of FASTags, the government made these necessary for four-wheeler registration. This mandate went into force in 2017. The government requested that automobile manufacturers or their dealerships provide new vehicle owners with the necessary FASTags. Furthermore, renewals of fitness certificates for transport vehicles were only permitted after the cars had FASTags installed. FASTags are now required for National Permit Vehicles as of October 1, 2019.
New Changes
The Government proposed the following adjustments in the Ministry's circular to boost FASTag usage –
When new automobiles purchase a third-party insurance policy, FASTags will be required. This mandate would take effect on April 1, 2021. The FASTag information would be entered in the third-party insurance policy.
FASTags would be required for automobiles sold before December 31, 2017 beginning January 1, 2021.
What Effect does FASTag have on Vehicle Insurance?
In India, with its congested traffic and high population density, approximately 53 road crashes happen every hour. If you and your car are ever engaged in such an accident, you will face huge financial consequences. Moreover, if a third party or their vehicle is involved, you may be legally obligated to compensate them for their damages. Third-party insurance safeguards you from legal and financial consequences if a third party is wounded, dies, or has their car damaged.
Previously, you had to obtain third–party insurance through standard channels, which could take a long time. However, you can now obtain the necessary insurance with considerably greater speed and convenience. FASTag will aid in the administration of automobile insurance plans and the correctness of administrative tasks. In the future, FASTag could be used to automate the renewal of third–party insurance, with payments handled via FASTag.
What can you do in Response to the FASTag Mandated Third-Party Insurance?
If you intend to purchase a new car in the coming fiscal year, you must choose the FASTag so as to have the vehicle covered once the rule is implemented. Furthermore, for car owners who purchased their vehicles prior to 2017, a FASTag would be required. Both of these modifications will benefit you, especially while traveling between cities. Toll tax payments would be simplified, and you would no longer be required to carry the appropriate tax in cash.
Commute would become easier and more convenient if the suggested amendments become law. You should, however, install a FASTag on your car regardless of whether the changes proposed become law for your own convenience.