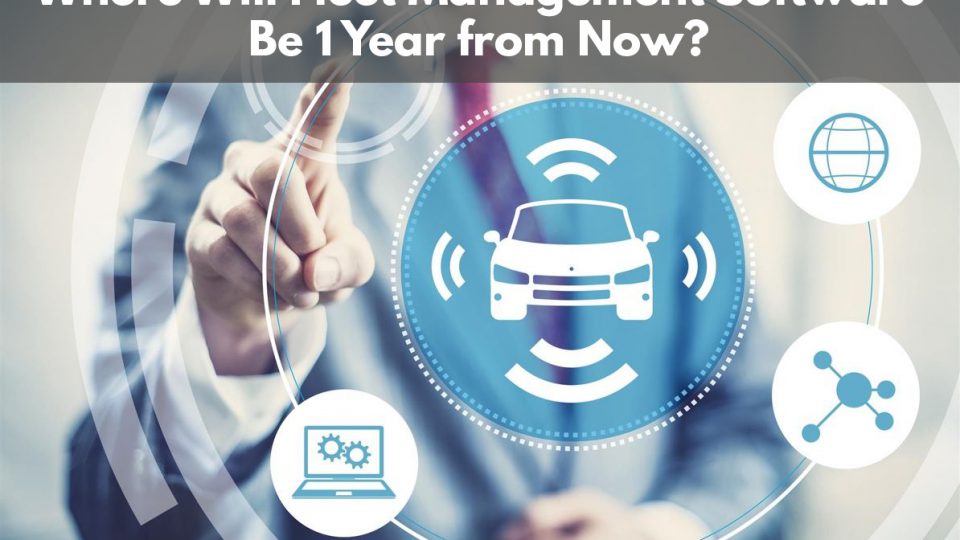 Where Will Fleet Management Software Be 1 Year from Now?
Technology has changed our lives and has influenced us all. Be it the Granny who will soon hit a century or a kid who hasn't even started talking yet knows about it. Each day, something new comes out, and the very next day, it becomes history.
Just Imagine, two decades ago, if someone were to say, you will have a device that unlocks on your fingerprint or face recognition. This device won't just let you call from one side of the world to another but also allow you to see them. Music, Radio, Video, Calculator, Alarm, Calendar, Games, and Whatnot! It can even bring food for you or give your exact location to someone if you're ever lost in this ever-busy world — all of these in one single device. Most of us would roll our eyes in disbelief.
But it's all true. Now we have these fantastic smartphones that perform all these tasks for us. This was just an example to show you how incredibly technology has evolved over these past few decades. Most of the things have become more comfortable.
Now, let's go back to the 'It can give your exact location'. So, what exactly is this and how does it happen? Most of us are familiar with the term, 'GPS', 'GPS tracker'. This is the thing that helps you know where your product in which you bought online or where your delivery guy is with your food. On a serious note, this is also that 'something' which would help you to locate someone if they are in trouble on your Google Map.
So, what exactly is GPS Vehicle Tracker?
Let's start with what GPS Stands for – "Global Positioning System". In technical language, "GPS provides geolocation and time information to a GPS receiver in all weather conditions, anywhere on or near the Earth where there is an unobstructed line of sight to four or more GPS satellites." Now, that we're aware of what it does, let's brief ourselves with how this effects things around us.
As I was talking about the evolution of technology, one of the most significant growths was seen in "Vehicles."

As of now, there are more than 1 billion cars currently in use on earth
And about 165,000 cars are produced every day.

Now, this was just about cars, and we certainly know there are a lot more other vehicles around. Due to this tremendous growth, managing them all became tiresome and rather complicated too.
To deal with these complications, 'Fleet Management' was introduced. The 'Fleet' here literally stands for 'Vehicle.' So 'Vehicle Management' or 'Fleet Management' is a rather broad term which includes – Commercial Motor Vehicles (such as cars, vans, and trucks), Private vehicles, Aviation types of machinery such as aircraft (planes and helicopters), Ships and even Railcars.
We will be focusing on the Commercial Motor Vehicles which consists of Cars, Vans, and Trucks. The purpose of introducing a fleet management system was to eradicate the problems faced by drivers and owners of the vehicles.

These problems include areas of vehicle financing, vehicle maintenance, vehicle telematics (tracking and diagnostics), driver management, speed management, fuel management, and health and safety management. Now one question arises how do the companies benefit from the Fleet Management services.
The Fleet Management works to remove or minimize the risks associated with vehicle investment, improving efficiency, productivity and reducing their overall transportation and staff costs, providing 100% compliance with the duty of care and many.
The services have proven to be so fruitful that within a span of 5 years, Fleet Management has seen a mighty growth from 3.05 million units in 2012 to 6.40 million in 2017 in the European Markets.

The Function of Fleet Management includes –
GPS Vehicle tracker
Mechanical diagnostics
Driver behavior
Fleet management software
Fleet security and control
As we are aware, the world is dominated by Technology, can you guess who the big fish is among them? Well, let me help you! It's the Fleet Management Software. We will try to know about it in detail and as much as possible. But before jumping to it, let's brief ourselves with the other fishes too.
1. GPS Vehicle Tracker:-

This is the most basic function of Fleet Management. It does make sense, right? I mean, if you can't locate where the problem is, how can you expect one to find the solution. The GPS Vehicle Tracker System is usually based on the GPS service but sometimes it's also based on the 'GLONASS'. It stands for Global Navigation Satellite System. And yes, as the name suggests, it uses space-based satellite navigation system.

Once the location, speed, and directions are calculated by the GPS, the Vehicle Tracking System sends them to the Fleet Management, who then based on their expertise take further decisions to make the task as smooth as possible.
2. Mechanical Diagnostics:-
Data such as Fuel Consumption, mileage, and other real-time components are determined by the Mechanical Diagnostics. This happens through the advanced Fleet Management system which allows the operator to connect to the vehicle's onboard computer, and gather data for the user.

3. Driver Behavior:-
We are aware that the road business is tough and rather harsh. It's not easy to sail through these conditions and which is why we hear about the severe cases of accidents which leads to loss of not only fortune but also the lives.
In order to deal with this, the advanced system of Fleet management has vehicle telematics systems collect a full range of data in real-time and for transport and fleet managers. These data collection along with the combination of the history of the driver can be used to determine a profile which indicates his efficiency. If the Management system finds that the behavior patterns are dangerous, the driver is sent into training facilities which help him overcome his problems.
4. Fleet Security and Control:-
The success of any business is determined by how much its users trust them. This trust is built over the security that they provide. We do know that Fleet service is a risky arena which includes stolen or rogue vehicles to stolen cargo. Therefore, it needs tight security which can help the owners prevent or at least minimize their losses.
The recent developments in the Fleet management allow them to ensure the security of the vehicle while stopped or not in operation and the ability to safely disable a vehicle while in operation. Now that we are aware of the little fishes, let's try to own the biggest fish too. Yes,
 5. Fleet Management Software:-
It's one thing to be prepared, but when things are happening in the field where even the slightest error of judgment can result in a significant loss, we tend to look for ways to make sure that things don't end up that way. As a wise man once said, 'Prevention is better than cure'. Again, technology has made life more comfortable and efficient.
In the same way, Fleet management uses the FMS or Fleet management Software to have better and efficient control and execution of tasks. The FMS enables people to accomplish a series of specific functions in the management of any or all aspects relating to a company's fleet of vehicles.
 Let's understand how Fleet Management Solution helped the big Fleet Industries:
The functions such as recording driver and vehicle details, the tracking of procurement costs, scheduling of maintenance and servicing tasks, import of fuel transactions, and measuring of fleet performance via reports and charts are all carried out with the help of Software. These are the basic tasks that Fleet Management Solution performs.
The capabilities differ from software to software based on the user-interface and advancement of the Fleet Management Company.  From vehicle acquisition through maintenance to disposal, all operations are carried out by the Fleet Management Solution.

As we know, that the era of 'Might is Right' is long gone and this is the era of 'Knowledge'. The more knowledge you have, the better are your chances of success. 'Knowledge' comes from data. Now, the reason why Fleet Management System is the heart of Fleet Management is because its primary purpose is to gather, store, process, monitor, report on and export information.
Advantages of using Fleet Management System in the management:-
These data are revised and studied thoroughly to develop future prototypes. This is what keeps a company going on in the ever-changing world.

The provider of data can be an external source such as gas pump processors, territorial authorities for managing vehicle registration, financial institutions, insurance databases, vehicle specification databases, mapping systems or from the internal sources such as Human Resources and Finance.
The Implementation of a software system into the Vehicle Management exponentially improves the management:-
Vehicles, assets, and equipment
Maintenance and repair
Fuel and emissions
Drivers including driver license checks
Workshops and scheduling – inspections, defect reporting and audits
parts and inventory
Accident and risk management
Regulatory and legal compliance
Budget and forecasting
Future of Fleet Management Solution:
The origins of the Fleet Management System dates back to 1970s on mainframe computers. By 1980, It had shifted to the personal computer when they were put into use. Over time, Software for Fleet Management has witnessed incredible growth. The quality, as well as the complexity, has increased exponentially to deal with the huge growth in the vehicle industry. As of now, the Fleet management software is directly connected to the Fleet Management and will be an understatement if I said the growth would slow down anytime sooner. Since the vehicle industry blooms so do the Fleet Management Solution to make sure that the industry keeps on thriving.
With the addition and development of Artificial Intelligence (AI), robotics, Internet of Things (IoT), Virtual Reality/Augmented Reality, energy storage, and blockchain, it will be a complicated task to adopt and go hand and hand with the new technologies coming out. Everything has to compliment each other and what today seems groundbreaking discovery becomes tomorrow's foundation for another one.
The world has also seen a tremendous rise in Electrical Automobiles. And with the next generation self-driven cars, which is a robot learning to drive through machine learning. This will perhaps make Fleet Management easier as the software will directly communicating with each other rather than interference from a third party.
LocoNav – The Top Indian Fleet Management System
1995 was the year when India took a jump in the automobile growth, and since then, it has never looked back. Today, India is one of the biggest producers of Automobiles. Not to mention, India also has one of the biggest and longest road networks in the world.
You can imagine all these factors conclude with saying how important it is for the Indian Fleet Market to have a good, reliable and technically advanced Fleet Management System. This is where LocoNav Fleet Solution comes in the picture. They believe in the motto – ThinkBeyond and work to develop India's Vehicle Landscape.
"Businesses in India are forced to run their vehicles with extreme inefficiency and poor security. We're determined to change that. Working with 1000s of businesses across various industries, geographies, fleet types, and sizes have exposed us to a lot of multi-layered and complex problems that they face daily. Through our proprietary technology, we ensure that every business benefit with lower running costs, greater security and faster turnarounds."
– LocoNav
The problems faced by the Indian Automobiles have found a solution in the Loconav fleet solution. The Fleet Management Solution of LocoNav works in accordance with the drivers and owners to provide them hassle free and secure delivery.