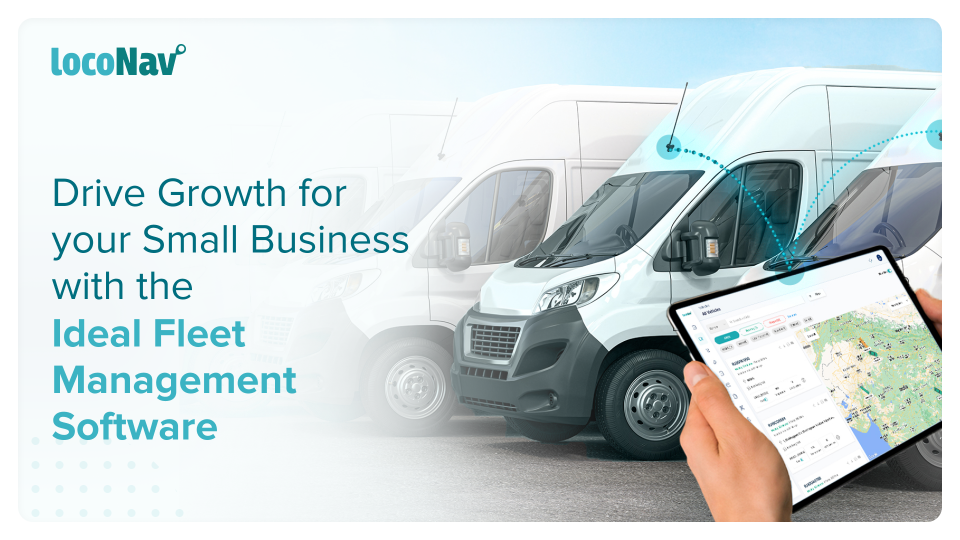 How to Choose an Ideal Fleet Management Software for a Small Business?
Handling a fleet is difficult, but the correct software can assist. Choosing the perfect fleet management software for a small business fleet may seem daunting. But don't be concerned. The best solution is not predetermined! All you have to do is analyze some key indicators relevant to your organization to select the finest among the many! We lead you through the important aspects of fleet management software for your small business below, where we constantly give top-notch suggestions to solve your conundrum!
A productive fleet management system is required for an effective fleet management solution. Vehicle and driver surveillance, asset tracking, two-way connectivity, driver behavior, organizational skills, after-sales service, and keeping a strong customer relationship are all critical roles in fleet management.
Manage your fleet efficiently with LocoNav's Fleet Management Solutions!
Why is fleet management software for a small business a must?
Small businesses encounter difficulties that big businesses do not. These difficulties make it tough for small firms to stay afloat in challenging times, but those who are inventive will discover methods to manage these difficulties more readily.
A fleet management software for a small business can help you accomplish the following:
Since most GPS trackers available in the market today are automated, you can reduce your workload by a great deal.
Taking the guessing out of fleet management will boost your productivity as well as your confidence.
Online shared asset information, promote coordination and productivity throughout the entire workforce.
Save money by lowering the expenses of downtime, maintenance, and replacement.
Employing the right fleet management software for a small business will free up your time to do what actually matters, which is running your business.
What makes a good fleet management software for a small business?
A fleet management software for a small business is an essential tool for ensuring cost-effective and productive operations, as any firm with a fleet will attest. From accurate vehicle monitoring to fuel management, we've outlined the five must-have functions for your fleet of vehicles below:
A fleet management software is basically incomplete without a GPS tracking device.
It must include the capability for monitoring and measuring driving behavior. A driving behavior analysis feature, for example, allows you to examine acceleration, forceful deceleration, speeding, and over idling.
Warnings and alerts are a fantastic tool that allows small businesses to respond promptly to any challenging circumstance involving their fleets. You should be able to build custom alarms using fleet management software. It is critical to stay aware of developments in order to ensure that cars operate cost-effectively and productively.
Maintaining the perfect fuel economy is a major concern for fleet managers because fuel accounts for a large chunk of a fleet's operational budget. With the right software, you can track fuel levels around the clock and see how frequently cars are refueled and discharged.
It should assist you in monitoring route execution and anticipating future events, so supporting fleet management decisions, reducing fuel usage, and enhancing productivity.
When selecting the right fleet management software for a small business, keep in mind the following
Identify Your Business Needs
Before looking for a vendor, it's a good idea to identify the fleet management software's essential requirements. The brilliant solution that aids in doing everything beneath the hood must be chosen based on your fleet business' size, goals, and requirements.
Brainstorm a List of Desired Features
Once the business prerequisites are established, the following stage is to identify the qualities that your business requires.
For example, a small fleet firm wants real-time GPS tracking as well as a few integrations to save operational costs. Preparing a list of features based on the size of the business is an excellent way to discover a suitable solution.
Check For Feature Adaptability
It is vital to determine whether a Fleet Management System for a small business connects with specific existing or new systems. Drivers and labor costs, for example, can be managed if it is coupled with a Human Resources or payroll system. If a fleet management solution allows data sharing with CRMs and maintenance systems, the customer experience can be improved. Accounting, financing, and inventory integration allow for seamless operations.
Make Sure your Software is Scalable
Predicting your future business size in the present is far beyond the scope of any firm.
Checking the vendor's plan for adding new features and capabilities for flexibility and scalability is critical to ensuring that investment in fleet management software for a small business forms the foundation of a future-proof organization. Determine the FMS's responsiveness to future needs; otherwise, it will pose a serious danger to the firm later on.
FAQ
Which company provides the best fleet management software?
LocoNav is an ideal fleet management partner for businesses of all sizes and is a one-stop solution for all fleet business needs.
How can you improve fleet management for better work efficiency?
Small fleets benefit from the ideal fleet management software by outsourcing time-consuming administrative duties such as licensing, fuel bills, invoicing, driver expenditures, bidding, and ordering.
Are fleet management software the same for all businesses?
The best fleet management software for a small business grows with your fleet. Players like LocoNav tailor their services according to the size of your fleet. So yes, small and large businesses can have the same fleet management software.