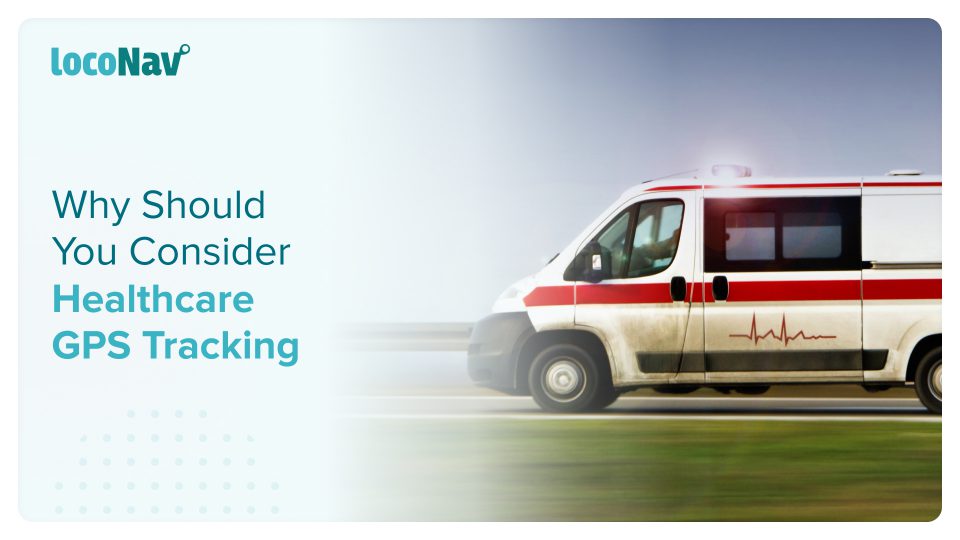 Fleet Tracking is Essential in the Healthcare Industry – Here's Why.
Every year, healthcare workers spend a significant amount of money on medical supplies such as prescription and over-the-counter medication, as well as equipment to seek treatment. Every year, the healthcare business loses or steals millions of dollars in medical equipment and supplies.
These highly valuable, FDA-regulated assets are frequently the focus of cargo theft during shipment before they can even reach a medical facility or clinic; the products are then often sold illegally. Monitoring medical equipment is now easier than ever before owing to GPS technology and medical equipment asset tracking software.
What is Healthcare GPS Fleet Tracking?
Ambulance dispatches, medicine distribution, blood delivery, routine mobile health check-ups, and other activities may also be performed by mobile health care personnel. As you can see, conveyance is critical in a variety of healthcare procedures. GPS fleet tracking ensures that all of these operations are well-oiled machines and can be completed in a safe and effective way within the specified period.
Additionally, some patients may require disaster response systems for individual or caregiver use. These technologies are frequently combined with inconspicuous GPS locators. This powerful tracking solution/combination ensures that the monitored patient's whereabouts may be easily tracked both indoors and outside.
Why is the Healthcare GPS Fleet Tracking Industry Growing?
The following are the primary factors that demonstrate the need for a GPS tracking system in the healthcare industry.
The quickest routes to the destination can be set for cars using GPS fleet tracking, and drivers can take the most direct ways to avoid delays.
The ETA feature calculates the approximate vehicle arrival time, allowing hospital employees to make previous measures before patient arrival in emergency scenarios.
When assistance required notification is received, the nearest vehicle can be discovered and allocated for collection using the vehicle location system.
Harsh driving patterns can be tracked and fast notifications created to notify drivers when they violate the predetermined speed limit.
Manage your fleet efficiently with LocoNav's Fleet Management Solutions!
Key Advantages of Healthcare Fleet Tracking
Visit Verification: Not only can GPS technology track the movement of the vehicle or time spent at a particular site in real-time but there are healthcare GPS tracking methods that enable professionals to document the services performed during a visit. Accurate reporting gives families peace of mind that their loved ones are receiving adequate care and can be utilized to settle billing disputes.
Increase in Responsibility: Without GPS healthcare fleet tracking, you risk staff performing personal errands while on duty or cutting time off home health visits. When you employ GPS trackers, you will always know where your commercial vehicles are. By establishing employee responsibility, you will be able to increase both client happiness and care quality.
Schedule smarter routes: It will be easier to fit the most routes into the day while keeping the level and standards of care that your health care organization has in place for the patients you and your staff serve. Employee hours will no longer be invested driving from one site to another in traffic.
Bypass traditional paperwork: Sending out forms after forms can waste valuable time for mobile health care personnel. Allow GPS fleet tracking software to record data for you. Digital records management is no longer just about preserving trees; you may save your entire organization a considerable amount of labor costs and lost time each year!
What Features should you Look for While Considering a Healthcare Fleet Management System?
As the owner of a healthcare fleet, you must be agile in order to run your business successfully in the ever-changing fleet sector. However, in the age of the digital revolution, being agile necessitates access to fleet-related analytics. Here are 4 characteristics that every fleet management platform should have to assist you to streamline your healthcare services!
GPS Tracking
It goes without saying that knowing the exact position of your assets on a map is critical. This is why GPS vehicle monitoring is such an important component of fleet management. With LocoNav's GPS tracking functionality, you can see precisely where your vehicles are, what course they're taking, where they've stopped, and how long they've been stopped. You can also create consolidated reports for location data for deeper analysis.
Driver Behavior Monitoring
As an ambulance driver, safety is of the utmost importance. You can keep an eye on your fleet drivers with driver behavior reports to ensure they are driving safely. To be more specific, the system monitors and creates scorecards, to outline driver conduct. LocoNav driver scorecards, in essence, assist you in identifying dangerous driving patterns such as harsh braking, fast acceleration, and sharp turns.
Furthermore, they can assist you in properly dealing with problematic behaviors. For example, you can utilize these measurements to develop and implement a company-wide safety policy, as well as to deliver specialized driver training to your workforce.
Custom Alerts
LocoNav's fleet management platform comes with a host of customizable alerts, available to be delivered via a web platform, SMS, in-app notification, or email. When you need to respond fast to a challenging scenario involving your vehicles and drivers, alerts are a highly useful function. With your alerts set up, you'll be notified when something goes wrong, allowing you to take fast action to ensure your vehicles are functioning efficiently and cost-effectively.
Vehicle Maintenance
Another important component of an excellent vehicle management system is proactive vehicle maintenance. LocoNav's Vehicle Maintenance module provides you with all of the car status and diagnostic data you need to keep everything under check. Additionally, you are instantly advised of routine examinations and repairs with this service. You can also upload and save all maintenance-related documents on the platform itself.
As a healthcare fleet owner looking to protect their patients and vehicles while also streamlining their business, you must first obtain insight — and thus control — over all fleet-related matters. To that end, a centralized fleet management system, such as LocoNav, will not only help oversee daily fleet operations and logistics but will also provide critical tools to keep everything (and everyone) in order while also optimizing operations. The good news is that LocoNav can alleviate your burden.