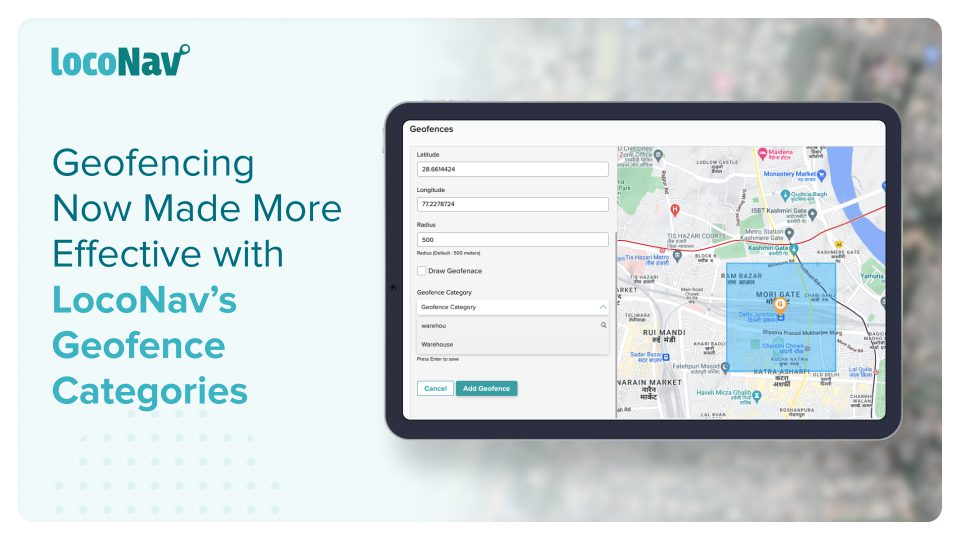 Geofencing Now Made More Effective with LocoNav's Geofence Categories
Handling your fleet is a difficult task. The functions and responsibilities of fleet managers have expanded over the previous decade as their roles and responsibilities have developed. One of the most critical roles of a fleet manager is fleet safety. Geofences are an important tool for maintaining fleet safety.
A geofence is an unseen boundary that you set up around a city, job site or yard in fleet management jargon. Setting up a geofence allows you to track your vehicles and collect data. This data simplifies fleet management, assists fleet managers, and can increase fleet performance. When a driver's GPS device enters or exits the geofenced area, an action is triggered.
When juggling between delivery locations, restricted areas, and accident-prone areas, you end up with a lot of geofenced areas and alerts pertaining to each of them. Owing to the confusion this will cause, your fleet operations can have a lot of room for error which results in increased expenses. To deal with this challenge, LocoNav has upgraded its Geofence feature by introducing Geofence Categories.
Check the live location of your vehicle with LocoNav's Vehicle Tracking System!
What are Geofence Categories?
As a fleet manager, your geofences might be spread out across a significant geographical area. One of your vehicles could have delivery sites in specific areas of the state or country. Or your vehicles might be restricted to drive through certain areas due to compliance issues or the risk of theft. 
So, to manage all delivery site geofences at once or to quickly review all restricted areas at once, a fleet manager can use geofence categories. For example, if your driver exits any area in which he has deliveries, you will be notified, or if he enters any restricted area geofence, you will be notified.
Benefits of Geofence Categories
When you group your geofences with LocoNav's Geofence Categories, you get:
Improved Accessibility
Create and manage geofences by grouping them into categories such as work areas, restricted zones, fuel pumps and other sectors to effectively track when your vehicle enters and exists them.
Greater Convenience
Eliminate the time spent on manual input of location data to track multiple geofences.
Increased Control
Get instant alerts when any of your drivers breach a geofence. In this way, you can take corrective action right away and increase the safety of your fleet and cargo on any trip.
Reduced Risks
By tracking your vehicles in restricted areas you can significantly reduce the chance of business liability and risks.