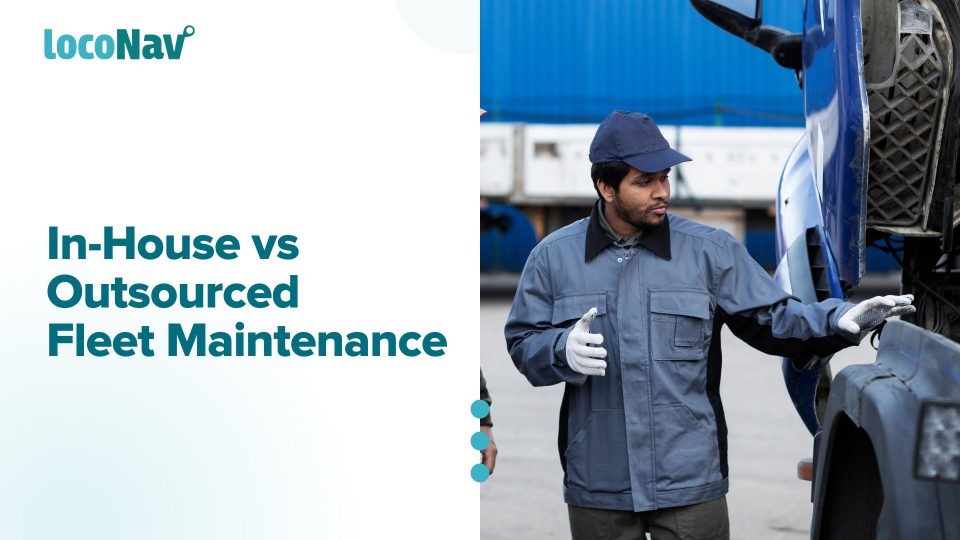 Fleet Maintenance: In-House or Outsourced?
Deployment of onboard technologies has been both a gift and a curse for fleets. The level of transparency between the fleet maintenance controller and the driver/vehicle gives information on how vehicles are driven as well as exposure to better data for more efficient repair and replacement decisions.
The disadvantage is that growing sophistication can make in-house maintenance more difficult, and sometimes more expensive. Add to that the requirement for specialised tools, parts, and equipment—as well as specially qualified technicians—and it's becoming more enticing for some fleets to stick to routine servicing (oil/filter changes, for example) and delegate the big jobs to someone else.
In this blog, we will discuss the pros and cons of both approaches which will help you pick, between in-house vs outsourced fleet maintenance. 
Manage your fleet efficiently with LocoNav's Fleet Management Solutions!
In-House Fleet Maintenance
Having an internal team to take care of your fleet's maintenance is known as in-house fleet maintenance. Let us see the pros and cons of taking this approach.
Pros
First and foremost, an internal maintenance team is able to control costs more efficiently.
An internal team understands what is required and can quickly identify priorities.
If you have a fleet of the same type of vehicle, it may be easier to save money because the maintenance required for all of the cars is often the same.
You can customise maintenance schedules and processes, as well as document every single servicing event on a regular basis.
You can outline the process for vehicle service and regular maintenance rather than just focusing attention on vehicles during downtime.
You don't have to rely on the services of various vendors who may not always be trustworthy on occasion.
Pros
You will have to invest in a proper maintenance facility, along with training courses for your staff.
For small fleets, this investment can outweigh the benefits.
You will almost certainly spend a lot on resources and performing a maintenance inventory, which takes time, money, and employees.
Outsourced Fleet Maintenance
If you hire an external company that specializes in fleet maintenance services, it is known as outsourced fleet maintenance. Let us see the pros and cons of taking this approach.
Pros
Costs are fixed as agreed upon initially, similar to a contractor.
The outsourced team will always be trained and updated on new techniques in the field of fleet maintenance.
You will not have to employ your own resources. This ensures your internal team is not engaged in any maintenance activities.
It does not affect the operational capital of your company.
The company you outsource your maintenance to will always use updated equipment and machinery.
Cons
You may be unable to record all servicing occurrences or require more time to do so; you also have less authority over the process.
Because you are not the only one relying on a vendor, you may experience excessive downtime, as well as unneeded repairs and sluggish response times.
You might have to travel and pay money just to get to the maintenance vendor.
Because an external vendor's employees may change frequently, they may be inexperienced with your car or company.
Working with an intermediate might be comparable at times, with less fluid communication.
In-House vs Outsourced Fleet Maintenance: The Best Approach? A Mixture of Both
One of the most commonly heard fleet-related statements is that no one size, or solution, fits all. Keeping this in mind, think about combining in-house and outsourced maintenance services.
Parts can be outsourced to a vendor while you remain responsible for maintenance.
Another example is when you outsource maintenance for a portion of your fleets, such as light-duty vehicles or speciality equipment, but retain responsibility for the rest of the fleet.
Outsourcing can also be performed with a geographic focus, where vehicles in remote places are given to a supplier while vehicles in major locations are kept in-house.
The option that is eventually the most beneficial for the company is greatly dependent on the specific situation.