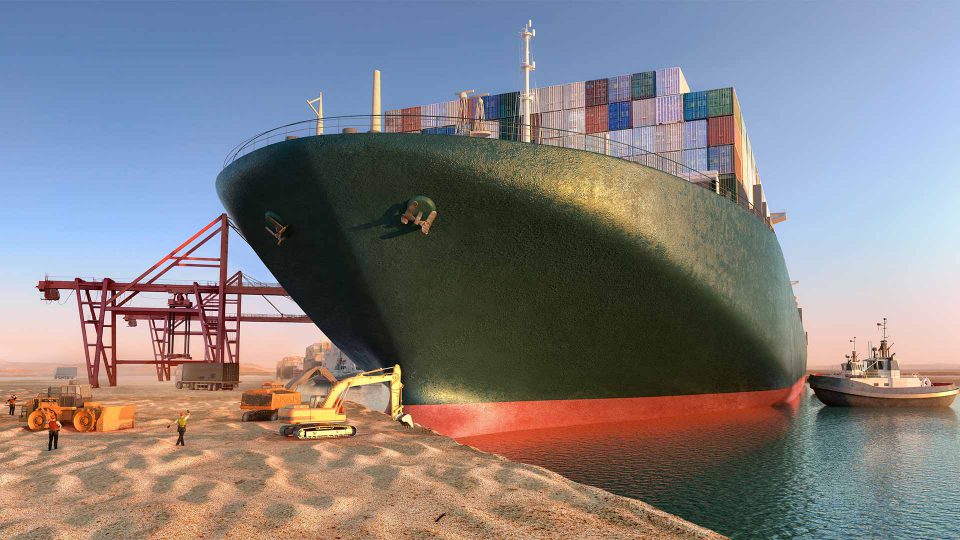 Explained: What the Suez Canal Saga Has Taught Us About Supply Chain Technology
The Suez Canal blockage aggregated the problems that the global supply chains were already facing due to the pandemic. About 12 percent of the total global trade crosses through the Suez Canal. It serves as a significant bridge between Europe and Asia as this waterway enables 50 cargo ships to pass between the Mediterranean and the Red Sea every day.
When a 400m cargo ship with a weight of approx 200 000 tonnes got stuck sideways in the Suez Canal, it blocked more than 400 vessels carrying oils and other livestock goods. An estimated global trade of $9 billion each day passes through this waterway. Finally, the ship was refloated six days later. During these six days, many ships had to change their route due to blockage and were forced to pass through the Cape of Good Hope, situated at Africa's southern tip. The reroute took 10 days longer and the 9000 km long journey added a heavy fuel bill for supplying the goods between Asia and Europe.
Europe and Asia were most affected due to the blockage of the Suez Canal considering there was no other mode of transportation. The blockage caused a delay in the supply of raw materials for European products such as cotton from India, auto parts from China and petroleum from the Middle East. Some of the companies even paid additional charges to have their shipment delivered on time.
Manage your fleet efficiently with LocoNav's Fleet Management Solutions!
The global crisis that the COVID-19 pandemic caused in combination with the stuck container ship proves how delicate just-in-time supply chains are! Supplying things strictly on a needs basis can only be successful if manufacturers and suppliers are closely located in industrial centres, otherwise, an in-house storage option is always better.
It is time that the executives should come up with a hyper-efficient system to deal with high impact situations like Suez Canal blockage and global pandemic rather than relying on just-in-time supply chains. Though just-in-time supply chains can reduce costs and produce hefty profits, they might leave you vulnerable to unexpected situations. The supply chain focus needs to learn from the Suez Canal crisis and think of measures to deal with such events.
Have a Plan B 
Having a plan B is so significant especially when there are high-impact situations like a complete change of route in the case of the Suez Canal event. Planning things in advance do not always go wrong and even if they do, the loss is always less. One way to plan such disruptions is through alternate suppliers, buffer time, and a higher local inventory. Diversifying the transportation mode is another great option. Have at least one backup plan on transporting the product in time, this can be through another mode of transportation or different suppliers.
Check the Local Alternatives
Due to the pressure on costs, it is challenging to move all supplies locally. Nevertheless, the Suez Canal Saga has taught us that there's still room for it. The supply chain can take this into account and must find meaningful local alternatives or think of diversifying the supply.
Have a Red Book
Events like the global pandemic and Suez Canal blockage makes us realise how fragile time is and no matter how good you are at management, there will always be situations where the supply chain gets disturbed. Thus, clear guidelines should be set on what should be done in such a situation by publishing an official red book. This should mention all the steps that can help in dealing with such unexpected events.
Increase Transparency
Businesses need to increase transparency in their supply chains. As per one of the reports published by the Association for Supply Chain Management (ASCM), most of the companies do not know their supply chain beyond immediate vendors. This narrows the capacity to identify unexpected threats or determine if there's any disruption within the supply chains. The same report also mentions the importance of building a long term relationship with the suppliers by offering them financial support during the crisis to strengthen the supply chain as this could help in quick recovery after an unexpected event.
Flexibility is Key
Experts cannot always predict what's going to happen in future and things can always go worse. Hence, it makes sense to remain flexible and have multiple options in hand for meeting your goals irrespective of the obstacles in the way. One of these options is using the supply chain connectivity technology to gain insights and see if there's any error or delay in the supply chain so that everything else can be planned accordingly.
A Risk Management Strategy
Taking into account how large and complicated the global supply chain has become in recent years, it is crucial to think of risk management strategies. In the Suez Canal Saga, nobody ever imagined that the world's most vital trade passages would be blocked and so many ships would get stuck on their way. Still, this event occurred and everyone struggled to alleviate the risk. Therefore, it's important to have risk management strategies in place for ocean shipping.
Quick Read: Cost Optimization: A Prudent Strategy for Fleet Managers to Address COVID-19 Impact
Quick Read: The 5E Model of Fleet Optimisation