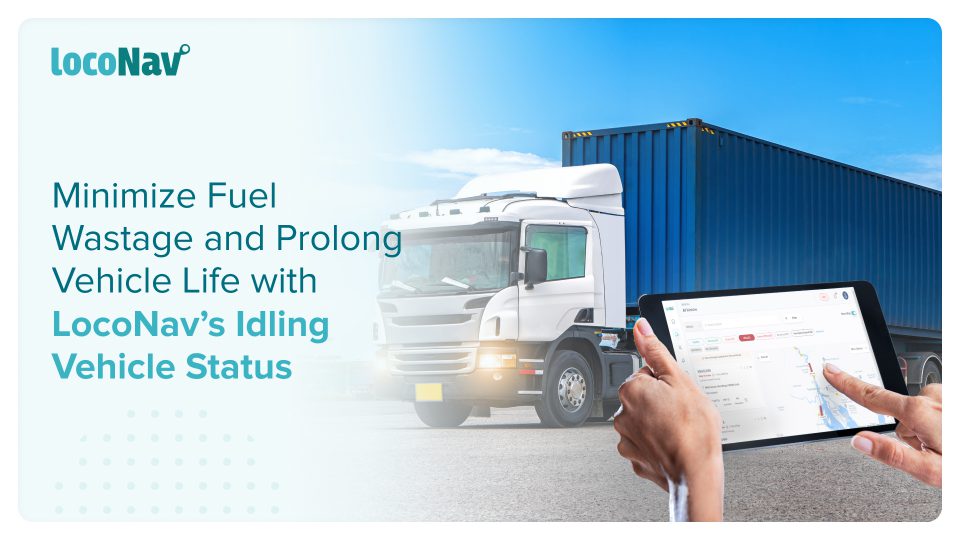 Minimize Fuel Wastage and Prolong Vehicle Life with LocoNav's Idling Vehicle Status
The costs of running a fleet of vehicles far surpass the purchase prices. Owing to the rising expenses of owning a fleet, managers are always looking for ways to cut costs. One common practice that significantly adds to avoidable expenses is fleet idling. Idling is a state in which a vehicle's engine is running, but the vehicle is not on the move. There are many reasons why a fleet manager should curb idling times.
Why is Fleet Idling Harmful?
Leaving your fleet idling or parked for extended periods can significantly increase fuel costs. Your vehicle uses fuel even if the engine is on but the vehicle is not moving. With fuel prices rising, you can't afford to squander it by idling your fleet.
Prolonged car idling can have a severe impact on the engine, resulting in mechanical depreciation and vehicle breakdowns in the longer run.
Idling creates a high carbon footprint. Emissions from engine idling contribute to climate change and have an impact on air quality, posing health hazards to everyone.
To combat these challenges, LocoNav has launched a new Vehicle Status Category — Idling. With this, users can now
Get a consolidated view of which vehicles are idling and when by filtering your vehicles by "Vehicle Status Category".
View and download ready-made reports analysing fuel consumption, duration and location of the vehicles that are idling. 
Choose custom date ranges to get reports in .CSV, .PDF and .XLSX formats for deeper analysis.
Get a historical log of every idling instance during a trip. This can be accessed from the "Vehicle History" tab under the "Vehicle Details" section.
Manage your fleet efficiently with LocoNav's Fleet Management Solutions!
Key Benefits of Idling Vehicle Status
Do you struggle to identify which vehicles are idling?
With this feature's increased convenience, you can now choose to see only those vehicles that are idling for better visibility.
Do you wish to be informed anytime your vehicle is idling?
With real-time alerts, you can get instantly notified whenever your vehicle is idling and prevent fuel wastage.
Do you want to reduce your fleet's fuel expenditure?
Save money spent on fuel by minimising fuel wastage that occurs during fleet idling.
Do you wish to increase your fleet utilization?
When you ensure none of your vehicles is idling, you can drastically increase trip frequency.
Are your vehicles prone to breakdowns?
With easier identification of idling vehicles, you can increase engine life and reduce vehicle breakdowns by avoiding prolonged idling.
Are your drivers uninformed about the drawbacks of idling?
By identifying which vehicles are idling, you can train and coach specific drivers as a solution to reducing idling time.
Please Note: Idling is a gated feature. Reach out to your LocoNav Key Account Manager to activate it today!