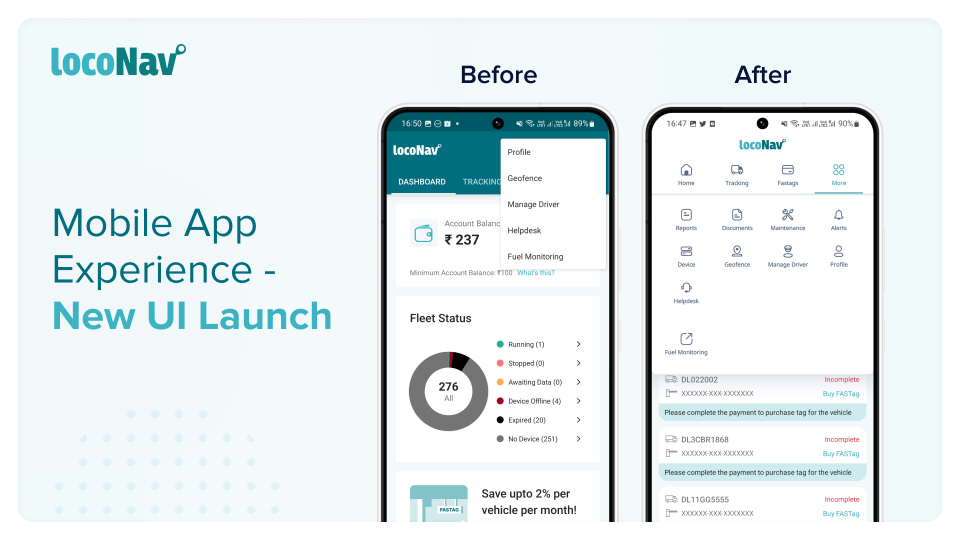 In-App Experience Now Made Smoother With LocoNav App's New Navigation UI
A user's journey with your brand starts as soon as they download, install, and launch your app. As a result, their overall experience should be enjoyable and thoroughly satisfying. The user experience as they move from one point to another in the mobile app is determined by the navigation and menu design of your mobile app.
We are determined to continue providing a positive platform experience for every customer and user. That is why, with each app update, we are committed to exploring new ways to improve our users' experiences.
With the latest update of the LocoNav mobile app, we are launching an all-new Navigation UI. It is designed to improve user productivity, enable straightforward platform administration, and maintain consistency and quality of user experience across all LocoNav products.
Manage your fleet efficiently with LocoNav's Fleet Management Solutions!
Why Did We Update Our Old Mobile App Navigation UI?
In the old app interface, many useful features were not clearly visible to the user. In order to look for those necessary functions, users had to scroll through the app for a longer time. Additionally, some important and relevant features were hidden in the top navigation menu which made it difficult for users to discover and access them efficiently.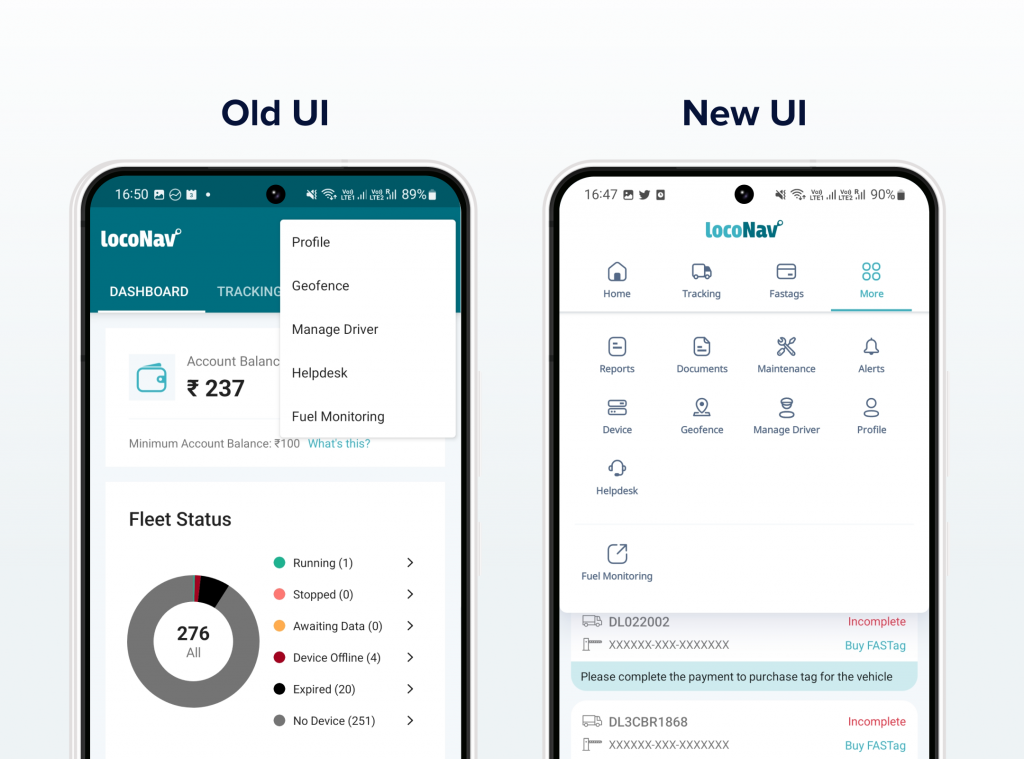 What's New With Our Mobile App Navigation UI?
The new Navigation UI has a much more friendly user interface along with the following exciting features:
Enhanced Discoverability
Users do not need to comb through the entire app as all relevant features are now visible to them in a single place.
All features are clearly marked with titles and relevant illustrative icons to make it more user-friendly.
Efficient Navigation
With the revamped navigation, users can move seamlessly from one feature tab to another without having to scroll through the entire navigation menu.
Structure User Interface
The new UI has a clean and simple look that allows the user to have a seamless experience while navigating through the app.
With new icons and navigation styles, we have upgraded the entire look and feel of our platform to make it more intuitive. The upgraded styles are not only visually appealing but are also intended to be aligned with our primary purpose, which is to improve user experience.
Download the LocoNav App from the Play Store to experience our New Navigation UI for maximum efficiency.