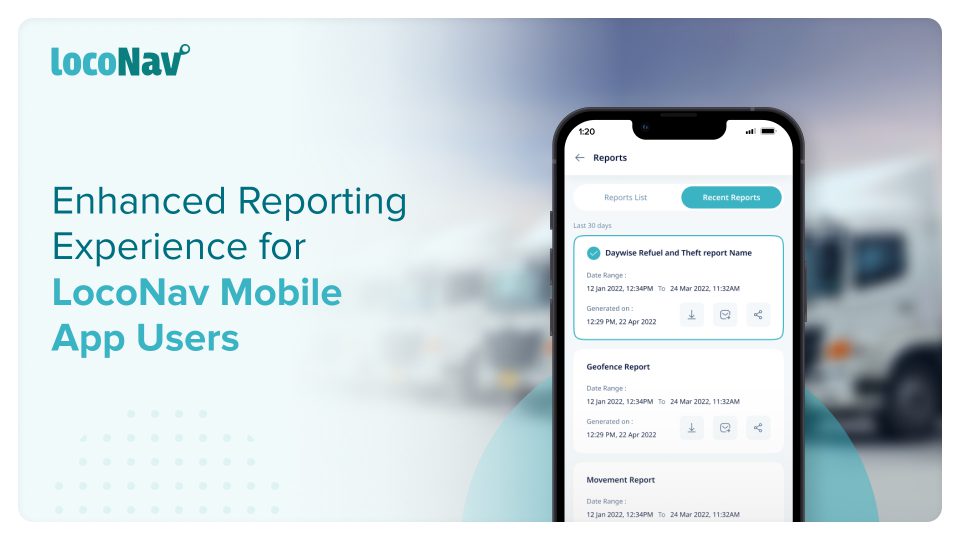 Enhanced Reporting Experience for LocoNav Mobile App Users
In the coming years, mobile devices, which are already widely utilised, will be the sole means by which drivers will handle their fleet tasks. Phones can be utilized to report mileage, trip details, vehicle position, find customers and vendors, and so forth. Mobile fleet management apps improve cooperation with field personnel, which is critical for accountability and reporting.
Since the benefits of mobile app fleet management are obvious and the boom in its adoption is a certainty, we decided to revamp the reporting section of our mobile app.
Manage your fleet efficiently with LocoNav's Fleet Management Solutions!
Why Did We Update Our Existing Mobile App Reports?
While the reporting features on the web platform provided users with many pre-defined and custom reports, multi-vehicle view, and sharing options, the mobile app was left to play catch up. The older reports module on the LocoNav mobile app offered a few reporting options, offered only a single vehicle view, and did not support report sharing.
What's New With LocoNav's Revamped Mobile App Reports?
The revamped mobile app reports are designed to improve user experience and boost productivity. Some new features that will contribute to this are:
The reports tab is now easier to discover and identify. All tabs are now visible to the user in a single place with distinct titles & icons.
Users can now create and view consolidated reports for multiple vehicles at once.
The revamped reports on the mobile app allow you to share your reports with all your key stakeholders via multiple apps such as WhatsApp, Telegram, and more.
PDF versions of your created reports are now available for easy access and previewing on the revamped mobile app reports.
Benefits of LocoNav's Revamped Mobile App Reports
This mobile app update is rolled out to provide the following benefits to our users:
View, download, email/share reports with multiple users at the touch of a button. Users can also email to single or multiple email IDs.
Generate and view key/frequently used reports from the mobile app itself.
Each report type has a description & sample format to help users better understand & analyze data more efficiently.
Recently created reports will now be easier to locate via real-time report generation push notifications or in-app pop-ups.
Access to Historical Data
Get historical data for up to 30 days, analyse patterns, derive actionable insights, and make more profitable business decisions.