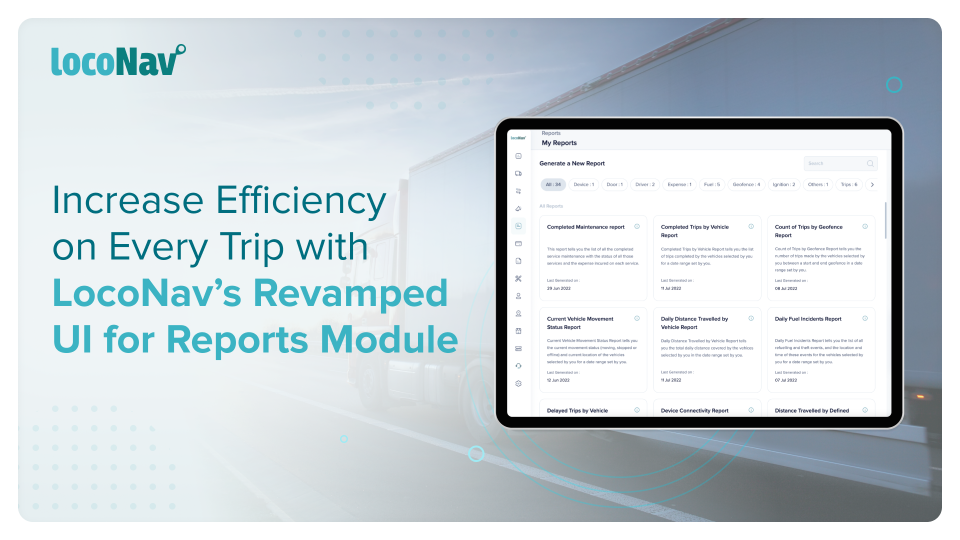 Increase Efficiency on Every Trip with LocoNav's Revamped UI for Reports Module
Wouldn't you rather increase your fleet's efficiency with every trip? If the answer is yes, you're in luck. We are delighted to announce the release of the new features in our "Reports" module. LocoNav has revamped the UI for the Reports Module on the platform. It is a simpler way to visualize and access reports for a vehicle, driver, and trip efficiency for your fleet.
Manage your fleet efficiently with LocoNav's Fleet Management Solutions!
The following features have been updated keeping in mind fleet productivity, easier platform usage, and maintaining consistency of user experience across all LocoNav products. With this new revamp, users can:
Increase Efficiency
Fleet managers can choose the report category like the vehicle, geofence, trips, etc. as per their requirements and the related reports will get filtered out. This will enable the users to quickly find the relevant report they are looking for, making the section more efficient.
Smarter Reporting
While many useful reports have been available on the platform, users could not always understand what each report could be used for. With this UI revamp, fleet managers can see a description of all the default reports, which will help the users to understand what the report does, how it can help them and all details are available inside the report (before generating the report) and s/he can pick the required report.
Ease of Usage
This feature makes all the reports which were generated in last 30 days readily accessible. This is intended to minimise the user's effort to generate the same report again and again whenever it's required.
LocoNav's revamped UI for the reports module brings enhanced capabilities for both accessibility and reporting. From seeing a description of all available reports to a more efficient categorizing of reports, this update brings all your reporting requirements to one convenient place.