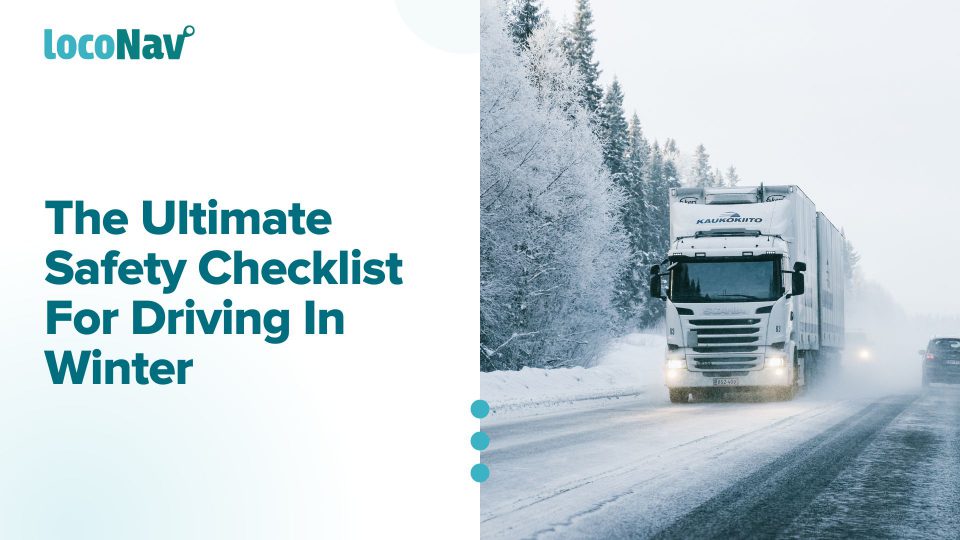 9 Efficient Tips For Safe Driving in Winters
When the temperature drops below 10 degrees, even the most experienced truck drivers may struggle to navigate the icy roadways. Poor vision and low traction make a big truck driver's work extremely difficult. However, by practising preventive safety techniques for driving in icy circumstances, you may safely navigate the winter season.
As we enter a gloomy and bitter winter, it is critical to maintain secure fleet operations when driving in inclement weather. Even after the holidays have passed, the short, frigid days will persist.
In this blog, we will discuss the challenges of driving during the winter and give you 9 tips for safe driving in winter.
Manage your fleet efficiently with LocoNav's Fleet Management Solutions!
5 Challenges of Driving in Winters
While there is no alternative for long-term trucking knowledge, simply being aware of the most typical road obstacles during the cold season can go a long way toward saving truck drivers from an unpleasant breakdown or malfunction (or worse, collision).
Here are some challenges that truck drivers may face when driving during the winter.
Vehicle Malfunction
It is also critical to pay close attention to the condition of your truck equipment, which is especially vital during the winter season. When travelling in bad weather, keep a check on warning lights or signs that may indicate that things are not working as smoothly as they could. After all, you do not want to be trapped on a rural roadway with a broken-down truck. You should pay careful attention to your trailer tyres to prevent them from freezing.
Overspeeding
While it may be appealing to go as fast as possible during a snowstorm, it is critical that you take your time. Although this is legally within a driver's control, it deserves to be included on this list because it is a simple regulation to overlook. But keep in mind that drivers should take it slow when there is ice and snow on the ground.
Vehicle Clusters
It is best to avoid traffic as much as possible in icy winter conditions. While it is usual for trucks to "cluster" and drive in unison, it is best to keep as much distance from other vehicles as possible. Since there is low visibility, drivers should make every effort to have a buffer zone in front and back of their trucks, as well as around all sides.
Slippery Roads
The most evident issue that truck drivers confront throughout the winter season is driving over ice and snow. Inclines and dips are more difficult to navigate in winter than flat terrain. Larger trucks should take their time approaching these hills.
Clogged Fuel Filters
Large trucks are at risk of freezing and clogging their fuel filters in cold weather. When stopped, some truck drivers like to idle their vehicles to allow the interior to heat up the filters and keep them unclogged. The risk is highest if you begin in a warmer climate and travel to a cooler one. This is because the fuel in hot climates is not usually treated with preventive chemicals to avoid gelling.
The Ultimate Safety Checklist For Driving In Winter
Here are our top 9 tips for safe driving in winters!
#1 Inspect Your Vehicle
When it comes to vehicle safety, you may need to adjust your usual checks significantly during the winter months.
Check your
Tyres – wear, pressure, and balancing [Extra Tip: You can use LocoNav's Tyre Management System to make sure they are in proper working condition.]
Battery – power and charging system
Wiper blades – working and free of snow and ice
Fluid levels – topped up
Lights – should be fully working
Exhaust pipe – should be clear of snow
Defrosters should be functional
#2 Slow Down
The majority of accidents occur as a result of drivers travelling too fast. This is especially risky for truck drivers because it takes significantly longer to stop the vehicle if there is a barrier or incident ahead.
When stepping behind the wheel of an unknown vehicle, take your time getting used to how the vehicle behaves and remember that it is much more difficult to control or stop on a snow-covered road! Remember that speed limits are set for dry roads and excellent weather!
#3 Drive Smoothly
In chilly weather, avoid performing anything unexpected – rapid braking, harsh acceleration, cornering, and so on. If you need to slow down quickly on a slippery road, lightly pump your brakes. The goal is to keep a steady speed and avoid attempting anything that will lose traction on the slick roadways.
#4 Give Yourself Some Space
Increase your stopping distance in severe weather or poor road conditions to give yourself more time to respond to vehicles in front of you. Allow 10 times the standard stopping distance under such situations. Remember that trucks require more time to halt than vehicles.
#5 Use Your Blinkers and Turn Signals
For winter driving, use four or five flashes before moving into the next lane gently. Do not feel obligated to keep up with the drivers around you. If you are driving a truck on winter roads, keep your speed down and utilise your warning lights to alert other drivers that you are travelling slower than they are.
#6 Know When To Stop
When winter circumstances get so hazardous that driving becomes impossible, find a safe spot to rest. Avoid stopping on the turns whenever possible, as this greatly increases your chances of being hit. Instead, gently drive to a petrol station or other 24-hour facility and wait for visibility to improve.
#7 Enter and Leave Your Truck Carefully
This may sound apparent, yet truck drivers frequently fall and harm themselves by underestimating how slick their vehicle's steps are. To limit the possibility of slipping and injury, take your time and wear footwear with a good grip.
#8 Check The Driving Conditions
Keep up to current with weather information before you leave, and be informed of changing circumstances and closed routes via GPS systems, radio, or calling into base on a regular basis.
Telematics can be of enormous use in determining where drivers are, the routes they are taking, and the chances to locate alternate, safer routes, and safe driving in winters.
#9 Be Prepared and Pull Over When Needed
Make sure you have roadside support for trucks in case you get stopped or have a breakdown on the road. If the weather is too bad to drive, do not worry too much about your plans. Find a safe route off the road and wait until the weather improves and it is safe to drive again.
These tips for safe driving in winters may sound simple, but they will only work if you carefully follow them. Finally, it is up to you to use good judgement and stay safe while driving on the road.