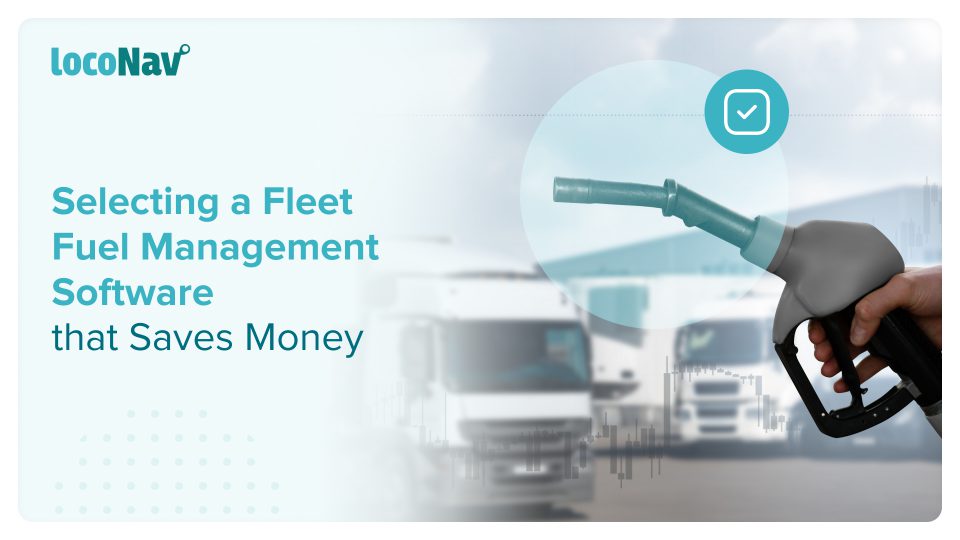 How to Select the Best Fuel Management Software For Your Fleet?
Fuel is a major cost for any fleet because it is required to run the business. And the more vehicles you have, the higher the cost. For fleets to save capital and enhance their bottom lines, effective fleet fuel management procedures are critical. Fleet fuel management entails maintaining and monitoring your fleet's fuel use using technology, as well as taking care of your vehicles and providing suitable driver training. Fleet fuel management software comes in handy in this situation.
A good fleet fuel management software like LocoNav is ideal for regulating and optimizing fuel consumption and expenditures. It consists of telematics hardware and software systems that monitor real-time fuel usage to increase the efficiency and profitability of your fleet. LocoNav's fuel management system can also help you save money on fuel by monitoring carbon emissions, changing driving behavior, and maintaining your vehicles.
While a good fuel management system can help you solve a lot in terms of saving operational costs, selecting the right fit is not always easy. This blog will outline some of the key aspects that you need to consider when picking a fleet fuel management software.
Contribution of Skyrocketing Fuel Hikes to Adoption of Fleet Fuel Management Software
The transportation sector is the backbone of our economy, and rising oil costs are simply another blowout in a string of recent years. Everyone in the fleet business is well aware of the recent increase in gas prices. This is a major challenge for a business that relies on gasoline for survival. And it comes amid already substantial strain as a result of the pandemic, which has exacerbated the driver shortage and highlighted supply chain difficulties.
Right now, the future is bleak, and fleet operators are rapidly losing money. These enterprises rely on fuel to stay afloat, and they frequently do not have large profit margins, to begin with. Small fleet businesses may struggle to thrive as prices rise.
These additional costs affect more than just fleet businesses. They will eventually be passed on to the end customer. When our economy finally recovers from the pandemic's devastation, prices for everything are expected to rise. If fleet managers want to stay in business, they will surely have to make adjustments to compensate for current record-high gas prices.
Fortunately, technology has advanced significantly, and there are numerous tools available to a fleet to assist in achieving this goal. And all the financial strain of fuel hikes has greatly contributed to the adoption of fuel-saving technologies. One of the most useful and crucial ones is fleet management fuel monitoring systems.
What are the Important Factors to Consider When Selecting a Fuel Management System
True, it takes effort to really comprehend the key differentiators behind today's fleet fuel management software, but that knowledge can help prevent costly mistakes. Below is a checklist of factors to consider when buying a system:
Features & Alerts
Most electronic systems are intended to monitor product storage tank fuel levels and give rudimentary leak detection, alerting you if there is an issue or concern. However, as with anything, there are a variety of models and alternatives, each with varying levels of usefulness. With fleet fuel management software such as LocoNav, you get the option of the following features and alerts:
Fuel Tank Capacity
Fuel Consumption
Refueling Events
Fuel Efficiency Graph
Possible Fuel Theft Alerts
Driver Behavior Alerts (Helpful for maintaining fuel economy)
Tailored Or Off The Shelf Software
An important factor to consider is whether your business needs a standard fuel management system or a customized one. Since business needs greatly vary from industry to industry, either of the 2 may be suited for you.
Integration Flexibility & Transformation Downtime
The shift from the old to the new should be smooth at best and fairly tolerable at least. Any downtime for refueling operations is crucial, thus there are always worries when establishing a new system or even modifying an existing one. Open communication and the release of timely updates will help to alleviate any fears or fuel-related issues.
Remote Monitoring
Remote fuel monitoring systems, like any other investment, can help you save time and money. The main benefit is that you can live your life away from your workstation while knowing you are still in control and have the most up-to-date information at your fingertips.
Most systems may be monitored online using a PC, allowing you to gain an overview of your fuel inventory at any time and from any location. Several businesses now let you view everything on your smartphone or iPad using a secure polling app.
Sustainability
Nowadays, the word "green" has many different implications. It could be related to correctly tracking fuelling procedures and, as a result, minimizing idling time or recognizing pollution issues. 
Determine what is or may be sustainable about the fleet fuel management software under discussion. If sustainability is crucial to your company, go with a brand that is known for being more creative and producing products that quickly and consistently adapt to the times.
Payment Security
Needless to say, wherever money is concerned, security comes first. Your fleet fuel management software must offer secure payment gateways. Correct fuel tracking and control are what can save businesses money. It prevents and minimizes misuse and theft while also providing reliable data to support fleet maintenance and financial choices.
Gated Access
This essentially means that there can be more than one stakeholder in the fuel monitoring of a fleet and the fuel management system should be available to all of them on their own devices. LocoNav Fuel Management Systems allow you to add multiple users and expertly manage the data they can access on the dashboard.
Multi-Device Support
An ideal fleet fuel management software should allow multi-device support. Most systems can meet the monitoring requirements of a few vehicles. Others are more specialized and can handle the requirements of a larger fleet. If you intend to expand your fleet and business in the future, make sure the unit you choose can readily grow with you.
Pricing & Warranty
If you've never purchased a fleet fuel management software before, you should be aware that they always come with a warranty program. Furthermore, some businesses provide extended warranties. If difficulties arise, this can result in significant savings. Get the warranty terms in writing, read the fine print, and compare the advantages.
Software Upgrades & Impact
People frequently believe that their proposed system will simply replace the previous one and that everything will continue to work as before. They are commonly shocked to learn that a plethora of new solution-centric technologies that are easier to use are now available to handle typical difficulties that arise in fuel system management.
For example, real-time tools and advanced tracking features can provide quick updates that can aid in the elimination of previously mentioned security issues, the detection of mechanical problems, the regulation of fuel usage, the facilitation of flawless data collection and transmission, and much more. All of these tools and capabilities save time, which translates to lower expenses over time. As with any new technology, you must ensure that it has been shown to work.
FAQ
What is Fuel Management?
A fleet fuel management software is a subset of a fleet management system that captures fuel consumption data and improves fuel economy using telematics-based tools and analytical software.
What are the Benefits of a Fleet Fuel Management Software?
The key benefits of using a fleet fuel management software are:
Tracking cost per mile
Preventing fuel theft
Improving fuel economy
Tracking fuel efficiency