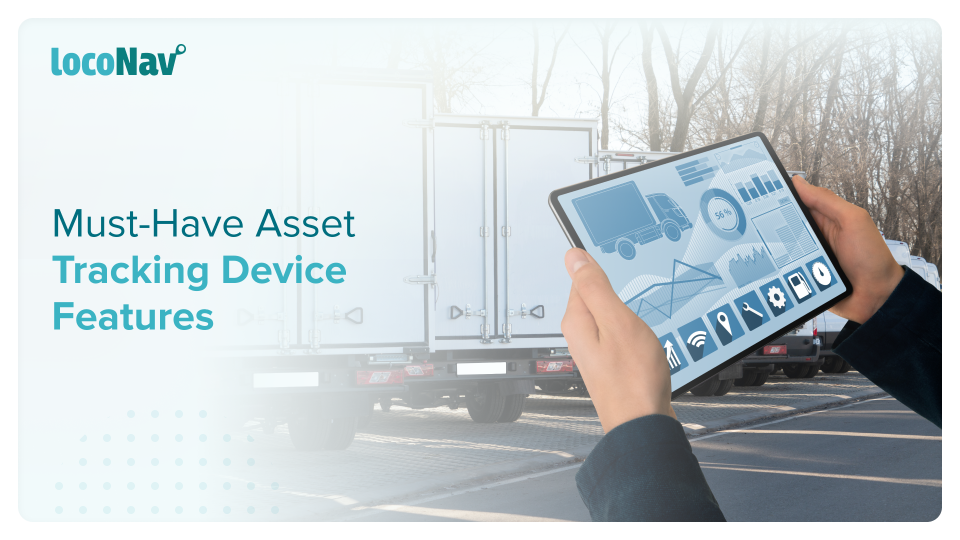 What Features to Look For in an Asset Tracker?
If you own a large fleet of vehicles, you understand how difficult it is to keep track of them all the time. An asset tracking device will simplify this procedure by providing exact information about the whereabouts of your assets at any given time. Because of benefits such as enhanced productivity, simpler processes, and real-time information, more and more managers are adopting asset management systems.
While the benefits of asset tracking are apparent, choosing a device with just the right kind of asset tracking features poses a bit of a challenge. That is why we have outlined a few asset tracker basics for you. This blog outlines what an asset tracker is, how it functions, what challenges it addresses, and most importantly, how to choose the right one for your fleet.
Check the live location of your assets with LocoNav's Asset Tracking System!
What is an Asset Tracker?
Let us first define what an asset is.
Assets are firm resources with monetary value that can be classified as either fixed or intangible. Vehicles, laptops, tablets, and dashboard cameras are examples of fixed assets (also known as tangible assets). Nonphysical resources like as software licenses, trademarks, operator licenses, and contracts are examples of intangible assets. The majority of assets in fleet management are vehicles.
Asset monitoring is an important technology to have in fleet management since fleet locations can change quickly, and without any medium of communication and surveillance, the organization is at risk of late delivery. An asset tracker is a device used for determining the quantity of something and its location. However, not just the quantity and location of a firm property can be determined.
The best asset tracking device provides reliable data on how effectively resources are used in addition to the basics of what the organization owns and where each component is located. Because of the flexibility and power of contemporary systems, the best asset tracker features include:
Vehicle Condition Monitoring
Proactive Maintenance
Determining Vehicle Depreciation
Processes for Ensuring Compliance
How does GPS Asset Tracking Functionality Work?
The utilization of the Global Navigation Satellite System (GNSS) network provides the primary functionality of a GPS-based tracking system. This satellite network transmits microwave signals that are transmitted to a number of GPS devices.
The asset tracking device is then deployed in the asset to collect data such as speed, idle time, diagnostics, and so on. It constantly monitors the location of the vehicle or equipment using Global Positioning Systems (GPS satellites). The data collected from the car is then kept on the gadget inside.
The data is subsequently sent via a wireless or cellular network provided by carriers. In near real-time, the location data is shown on a map.
What Challenges does an Asset Tracking Device Resolve?
Asset tracking is an important aspect of fleet management, but knowing where your vehicles are is only part of the work. An asset tracking device can be used to address a wide range of issues.
Underutilization of Assets
Tracking assets allows you to easily review consumption. Some vehicles may be used more than others. Asset tracking device not only assures timely repair but can also assist spread out workloads, minimizing abuse of some trailers while others sit idle in the yard. You'll be able to monitor which equipment is being used and route assets to job sites where they can be used if you have insight into all of your assets. Understanding use and asset utilization can also help with billing.
Vehicle Theft
Missing assets are one of the most significant preventable losses in the trucking sector. Asset tracking can aid in the prevention of theft and loss of equipment. When investigating theft or damage, it can take some time to work through the uncertainty.
A competent asset tracking device like LocoNav can pinpoint the location of your assets in near real-time using reliable GPS. You can track strange movements or theft by using the related back-office software. This means that assets will be recovered faster.
As criminals become smarter, it is critical to consider the appearance of the tracker itself. Its sleek, discrete appearance and tiny size make it simple to deploy on any asset invisibly.
Equipment Hoarding
Stop squandering money on useless machinery. On today's job sites, asset hoarding has become common. Sometimes it's unintentional, but other times it's deliberate. It's tempting to keep a piece of equipment on hand "just in case," but if it's not functioning for you, it's costing you money. Asset tracking provides visibility into all of your assets, allowing you to streamline workflows and ensure that important equipment is being used.
Questions to Ask While Investing in an Asset Tracking Device
Choosing the right asset tracking device features is essential. Asking the correct asset tracking inquiries can help you select the right asset tracking device that fits your business's demands now and in the future. We have given some crucial questions that you should consider. This includes the following:
Question 1: Is the tracker easy to use?
Ideally, you'll want all of your staff to switch over to the new system as soon as possible. The simpler it is to use, the quicker your staff will adopt it. Is the software's UI user-friendly on both desktop and mobile devices? With access to a demo, you can ensure that the software is simple to use. You can also check if the tabs and buttons are sensibly put up and if mobile device functionality works as expected.
Question 2: Is the tracker suited to your business needs?
One of the most important asset tracking questions to ask is whether the solution is a suitable fit for your company. You can find out by learning as much as possible about your tracking needs as possible. To choose the right asset tracking GPS device features, consider whether you really need to:
Geolocate objects that move between locations?
Check-in/check-out assets for employees, such as IT devices?
Do you need to keep track of stock levels in your warehouse?
Track customer deliveries?
Depending on the nature of your organization you may additionally require specific cloud-based tracking tools.
Question 3: Is the usage of the tracker scalable?
Scalability should be considered while purchasing a future-proof solution. Your ledger will grow in size as your firm grows. Will the program be able to track thousands of assets in multiple places in the future? A scalable asset tracking device like LocoNav is able to grow alongside your company. It installs extensive tracking functionality as well as other exciting features.
Question 4: Does the tracker offer appropriate support?
If you have issues with your asset tracking system, you'll want to know that there is extensive help available. As a result, ensure that your desired software provider offers a variety of ways to reach support professionals. For instance, by email, live chat, phone, or a dedicated Facebook group.
Asset Tracker Buying Checklist
Before you go buying an asset tracking device, here are 7 things that you should consider:
Frequency of Data Collection
You need to be aware of how frequently your asset tracking device will track a location and transmit it to you and be sure that it matches your business needs. If you need real-time location tracking and the asset tracker only provides hourly location updates, the device is not suited to you.
The asset tracker you choose should have the ability to integrate with all your vehicles.
An asset tracking device can do more than just provide the geolocation of your vehicle. Modern asset trackers also help with maintenance alerts, emergency services, and more. Be sure to choose one that has advanced sensors to provide additional features.
A fleet vehicle is required to travel far and wide and not all places have strong network connections. An ideal asset tracking device should have the right network capacity to continue transmitting data even in weak network areas.
An asset tracking device is only useful as long as it is running. Carefully examine the battery life details of the device before you invest in it.
Geofencing is a fairly new feature that comes with GPS trackers. Essentially, it allows you to create a virtual boundary, and you are alerted as and when your asset leaves or enters the designated area of service. Ensure that your asset tracking device comes equipped with this feature.
It is wise to check for the power source of your asset tracking device to ensure that is always up and running. If it is battery powered, make sure that the battery has a long life. If it is a plug-and-play device, make sure that it does not harm your vehicle's battery.
FAQ
Which industries use an asset tracker?
Asset tracker features are utilized in a variety of end-user industries, including transportation and logistics, manufacturing, construction, information technology and telecommunications, and oil and gas.
What sorts of assets can you track?
A tangible asset is defined as any asset with a physical presence. A proper asset management system can readily track all tangible assets. Property, fleet vehicles, buildings, equipment, inventories, cash, shares, bonds, and other tangible assets are examples.
What are the benefits of asset tracking?
The most common benefits of asset tracking include:
Boosting vehicle utilization
Reducing theft and safeguarding equipment.
Preventing the accumulation of equipment.
Improving asset tracking and upkeep.