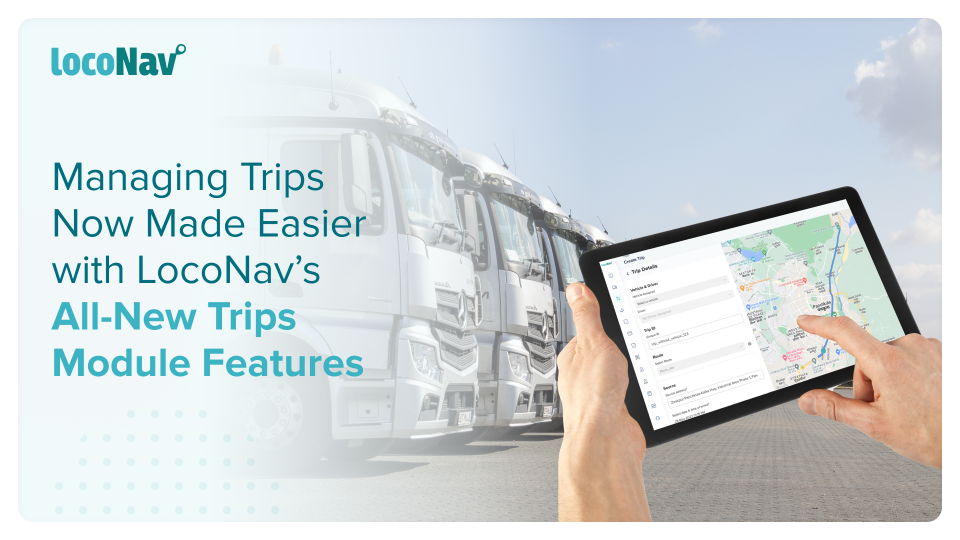 Managing Trips Now Made Easier with LocoNav's All-New Trips Module Features
LocoNav is dedicated to providing a positive platform experience for every customer and user. That is why, with each new feature we release, we are committed to exploring new ways to improve our users' experiences. We are delighted to announce the release of the new features in our "Trips" module.
The following features have been updated keeping in mind fleet productivity, easier platform usage, and maintaining consistency of user experience across all LocoNav products.
Manage your fleet efficiently with LocoNav's Fleet Management Solutions!
Simpler Trip Creation
In the previous version, new users struggled to add a trip. In the interest of increasing visibility of the 'Trip Creation' option and for better discovery,
A "Create Trip" button has been enabled on the trip listing page.
Users can click on the button and create a simple (ad hoc) trip.
On the trip list page, for each trip, a button for 'edit trip' has also been added for easier trip management.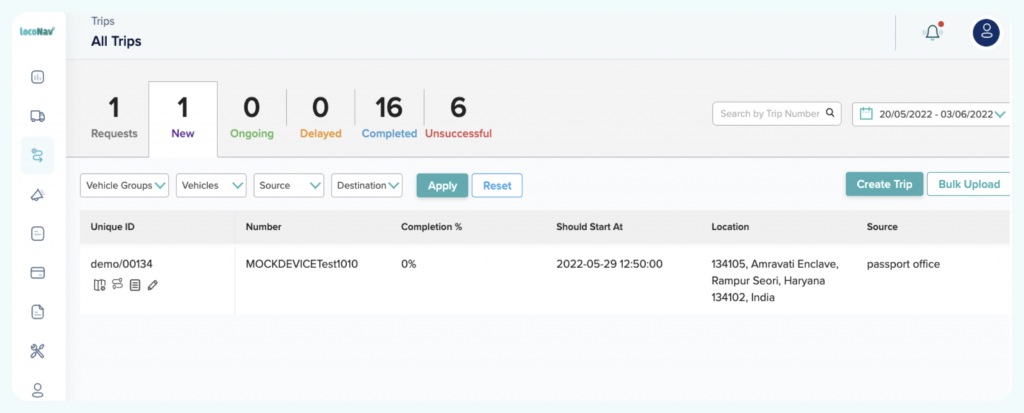 Create Trips without Assigning Vehicles
Various users reported that although trip details such as picking location, date, and delivery location are known, vehicle assignment is often the last step. To bridge the gap between supply and demand teams, we have created a new trip state called, "Requests".
Users can now:
Create ad hoc trips from the platform without assigning a vehicle.
Create multiple trips without assigning the vehicle in one go, using the bulk upload feature.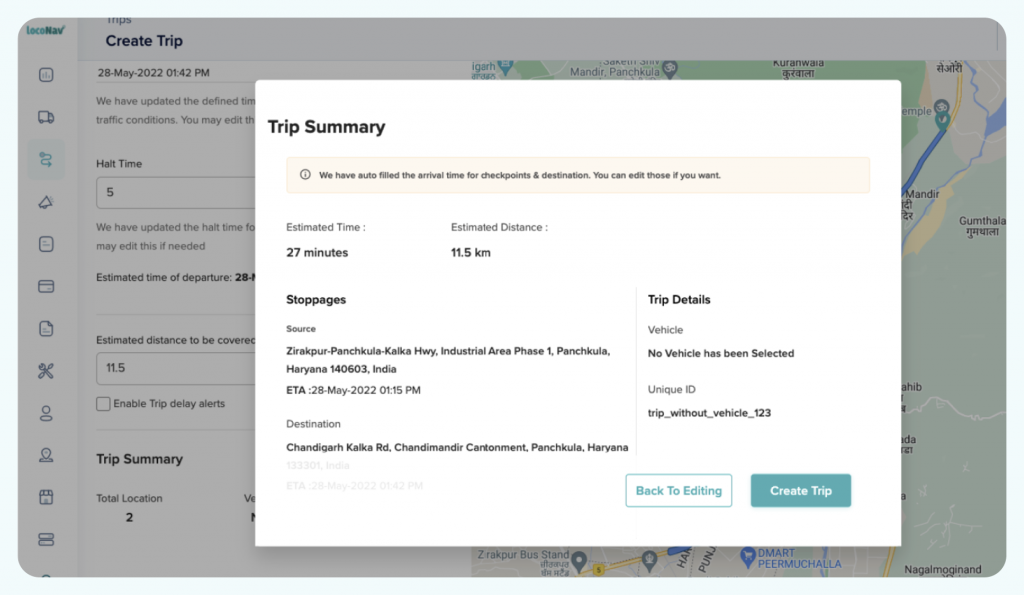 You can reach out to your LocoNav Key Account Manager to activate this feature today!
Trip Updates
Another issue that our users faced was that trips were not being updated in real-time. In case of network issues and delayed data, the trip was not updated accurately, which led to a lack of visibility.
To tackle these issues:
We have improved the accuracy of trips states by making backend changes
Trips will now be updated in real-time, as and when any related alert event occurs (eg, geofence exit/entry alerts).
Irrespective of alerts, trips will now also be updated periodically using the GPS movement data available.
Add expenses on Trips
Some expenses are incurred during a trip and need to be mapped accordingly. Currently, fleet managers can add and track expenses using the "Expense" module on the platform.
However, with this new update,
they can now add expenses for each individual trip track and analyze the expenses for historical trips on the platform.
The option to add and manage expenses is available on the individual trip details page.
Expenses can be added/managed once the trip has been created.
A fleet manager can add and view expenses for completed as well as unsuccessful trips.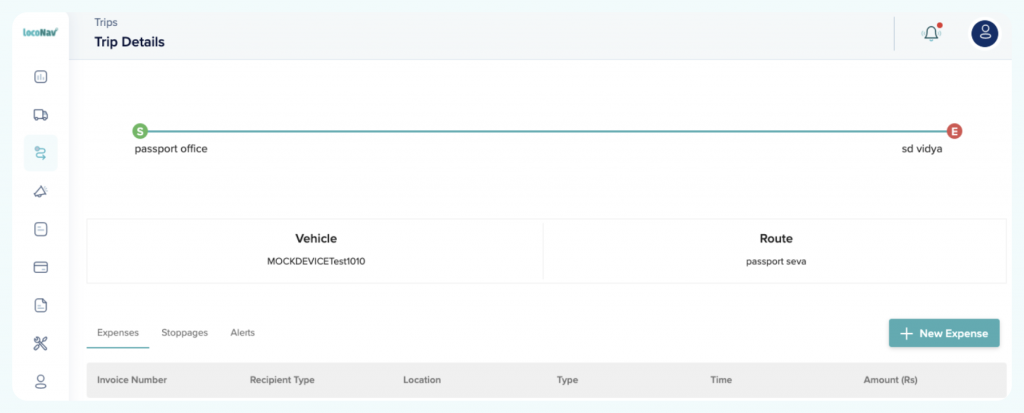 Trip Performance Report
The trip performance report captures all trip-related parameters such as timely arrival, adherence to checkpoint orders, checkpoints covered/missed, harsh driving events, and other alerts generated during the trip and allows the fleet managers to analyze these details.
Key fields covered in this report:
To identify what vehicles and drivers have the highest on-time rate.
Planned vs. Actual Trip Time
To identify idling, route deviation, or poor road conditions on certain routes.
Scheduled vs. Actual Trip Start Time
To identify common causes of delays and take subsequent rectification steps
Scheduled vs. Actual Trip End Time
To identify idling, route deviation, or poor road conditions on certain routes.
Total Idle and Stoppage Time
To identify drivers that waste your fleet's time and resources.
To identify drivers that frequently deviate from set routes as well as routes that have a higher frequency of deviation.
Count of Harsh Driving Events (overspeeding, harsh braking, harsh acceleration, sharp turns)
To identify drivers that frequently practice poor driving and require training.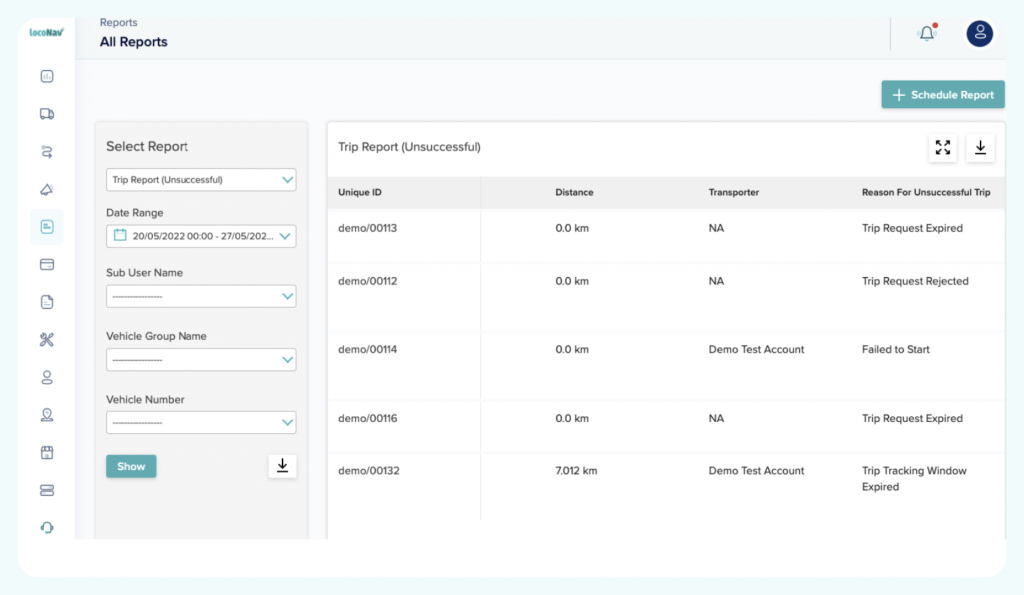 Reach out to your LocoNav Key Account Manager to activate this feature today!