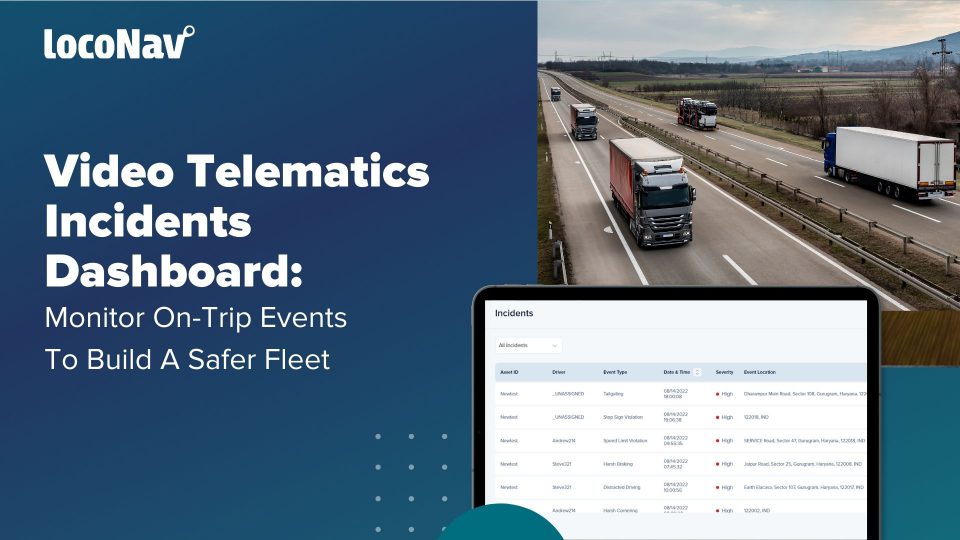 Video Telematics Incidents Dashboard: Monitor On-Trip Events To Build A Safer Fleet
When running a fleet, fleet managers do their best to ensure that everything goes smoothly and that drivers get the most out of their driving time. Unfortunately, things might not go as planned. Incidents occur, and when they do, it is critical to know what happened and how you can reduce the risk of future accidents. Having comprehensive historical data on fleet incidents can be a powerful tool to prevent future accidents.
To address this need, LocoNav has launched an Incidents Dashboard as part of their Video Safety Solutions to view a historical log of in-cab and on-road incidents. With this dashboard, you can get a summary of the incident type, severity of the incident, and location of the incident. These incident details can be sorted by incident type, the severity of the incident, driver, vehicle, and even time of occurrence. Fleet managers can comb through the incident footage and extract information for proactive driver coaching.
Advanced Video Telematics Solutions at Ridiculously Accessible Prices!
Benefits of Incidents Dashboard
Comprehensive Dashboard: Get details about all in-cab and on-road incidents, which can be sorted by the time of occurrence and severity.
Driver Coaching: Identify drivers that are frequently associated with incidents and coach them to avoid said incidents in the future.
Top Features of Incidents Dashboard
In-cab and On-road Incident Footage: Incident recordings can provide a real-world context to driving behaviours. With this feature, you can view video footage of severe incidents directly from your dashboard.
Incident Categorisation: Being on the road is uncertain. While many incidents may occur on-road, not all of them will provide any valuable data to prevent future incidents. You can now add relevant tags and comments to each incident footage for incident indexing and future reference.
Coaching Data: With the recorded incident footage dashboard, drivers can be trained appropriately. This will allow fleet managers to focus on specific areas for improving the driver's performance. With this feature, you can now use the incident video recordings for training the drivers to prevent similar future incidents.