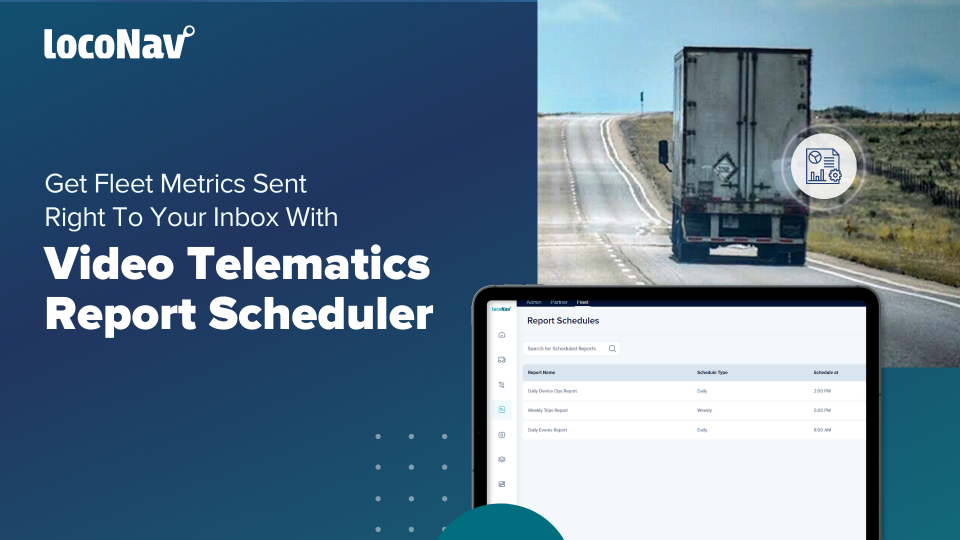 Get Fleet Metrics Sent Right To Your Inbox With Video Telematics Report Scheduler
Accurate data enables fleets to set baselines, benchmarks, and targets in order to keep moving forward. The ability to collect, organise, and share data improves an organization's ability to make educated and evidence-based decisions. Any fleet can benefit greatly from effective reporting practices. This has the ability to alter how drivers perform on trips and how precise, potentially game-changing decisions are made.
Keeping in mind how important timely data can be, LocoNav has launched a new feature, Report Scheduler, for their Video Safety Solutions. Users will now be able to schedule reports and receive them via automated emails at their preferred time. Users will have the liberty to choose between daily, weekly, or monthly reporting.
Advanced Video Telematics Solutions at Ridiculously Accessible Prices!
How Can Report Scheduler Benefit Your Fleet?
You can use the Report Scheduler to your advantage by:
Evaluating Performance: By automating performance reports, you can derive rich insights into driver and vehicle performance. These reports can help you polish top-performing areas as well as identify the scope for improvement.
Making Faster Decisions: Historic data can be useful for identifying past trends and forecasting future requirements. These can help fleet managers gain actionable insights into making profitable business decisions.
Increasing Safety: Fleet managers can fortify their fleet security measures with regular and automated reports. They can be used to improve the safety of your drivers, vehicles, and cargo by analysing incidents.
Quick Sharing: Fleet managers can now download and share reports with multiple users via email at the touch of a button.