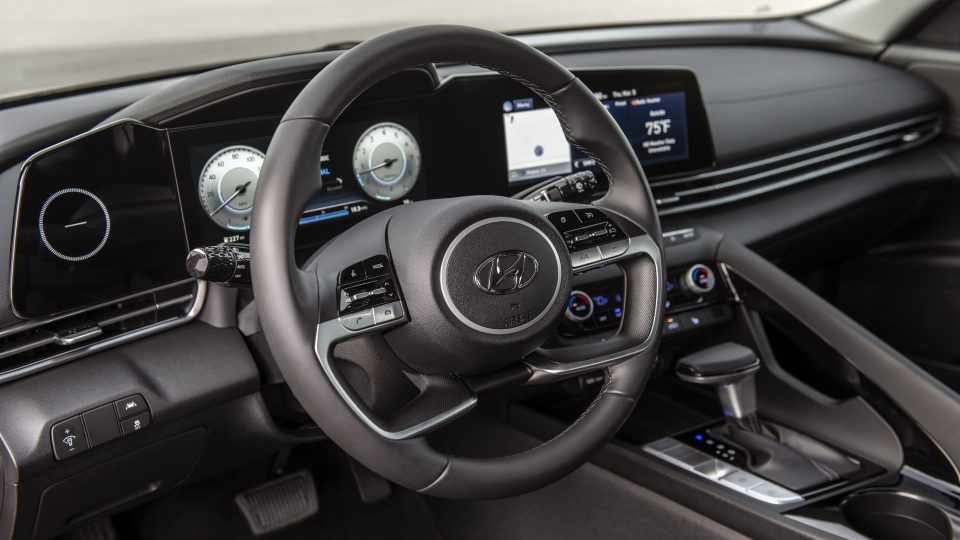 A Dynamic Voice Recognition System In All-New Elantra And Elantra Hybrid Models In North America
The major innovator of voice AI and conversational intelligence technologies, SoundHound Inc. has confirmed the integration of its Houndify voice AI platform into Hyundai's all-new 2021 Elantra and Elantra Hybrid in North America. The selective models have been made available for sale in North America. Though multiple such models have been launched worldwide, this is probably the first time when Hyundai's "Dynamic Voice Recognition system" is being used in cars for the American market.
The voice recognition system in the all-new Elantra and Elantra Hybrid models offer the drivers with voice access to cloud-based information from quite a few domains as well as hands-free services, thus providing the driver with a safer, convenient and easier driving experience. Built with Houndify's advanced deep meaning understanding and speech-to-meaning technologies, the Dynamic Voice Recognition system delivers unique speed and accuracy in voice identification and replies.
Check the live location of your vehicle with LocoNav's Vehicle Tracking System!
The unique context-aware technology in these models enables the voice assistant to keep up conversational continuity and enables the voice system to recollect the context of communications, hence reducing the requirement for users to repeat themselves. To put it simply, the most progressive in-car experience is offered in these models because of the Dynamic Voice Recognition system.
According to the President of the Hyundai America Technical Center (HATCI), Andy Freels, "Hyundai's Dynamic Voice Recognition system has been gaining momentum among their fleet of vehicles". He further quoted that "Their partnership with SoundHound has helped fuel Hyundai's position as an innovator in the global automotive sector, offering an excellent in-car experience to the users". Keyvan Mohajer, the co-founder and CEO of SoundHound Inc. stated that "Their integration with Hyundai has helped in the expansion of accurate and faster voice AI technology into new vehicles in North America".
To initiate the voice recognition system in the Elantra and Elantra Hybrid Models, users need to just touch the "push to talk button" on the steering wheel and then ask for what they want using the natural voice queries. Users can obtain knowledge for a variety of cloud-based domains across a comprehensive spectrum of topics such as restaurant recommendations, sports, weather, navigation, market updates, stock, local search, etc.
Here are a few examples of the queries:
"Will it rain in San Francisco next week?"
"Tell me amazing restaurants within ten miles that are not Thai and have at least a three-star rating"
"I need tea"
"Did the Detroit Lions win last week?"
"What time is it in Mumbai if it's ten o'clock pm in San Francisco?"
"When is the next Super Bowl?"
"How's Apple stock doing today?"
"Send a message to David Rose "I am running a bit late see you in 15 minutes"
The extension of a dynamic voice recognition system in the Elantra models gives an indication that the voice AI adoption is not just limited to high-end models and is continuously expanding in everyday vehicles. The Voice-enabling system in the All-New Elantra And Elantra Hybrid Models in North America is a great step towards making way for a safer world.
Quick Read: EU Strategies For Reducing CO2 Emissions From Heavy-Duty Vehicles
Quick Read: Analysing The Market Of Fleet Management In South Africa