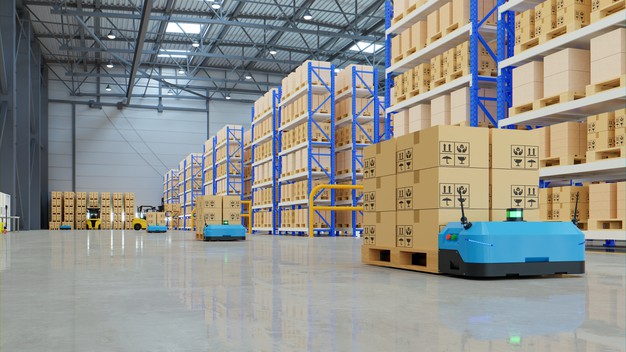 Why is Automation the Future of Logistics?
In recent years, major swings have been observed in the logistics sector due to innovation and automation. With new technological solutions, logistics businesses are undergoing a major transformation and impacting the way people work in the supply chain industry. It becomes important to take advantage of these technologies which are the result of notable market trends.
With growing complexities, increased pressure and tough competition, the logistics industry is driving towards automation for both long term and short term benefits. Logistics automation is definitely worth investing in! Here are some of the prominent reasons that are driving the future of logistics industry towards automation:
To Meet Customers' Expectations
Almost all the industries are massively shaped by consumer's expectations and the logistics sector is no different! In this era of digitalization, customers have great expectations regarding the delivery of goods and services be it speed or safety. Studies reveal that about 15% of customers expect that their delivery has to be rescheduled in case they are not available and about 29% of customers expect their items to get delivered at their current location.
These factors put enormous pressure on the manufacturers and retailers. It is crucial to meet the customer's delivery expectations, however, this might cause a sharp increase in companies freight movement cost. The most probable way to deal with it is by making use of automation in logistics at different stages. From tracking and procurement to boosting the speed of end to end flow of goods, logistics automation optimises the entire processes and besides creating a positive impact on customers, it also increases the companies' profitability.
Manage your fleet efficiently with LocoNav's Fleet Management Solutions!
For Supply Chain Innovations 
With the rise in availability of the internet and cost-effective technologies, both automation and innovation can be adopted in different layers of the supply chain to make way for a digitized supply chain. Supply chain innovations have been the biggest trend that's affecting the logistics sector. The power of the Internet of Things (IoT) when coupled with sharp data-driven insights and applied at different levels of the supply chain impacts the business potential to increase efficiency and helps with faster revenue generation and cost reduction.
To Facilitate Growth Of E-Commerce
The rise in e-commerce and online platforms has severely impacted customer's demands and needs. In today's time, consumers discover new products online and then want to get them delivered right at their doorstep as soon as possible with zero delivery charges. Failing to do so leads to the deterioration of relationships between the buyer and seller. The supply chain management of various companies is hence moving towards automation to address concerns such as higher cost and limited stocks. Companies are investing in tools for better visibility and planning in order to optimize their logistics process.
For Enabling Software-Driven Changes

With intense competition and the increasing cost of manpower, many companies are implementing fleet management systems to smooth out their logistics functions. The fleet management software can help an organization keep tabs on the unnecessary maintenance costs and make better business decisions that ultimately improve the efficiency of logistics. The fleet management system automates the process in a multitude of ways, thus contributing to the overall productivity of the business.
To Enable Logistics-As-A-Service
One of the reports about the ROI of "logistics as a service" reveals how companies can save between 2 and 10 per cent on freight costs. When taking into account the total budget, logistics companies need to focus on various parameters be it right skills or solutions or execution of plans. Logistics-As-A-Service helps to decrease the cost and improve the overall experience of the customers.
Cloud-based innovations allow for better control over logistics and optimize the supply chain process with access to real-time updates, thus enabling businesses to be more alert when it comes to any disruptions or fluctuations. LaaS is one of the most potent technologies as it not only optimizes the cost and increases efficiency but also helps the companies to focus their resources on core business functions.
To put it simply, automation and innovations have improved operational efficiency and helped with cost savings in the logistics and supply chain industry. There's no doubt that logistics expenditure is the largest budgetary item for shippers, hence reducing the cost is always their priority. Finally, manufacturers and shippers have started realising that the best way to have a competitive advantage is to adopt automation and other technological innovations in their logistics business functions.
Quick Read: The Impact of Location Data on Transportation and Logistics
Quick Read: Telematics and Real-Time Digital Twins: To Manage the Demands of Logistics Networks