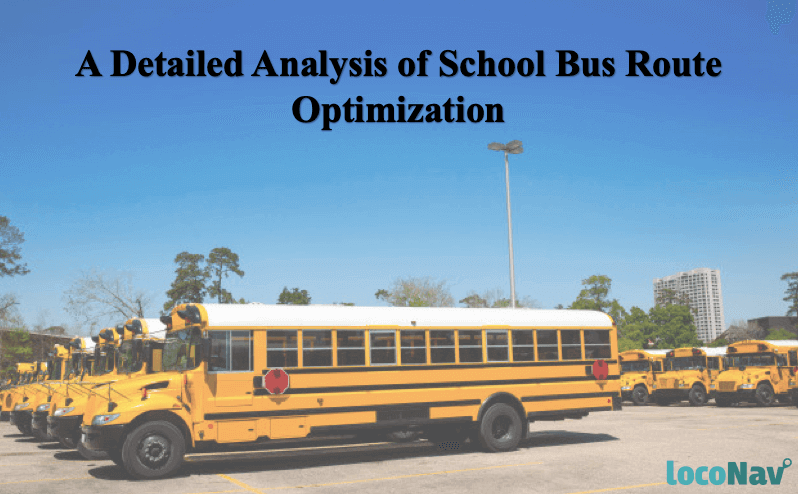 A Detailed Analysis of School Bus Route Optimization
Do you worry about the safety of your kids once they board their school buses? Do you want your children to spend minimal time in reaching schools? If these are related to you, then you can explore school bus route optimization to ensure school going kids remain protected and traverse the least distance every day.
These days the management of most reputed schools implement school bus tracking for safeguarding the safety of students and developing the most cost-effective routes. The innovative method of managing school buses helps in reducing the running cost of transport departments and at the same time, ensures the safety of kids. Continue reading to know more about the significance of route optimization.
What is School Bus Route Optimization?
According to layman's term route optimization helps in generating the most preferred and cost-effective routes for school buses. It is one of the most sought-after tools for school transportation administrators, as running school vehicles is a hefty expenditure. Studies have revealed that many institutions have successfully reduced the total distance travelled through effective school bus route optimization. They also require fewer vehicles to transfer kids to school and back home.
The innovative tool helps in saving fuel cost and other running expenditures. Management of many prestigious schools looks forward to effective route optimization techniques for the smooth running of the system.
Manage your school bus fleet efficiently with LocoNav's Fleet Management Solutions!
Different Ways of Incorporating Optimization in School Bus Routes
School transportation administrators try out various techniques for successful implementation of route optimization. In some cases, 'bus-stop optimization' helps in reducing time and running miles for completing the journey. Here, experts keep the same number of stops throughout the route but change their order for maximum savings in fuel.
In other cases, transportation authorities design a 'new course' where they club together several stops for reducing the overall time and distance. However, while architecting school bus route optimization, transport departments should never compromise with the safety of kids. Buses should not run in overloaded conditions in a bid to minimise fuel cost and transportation time. These days there are many state-of-the-art route optimization software which makes use of algorithms in designing the best routes.
There are various parameters which experts feed into algorithms for developing school bus route optimization.
    Total time kids spend in their school buses
    Time taken to complete the entire route
    Determining whether the coach should stop at each school or transfer points
    Preferred capacity of each bus
    Selection of most preferred vehicles for conducting trips
Route optimization algorithms consider all these parameters and create several routes. The software displays them on maps with a clear designation of stops. After this, experts review the courses and submit their report. Finally, the transport department determines the best routes for running school buses.
Also read: Top School Bus Safety Guidelines You Should Know
Also read: Your Child's Safety on Your Mind? Read This.
Advantages of School Bus Route Optimization
Here are the advantages of implementing school bus route optimization.
Minimum Travelling Time
Route optimization ensures that children spend the least time travelling from home to school and back. It helps in preserving their energy and staying refreshed the entire day. A few decades back, with the absence of any route optimization software, children used to spend hours travelling to and fro from school. They used to become exhausted in the process and were left with minimal energy for self-studying and other activities in the house. However, with the advent of innovative algorithms, these miseries are history now. Kids now spend minimum time travelling and stay energised.
Ensure Safety of Kids
Now you can track the movement of school buses on your smartphones of tabs with just a few clicks. These days most reputed schools maintain apps through which guardians come to know the exact location of their ward. Even if the bus develops any technical snag, parents remain updated about its movement. Transportation department can project an expected time of arrival at the designated stops. The highly advanced software ensures that kids stay safe and protected during journeys.
Reduce Operational Cost
Optimizing the running cost of school buses has always been a challenging factor for transport administrators. However, with the advent of route optimization algorithms, fleet owners get auto-suggestions in redesigning their routes and reduce the travelling time. The built-in AI capability ensures buses run at their optimum capacity and also save cost on fuel.
Manages Multiple Pick-up Points Efficiently
Route optimization software acts as a saviour when you manage multiple stops en-route. Sometimes, kids request for a change in their boarding points on a particular day. The innovative tool instantly updates the new location of the child on the app, and transporters can successfully carry out their job.
This was, in brief, the significance of school bus route optimization. Bus drivers can now perform their duties without any stress. Parents also remain updated about the safety of kids through this innovative technique.
Quick read: 4 Tricks To Modernise Your School Bus System
Quick read: What is Fleet Management: A Detailed Guide