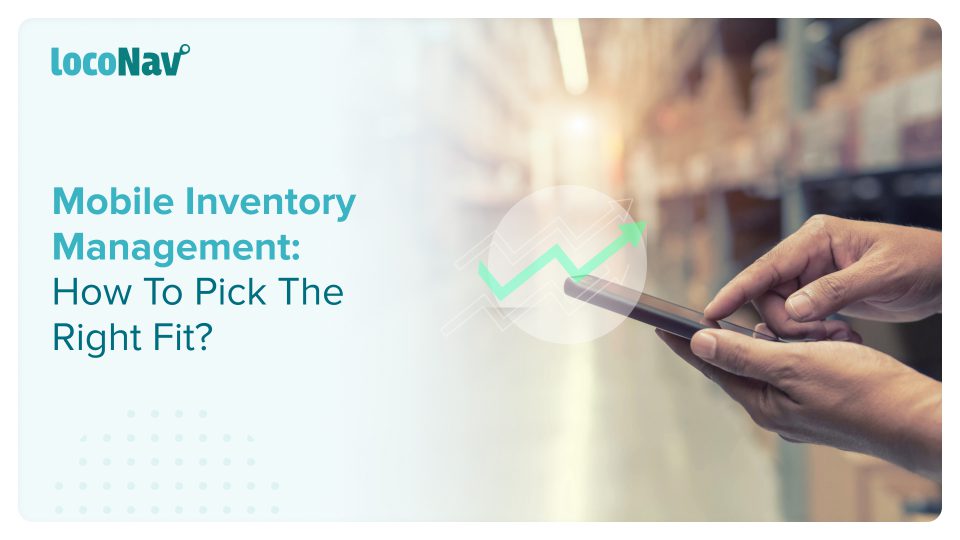 How To Select The Right Mobile Inventory Software For Your Business?
Inventory must be managed, controlled, and tracked at all times and from any location by businesses and organisations of all sizes. Inventory management is becoming increasingly important to business performance and sustainability as transactions take place on a worldwide scale and across different locations.
Manually inputting, tracking, and counting inventory is practically impossible by today's industry standards, yet depending entirely on computer-based inventory management, control, and GPS tracker is no longer feasible.
As a result, technology businesses and firms have invented and developed mobile inventory management software that allows inventory data entry, search, and visualisation to be done from anywhere and at any time utilising smartphones and tablets.
Since the available options are almost endless, how do you choose the right mobile inventory software for your business? This blog will help you understand the importance of mobile inventory software as well as guide you in making an informed decision on which software to choose.
Manage your fleet efficiently with LocoNav's Fleet Management Solutions!
Must-Have Features of a Mobile Inventory Software
The most important mobile inventory software specifications include the ability to store, organise, manage, and analyse inventory data. The following are system requirements:
An intuitive interface that does not necessitate advanced training, support, or documentation.
Automation of business functions connected to inventory management to eliminate human processes.
A dependable, secure database that gives up-to-date information in real-time.
Inventory monitoring and control that is quick and actionable.
Administrators should be able to easily install software modules with little configuration to make the system expandable.
Integrations of software and automated features that reduce the need for manual inventory updates or inputs.
What are the Benefits of Managing Assets on Mobile Devices?
The current technology that offers significant advantages over all previous methods of inventory tracking is the mobile inventory software. Let us take a look at some of the main advantages of mobile inventory software:
Save Money on Hardware: Inventory management apps have a very basic user interface and can be quickly downloaded by employees, resulting in significant hardware savings.
Save Time: The mobile inventory system is simpler to use than the earlier inventory management system because most employees are familiar with mobile devices and can easily operate the simple inventory apps on their own devices.
Improved Productivity: Implementing a mobile inventory system can work wonders for you by greatly enhancing your production in a short period of time. Typically, all of your employees will bring their mobile phones with them, allowing the inventory to be easily and immediately filled and updated from any place.
Stay Relevant: Inventory management necessitates a quick solution that is efficient, completely failsafe, and operates smoothly. So, the mobile inventory management system is the ideal solution because it checks all of the aforementioned boxes while keeping you relevant to your clients.
Key Considerations While Selecting Mobile Inventory Software Based On:
Modern Business
Integrated AI-Powered Chatbots
Virtual agents (or chatbots) powered by AI are transforming how firms communicate product availability to eCommerce customers. Machine learning may also report on sales data trends, which are important for optimising online consumer interaction measures.
The transition to digital labelling resulted in technologies such as GPS-enabled RFID tags and digital bar codes. Organizations can now network portable devices with databases using digital inventory data for real-time tracking and zero-paper documentation.
Software Modules
The following are the most prevalent inventory control and management modules:
These modules automate fiscal and accounting tasks such as accounts payable and receivable, procurement, and third-party payments, as well as revenue classification.
Data Administration Modules:
These admin-like modules offer quick and easy capabilities for managing inventory system data, such as linking users with passwords, updating inventory records, and exporting data.
Warehouse Management Modules:
Warehouse modules include inventory management operations such as scheduling appointments, order receiving, returns handling, labelling, and third-party carrier management that are required.
Multi-Industries
Manufacturing inventory management systems include hybrid capabilities for material-based inventory and warehouse management. These capabilities include enhanced unit conversion capabilities for handling bulk material stock, lean production techniques, material requirements planning, and bill of material invoicing.
Inventory management features that improve customer experience are essential for retailers. They require inventory tracking, demand forecasting, and inventory alerting systems. For multi-channel operations, accurate multi-location management features are critical.
Inventory management capabilities that help control and trace bulk inventory, manage various suppliers and consumers and automate operations are essential for wholesalers with online distribution channels.
Bottom Line
Mobile inventory software can help automate procedures, enhance inventory practices, and keep consumers happy by keeping the things they desire in stock at all times. Decision-makers have many options, and finding the best solution requires time, study, and asking probing questions.
It is critical to assess the impact of change while implementing new mobile inventory software. Plan ahead of time for installation and staff training on the new features. With this in mind, inquiries come from external vendor service contracts and retraining for your staff from potential sources.