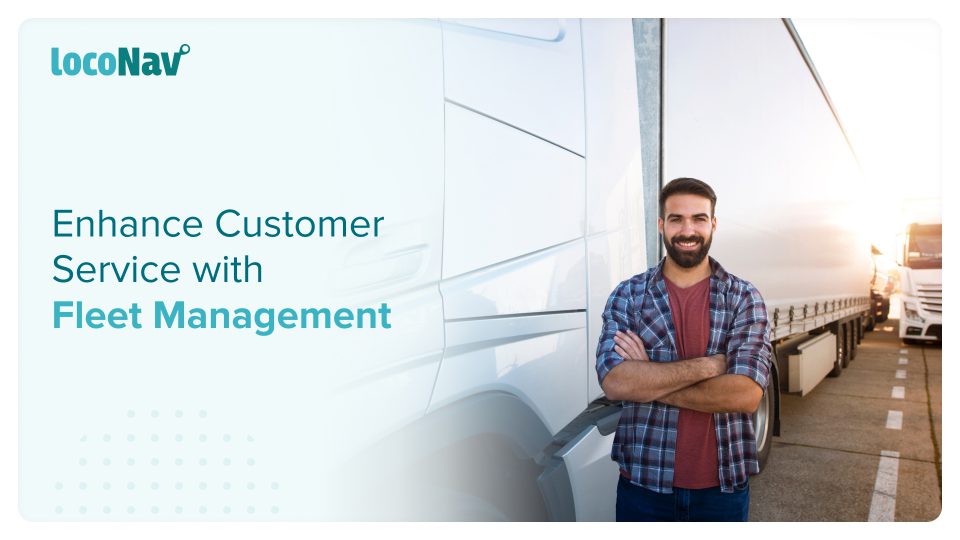 Contribution of Fleet Management to Customer Experience
Customer service quality may make or break a business in today's highly competitive business world. Improved customer service, whether large or little, can lead to enhanced customer retention, increased client acquisition, decreased customer service expenses, and increased revenue potential.
When handling a fleet of vehicles and a mobile staff, it can be difficult to assure on-time and excellent service performance. As a result, more businesses employing service cars are resorting to telematics or fleet management solutions to assist them to provide better customer service.
Let us evaluate the role of fleet management in improving your business's customer satisfaction. 
Manage your fleet efficiently with LocoNav's Fleet Management Solutions!
Why is Customer Experience Important For Your Business?
Every successful organisation emphasizes exceptional client experience. Customers who feel valued and like the entire experience of doing business with your brand are more likely to return for more. If you do it wrong, people will not only swarm to your rivals, but they will also most likely not give you a second chance.
The reputation of your brand is just as vital, if not more significant, than the items or services you provide. Creating a wonderful customer experience is not only excellent business practice; it is the key to generating long-term business growth.
However, the concept of customer experience has evolved significantly in recent years. Today, it is all about making every component of the client journey as clear, straightforward, and frictionless as possible. It is also about employing intelligent technology, such as customer self-service solutions, to provide customers with a great experience, such as support, at every single touchpoint they have with your business.
Which Factors Create a Loyal Customer Journey in Fleet Business?
Here are 5 factors that improve a customer's journey in the fleet business:
Personalized Interaction
While AI and chatbots are progressively replacing human interaction, they will never be able to replace the human touch. A tailored approach is essential for improving customer experience and happiness. LocoNav assigns key account managers to each corporate account and offers sales support 24/7.
Understanding Customer Issues
Understanding your target audience, completing a thorough background check, and analysing accessible data on them are all required for offering relevant client experiences. Using customer data to persuade them to buy your products, spamming their emails with useless information, and so on can all have a detrimental influence on the customer experience.
Multi-Lingual Digital Interaction
Communication in a language that your target understands can have huge benefits for your business, but corporations aren't investing in it. Communicating in their chosen language can help them provide valuable information more effectively and make them feel more at ease while communicating. The LocoNav app and website support 15+ languages and are easily accessible via the customer's selected channel and language to guarantee frictionless and seamless interactions.
Vast Knowledge Base
Giving clients useful information and specialised knowledge can leave a lasting impression on them. Extending helpful insights and going above and beyond by educating your clients on relevant topics can actually help you attract and retain loyal customers. The LocoNav Blog is one such resource and is full of industry-relevant information for everyone to access.
User-Friendly Technology
There is no doubt that a company that uses advanced technologies to aid client procedures is regarded as more reliable due to their forward-thinking attitude. Businesses can dig deeper into client demands and expectations using cutting-edge technical tools, resulting in unique solutions to improve the customer experience. As a result, one of the most important things that contribute to a positive customer experience is the use of technology.
How do you Measure Customer Service in Fleet Industry?
In this section, we will discuss 4 customer service KPIs relevant to the fleet industry:
Customer Retention – Monitor how many customers return to you for further services or products. Contrast this figure with the number of consumers you lost. This allows you to concentrate on how to retain current consumers.
Customer Satisfaction – Conduct frequent client satisfaction surveys to determine how well your service is received by your clients. The survey can be quite short, consisting of satisfaction or service ranking questions.
Customer Complaints – Are you getting a lot of them? If they are all about the same thing, pinpoint the source of your complaints to figure out what isn't working.
Customer Conversions – Keep track of how frequently you convert prospects into paying customers. Find out why your prospects are switching to another customer.
How does Investing in an Effective Fleet Management Solution Improve Customer Experience?
Investing in a Fleet Management Solution such as LocoNav can significantly improve customer experience. Here's how:
Effective Communication
Whether you're waiting for a technician or a product to arrive, receiving timely updates always leads to a better customer experience. When you invest in a fleet management solution, you can be sure of where your vehicles are at all times. This will allow you to clearly communicate with your customers accordingly.
Enhanced Visibility
You have unprecedented visibility into what's going on on the ground when you use fleet management software. This means you can see not only where your dispatched vehicles, products or employees are, but also what they are doing and how long it takes them to complete each work. Providing such an in-depth look into the delivery process surely enhances your customer service.
Increased Efficiency
A fleet management solution, in addition to offering real-time tracking, also delivers actionable insights that help your team identify where they need to improve. This contributes to process simplification and increased customer satisfaction.
The ideal fleet management solution offers increased efficiency, which means your on-the-ground staff spends less time dealing with logistical challenges and more time delivering service, whether it's equipment repairs, installation, or small maintenance jobs. This way, you can keep your customers satisfied.