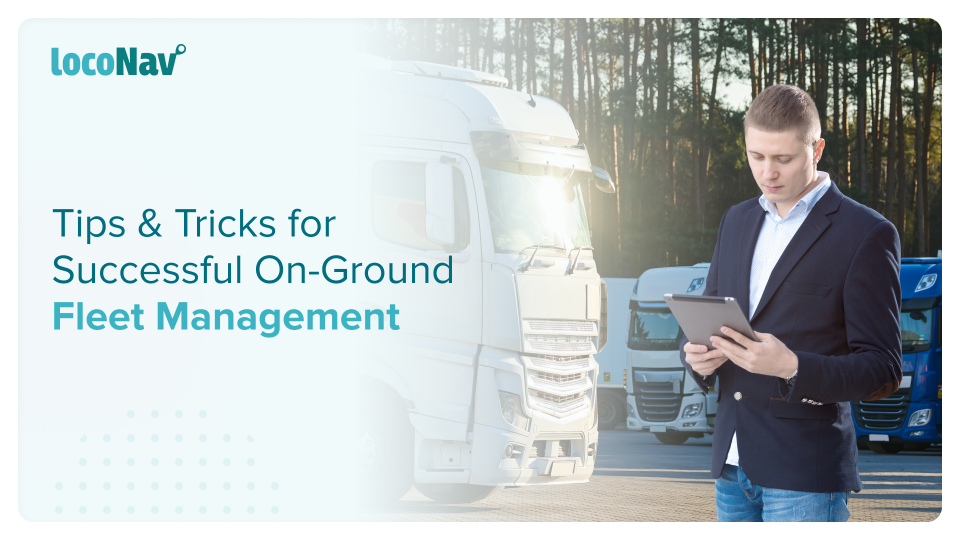 A Complete Guide to Fleet Dispatching
You are already doing fleet dispatching if you have drivers or engineers on the road. Drivers in the field, like an orchestra, obey the instructions of a dispatcher. When done correctly, fleet dispatching may enhance income and allow you to easily scale operations. However, the more vehicles and drivers you have, the more difficult it is to complete deliveries or service appointments on time.
You must ensure that your fleet dispatcher or fleet owner is completely prepared and equipped. There are proven tactics you can employ to keep operations going well, whether you are a small business owner handling fleet dispatching yourself or hiring someone to do it for you.
So, what are the fundamental concepts of fleet dispatching?
Check the live location of your vehicle with LocoNav's Vehicle Tracking System!
What is Fleet Dispatching?
Fleet Dispatching, as it turns out takes more than just giving drivers a list of stops and praying for the best at the conclusion of the journey. If you polled businesses in other industries, you would probably find just as many diverse approaches to dispatch operations. This is when dispatch management comes into play. Dispatch with telematics addresses modern routing difficulties by increasing fleet transparency, control, ownership, and efficiency.
Components of a Delivery Fleet
The core of any distribution or field service operation is a delivery fleet. It includes the actual fleet, which includes
vehicles,
drivers, and
delivery agents who pick up and deliver orders to clients.
Support teams, that are equally important are:
dispatchers,
route strategists,
logistics, and
inventory managers
As a result, fleet management includes everything from preventative maintenance and trip planning to final verification of delivery.
It includes technology in addition to vehicles, people, procedures, and structures. In addition, digital solutions such as delivery software solutions and driver applications are being used.
These systems are used by modern fleet managers to track drivers and monitor performance in real-time. Even yet, the purpose remains the same: to ensure seamless fulfilment from the transportation hub to the customer's doorstep. To accomplish this, you must have absolute visibility of last-mile delivery.
What does a Fleet Dispatcher do?
Fleet dispatchers have several responsibilities, which can be divided into two categories:
People Management
Logistics Management
Managing people entails tracking drivers and ensuring that activities are completed as planned. But also provides assistance to drivers when they are on the road.
Managing logistics entails giving logistical assistance to teams as well as ensuring that drivers have all they need to perform their duties.
This entails managing various structures and processes that enable other teams to complete their tasks efficiently—for example, ensuring that drivers pick up orders at the correct depot location.
Useful Techniques in Fleet Dispatching
In this section we have highlighted the greatest strategies for increasing dispatch efficiency:
People management abilities are required for fleet dispatching. This is because, as a dispatching supervisor, you want your driving employees to know you are available to them.
It is critical to put oneself in their shoes, especially while assisting them with stressful circumstances. Compassion and empathy must be at the forefront of all communications.
If you do not understand the nature of your field workers' jobs and your organization, you cannot dispatch efficiently. If you do not do the work of your field teams, you will need to learn more about what they do.
Overcommunicating is preferable to missing an important update. Clients and overall operations can suffer as a result of communication delays.
As a result, as a dispatcher, you must be proactive in checking on your team and receiving continuous status updates.
To be effective at dispatching, you must design routes with several stops and arrange deliveries ahead of time. An effective way to do this is by using Route Optimization. LocoNav offers both Route Planning and Route and Route Deviation functionalities to maximise your fleet's efficiency.
Using Route Planning, a dispatcher can figure out the best route for a given vehicle that has to visit a set of locations/stops/checkpoints.
Using Route Deviation, a dispatcher can receive automatic alerts in case of route deviations of the vehicle throughout its journey.
Early planning allows dispatchers to notice when another driver is needed to cover a shift. Planning ahead of time is critical to ensuring that you have enough personnel working to meet requirements.
Dispatching is critical to the efficient running of any fleet. And dispatchers are professionals who aid in the organization of fleet movement. This procedure is critical to the running of any delivery fleet. And dispatchers have the power to make or destroy a fleet's whole operation. Effective fleet dispatching also requires a potent fleet management solution such as LocoNav which provides metrics and reports ranging from vehicles to drivers and everything in between.