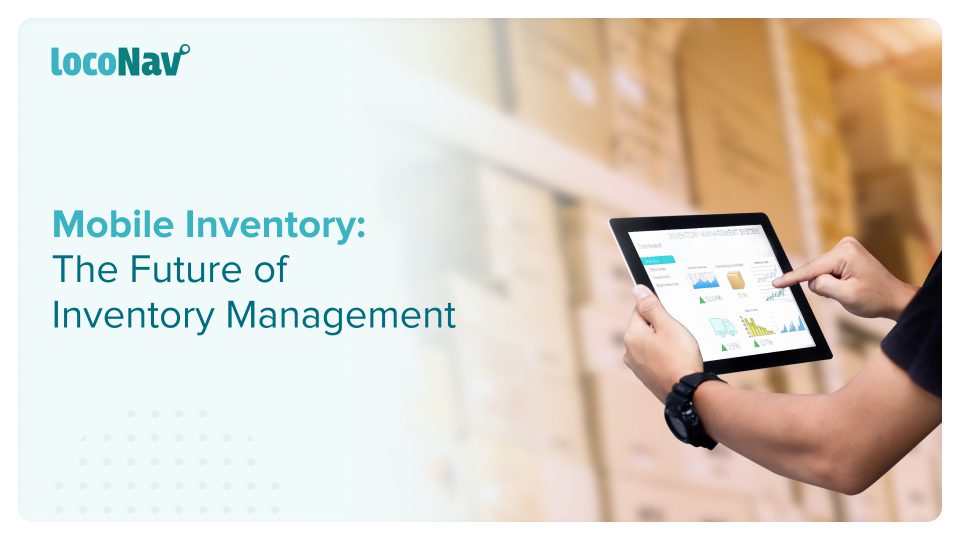 Mobile Inventory Management System is the Way Forward: Here's How.
Inventories management refers to a complicated system for managing and maintaining inventory in a warehouse. The degree of difficulty is determined by the size and type of storeroom. However, if the inventory management process is not taken seriously, major chaos can ensue. As a result, managing and maintaining the entire inventories, which are expected to make their arrival and departure of items and things in a methodical manner, has become a critical obligation for them.
When it comes to overseeing enterprises and major industries, data is the most important factor. Customers' experiences and input are becoming increasingly important. In such cases, a quick and effective inventory system will come in handy. This allows you to keep track of your top and worst-selling products, among other things. In this blog, we will cover why you need a mobile inventory management system and what its benefits are.
What is Mobile Inventory Management?
The technique of tracking and controlling your inventory via mobile devices such as smartphones and tablets is known as mobile inventory management.
What Advantages do Businesses Have With a Mobile Inventory Management System?
Every business should be able to control its inventory at any time and from any location. Because manually controlling your inventory is a terribly onerous chore, a mobile enterprise application is a solution for quickly entering data and searching from anywhere using practically any device.
A mobile inventory management system enables managers to improve visibility across all warehouses and provide better customer service. Additional advantages are:
Improve visibility into inventory levels to reduce waste.
Inventory can be managed in real-time from the field.
Complete physical inventory and cycle count in record time.
Monitor preventative maintenance checks and repair cycles with ease.
Use purchase orders to receive and handle incoming merchandise.
Manage your fleet efficiently with LocoNav's Fleet Management Solutions!
What are the Key Features of a Mobile Inventory Management System?
A mobile inventory management system can have various features depending on the specific industry and business it caters to. But there are some key features that any standard mobile inventory management system should have. These are:
Barcode Compliance
Barcoding software assists in eliminating data entry errors caused by human intervention. It also helps in the automation of business operations that involve contact with other portions of the system. Collecting, storing, and organising digital inventory data speeds up and improves the accuracy of inventory operations. Mobile barcode scanners increase inventory accuracy, accelerate back-office processes and supply restocking, and provide paperless documentation.
Robust Reporting
To run an efficient inventory business, you must have real-time data on product status, driver location, order status, shipment, and much more. An effective Mobile Inventory Management System must have the ability to integrate multiple reporting tools and features, making the reporting process easy.
Inventory Forecasting
When a company's items run out of stock, it is a really unpleasant circumstance. A mobile inventory management system helps you to see which products are running low on stock and which are plentiful in the company's inventory. This is a particularly advantageous method of maintaining a nice user experience while also spending resources effectively.
Inventory Alerts
Inventory alerts to aid in reducing waste, optimising inventory financials, tracking theft, and managing customer expectations. These capabilities include automated email or SMS alerts for low inventory levels as well as shipment and supply chain delays.
Security and Data Backup
Regardless of the kind of your organisation, appropriate inventory backup and security are crucial to its operation. Inventory management system software includes strong security layers that prevent hacking. In the event that inventory software is compromised, the data includes a backup that business owners can access and use.
How does Mobile Inventory Take Over Traditional System?
With the sharp rise in eCommerce sales in recent years, having a robust inventory management system is very important. A traditional inventory management system is simply not sufficient to keep up with the pace of supply and demand. A traditional system faces challenges that can be overcome by using a mobile inventory management system. Here are 3 such challenges:
Insufficient Visibility
To be truly functioning, an inventory system must have complete visibility. As a company's supply chain grows, it is critical to have a system in place that enables real-time inventory viewing and tracking. This kind of transparency is not provided by traditional inventory methodologies. Businesses are instead forced to guess how much product is available or moving across different channels and locations.
Lack of Demand Forecasting
The ability to accurately estimate demand is one of the most important aspects of inventory management. This can provide a competitive edge and boost performance for almost any organisation. Traditional inventory management, on the other hand, is incapable of giving logistics businesses, suppliers, and retailers the data they require to make sound business decisions.
Inbound and Outbound Inventory Communication
Traditional inventory management solutions are frequently incapable of tracking goods between outward and inbound logistical operations, as well as within a single warehouse. Coordination between third-party logistics suppliers and internal departments is hampered as a result.
FAQ
How does a mobile inventory management system work?
The mobile inventory tracking software is in charge of tracking and regulating the entire supply in a warehouse. A mobile device is linked to the complete system, allowing for the efficient flow and update of stock management data. A barcode printer serves as a preventative precaution in order to maintain the record accurate.
What are the challenges associated with a mobile inventory system?
Mobile inventory system apps can have constraints as your organisation grows. Among these are:
Inability to integrate with other systems
Lack of scalability
Lack of customized solutions