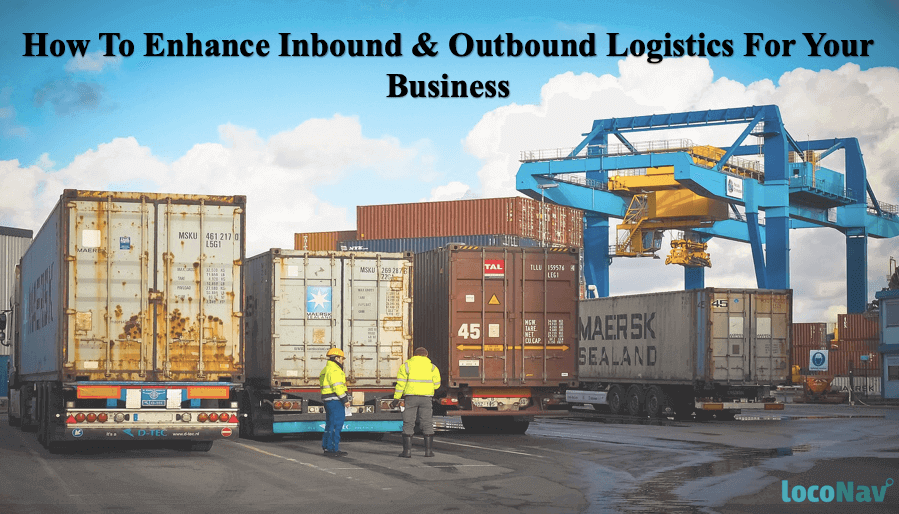 How to Enhance Inbound and Outbound Logistics for Your Business
Logistics includes sourcing, storage, packaging, and flow of commodities from its origin to consumption sites. Every business house has a specified logistics department handling the efficient movement of goods. There are two types of logistics activities- inbound and outbound logistics. Both of them combine to form the supply-chain management, which is the backbone of manufacturing units. Business experts try out innovative approaches to develop an efficient distribution network involving minimum transportation and storage costs. Have a look at the various ways by which inbound and outbound logistics can help you attain growth in business.
What is Inbound Logistics?
Inbound logistics refer to sourcing, transportation, receiving, and storage of commodities from vendors to production units. It also includes stock control and inspection so that there is no wastage. It is a part of Material Management and Procurement and focuses on steady supply and fast movement of raw materials from suppliers to factories so that production does not get delayed. At the same time, procurement teams also calculate and release purchase orders judiciously so that excess commodities do not get accumulated at factories. In simple words, inbound logistics involves efficient functioning of networks bringing raw materials to your facility and making them available for the operations department.
What is Outbound Logistics?
Outbound logistics includes outward movement of finished products from factories to end-users. Customer Services and Distribution Channels handle outbound logistics. Here you distribute final products of your brand to places where they have been ordered. If you are dealing with fragile finished goods, then focus on their packaging so that items do not get damaged in transition. Companies manufacturing dairy and meat products, pharmaceuticals, and perishable food products require special climate-controlled vehicles for outbound logistics.
Manage your fleet efficiently with LocoNav's Fleet Management Solutions!
How to Improve Inbound logistics?
As already pointed out, inbound logistics is crucial for the profit of a brand. You can streamline this process by implementing the below-mentioned activities.
    Building Strategic Relationships with Suppliers
Design the shortest pathway between suppliers factories to your manufacturing unit. While determining the route pay attention to road conditions, mode of carriers, and safety of vehicles during transitions. Select those pathways which are profitable to both you and vendors. It is also worth developing a routing guide, including types of commercial vehicles used in various lanes, standard rates, and significant routing variables. Opt for a digital routing guide providing you real-time information for making necessary amendments to it.
    Designing Vendor Inbound Compliance Standards (VICS)
If you have a range of vendors offering services to your plant, then it would be challenging to manage a streamlined and efficient supply chain. In such a scenario, developing Vendor Inbound Compliance Standards (VICS) would be beneficial for the successful operation of inbound logistics. You can promote healthy competition among suppliers by reinforcing positive behaviour and penalising delays and non-compliance of policies.
    Using a Transportation Management System (TMS)
Many companies have to comply with freight costs quoted by suppliers as there is limited visibility over prevailing rates. To counteract the situation, the Procurement Department can use a transportation management system (TMS), where you gain access over dynamic freight charges based on the present market situation. Purchase Department can also utilise the information available on TMS for implementing real-time vendor allowances. It will help you optimise the inbound logistics and pay the best rate possible.
Also read: What is Fleet Management: A Detailed Guide
Also read: Top 6 Ways To Achieve Fleet Productivity
How to Improve Outbound Logistics?
It is also essential to improve the outbound logistics so that your customers remain happy and you can deliver products to markets within the shortest possible time. Here are some methods of optimising the process.
    Negotiate with Transporters for Best Rates
If you are working with third-party fleet owners, try to work-out with them for the best rate. Carefully review all areas of shipping agreement where there is a scope of negotiation, including next-day air rates and surcharges. Go through data of previous months and understand areas where outbound logistics is costliest. Try to understand business needs and initiate volume discounts for the best rates.
Gain control over inventory so that you have enough stock to respond to demand fluctuations swiftly. At the same time, refrain from over-stocking to save cost on storage and inspection of products. Implement safety stock formulae and lean management techniques for reducing inventory costs.
    Cross-Docking Warehouse Operations
In cross-docking practises, final products remain in warehouses for a limited period. Here, workers sort out manufactured products on the dock and quickly load them on outbound trucks. In addition to utilising less warehouse space, this practise also helps in the quick inspection of finished products and removal of damaged articles before shipping. It leads to better customer satisfaction and fewer chances of return of goods.
Outcome of Enhanced Inbound and Outbound Logistics
With the help of improved inbound and outbound logistics, raw materials reach production units at the shortest time, and there is also a steady supply of finished products to markets. Factories can also reduce the manufacturing cost of products through cost-cutting policies and enhance revenue.
Quick read: Learn All About Asset Tracking
Quick read: Advantages of Using Geofencing Technology For Your Business