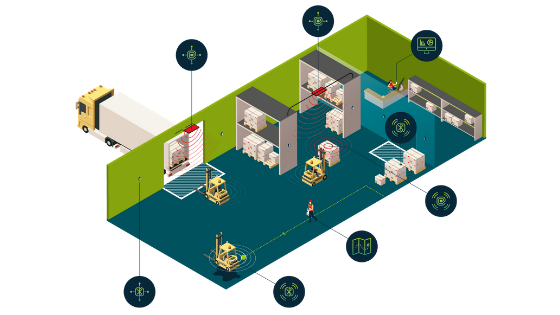 Learn All About Asset Tracking
When we talk about assets, we regard them as entities of ownership that has value and is undoubtedly useful to us. On the business front, assets amount to having monetary or operational benefits to the organization, so much so that they are available to meet debts or commitments. So from a business perspective, assets require safeguarding, since they have a significant ROI for the company. This is why asset tracking has become the talk of the town, with many industries proactively seeking ways to implementing a stringent asset tracking regime.
In this article, we take you through all that there is to know about asset tracking. To begin with, we discuss what asset tracking exactly is.
What is Asset Tracking?
Asset tracking is the entire activity of accurately accounting for all assets that the company owns, and taking care of all information pertaining to the asset, from its location, to inventory to utility status, and so on. This tracking comes into play for physical assets of the business, which could range anywhere from being equipment, fleet of vehicles, certain tools and devices, etc. Asset tracking thus falls under the umbrella of Asset Management, and has sometimes an entire team dedicated to it in certain organisations.
Why should you track your assets?
The obvious reason for asset tracking is to ensure that the company resources are secure, and that they are watched so as to keep being beneficial for the business for a long time. Apart from that, asset tracking has the ability to tackle many challenges and problems that are faced by a business. By creating an ecosystem that improves the efficiency of the business, asset tracking makes sure that the profitability of the business increases, and the company's possessions are made use of to the best of their abilities.
Also read: Advantages of Using Geofencing Technology For Your Business
Also read: Grow Your Business with a Truck GPS
How does asset tracking work?
There are certain tips that you must follow for your business in order to efficiently keep a track of your assets.
Decide on what you need to track
Whether you are a large scale industry or a small business, you must have certain assets to your name. However, as business needs go, there may be certain assets that you want to keep a strict eye on as opposed to some others. In order to distinguish that, you must be aware of the entire lifecycle of the asset: who uses it, what is its utility, what does its maintenance calendar look like and what is the uptime and downtime. Once you segregate your assets on the basis of this criteria, it will be easier for you to implement an asset tracking software into your business.
Obtain an asset tracking software aligned with your needs
Once you have successfully identified your business requirements and asset prioritization, you must start looking for a provider that is in line with your asset tracking needs. Your goal should be to obtain an asset tracking software that is in sync with the kind of system your business works on, the applications that make your operations easier and a software that ensures accurate data collection and presentation. For example, if you own a fleet business, instead of manually looking after each vehicle, you can employ a fleet management system that provides you with visibility over your fleet wherever it goes. Along with that, this system will provide you insights into the fleet's performance, its health and maintenance schedules.
Manage your fleet efficiently with LocoNav's Fleet Management Solutions!
Choose analytics wisely
Whether you simply want to know of the current location of your asset, or want to dive deep into who used it and when, how it is performing and if it is being tampered with, you must define the analytics that you expect out of the asset tracking software that you choose. Ensure that your provider is able to deliver comprehensive reports on the areas you need to monitor, and delivers the same to you in a manner of your choice, i.e., either on a desktop dashboard or on a mobile application. Along with that, you must discern if you require additional functionalities, such as Geofencing, as per the asset you wish to track.
Know the difference between asset tracking and inventory tracking/management
Business owners tend to blur the lines between asset tracking and inventory management. Inventory management is essentially management of the products and services offered or consumed by the company. They could be entities that were sold, or utilized within the organization. It entails taking care of storage, and sale, along with keeping tabs on the receipts and if certain items need to be restocked or reordered.
Asset tracking, on the other hand, pertains to keeping tabs on which assets of the company are under use, and their location. It also comes into gear when tracking of the asset is done to identify which user it currently is with.
Who can utilize asset tracking?
There are many different industries that can leverage the advantages of asset tracking. Different industries can have different requirements when it comes to integrating an asset tracking software into their practices. For instance, construction industry can utilize asset tracking to keep tabs on where their equipment is, and keep a timesheet of how long it has been used for, and by whom. The healthcare industry and emergency response services too can benefit from asset tracking by keeping an account of medical equipment on the road or within the institutional perimeters. Along with that, emergency response services can track their vehicles, such as ambulances, fire trucks, etc., and can optimize their response time accordingly.
Asset tracking ensures that the bottomline of a business improves, and is the key to safeguarding the prized commodities that are owned by an organization. Using state-of-the-art technology like GPS, or RFID tags, asset tracking has emerged as an indispensable requirement that is a highly advantageous endeavor for businesses around the globe.
LocoNav offers you services for all your business needs, from Vehicle Tracking Systems, Fleet Management Software and Telematics, along with FASTag. LocoNav helps you in optimising your operations and business while you focus on the growth of your enterprise!
Quick read: 5 Features of a Fleet Management Software That Your Business Needs
Quick read: Top Tips for Optimised Fleet Maintenance