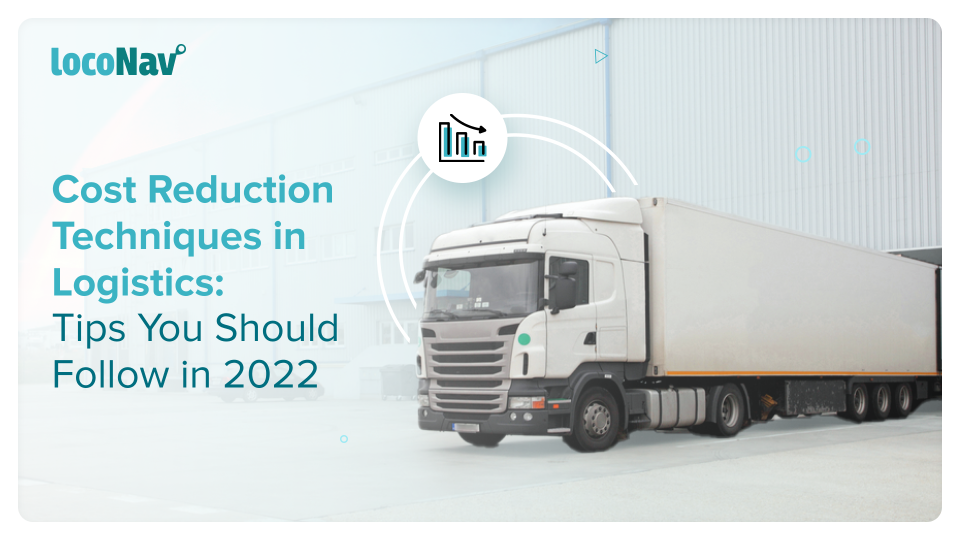 Cost Reduction Techniques in Logistics: Tips You Should Follow in 2022
Logistics involves the delivery of products to the consumer or back to the organization within the allotted time frame at minimal cost without any damage. Logistics management is the process of planning, designing, and controlling the services involved in the movement of goods and services.
Logistics and logistics management are an integral part of any large organization, small business, B2B, or B2C business. Efficient logistics management will increase customer base & customer satisfaction, expand operation flow and act as a backbone of the organization.
However, in India, logistics face barriers like non-automated systems, interstate border restrictions, large unorganized logistics sector, lack of organized logistics companies in Tier 2 and Tier 3 cities, manpower management, increasing fuel prices, political unrest, etc.
This adversely affects the logistics management efficiency and the company's performance leading to delays in deliveries, damage of products in transit, an increase in logistics cost, customer dissatisfaction, and revenue loss.
As logistics plays an important role in both production and delivery, having a robust and cost-effective logistics management plan is inevitable for the success of any organization. A continuously evolving requisite in logistics management includes cost reduction techniques in logistics.
What are Cost Reduction Techniques in Logistics?
The logistics cost depends from organization to organization; however, it majorly consists of cost involved in-
Labour
Transportation
Storage
External costs like taxes, fuel prices, etc
Cost reduction techniques in logistics can be a long-term or short-term program that aims at identifying unnecessary costs to reduce the overall cost per delivery without hampering the quality and efficiency of the organization's logistics, operation, or production chain.
Successful implementation of cost reduction techniques in logistics
Increases Revenue
Improves performance
Increases productivity of manpower
Enhances customer satisfaction
Tips for Cost Reduction Techniques in Logistics & Logistics Management
Software Automation
Tasks that require precision and are prone to human error can be automated by upgrading to software for inventory management, reordering, communication with vendors, consolidation of orders, etc.
Software Automations reduce inventory count discrepancies, build a systemized flow of communication with the vendor at every step of logistics and reduce shipping costs.
Collaborations 
Another tip for cost reduction in logistics management is to collaborate with various carriers and third-party logistics companies. This allows the organizations to compare, share and reduce the cost of logistics.
These collaborations also create alternative options for the movement of goods if there is any unforeseen event or situation.
Collaborate with Other Businesses
It is a very useful technique for small business owners. Collaborating with other surrounding businesses can increase the volume of goods thereby leading to a decrease in carrier fees/ shipping fees.
Warehousing Services 
An effective cost reduction technique in logistics can be opting for warehouse services in different locations. It is expensive to ship products from further away areas.
Strategically locating warehouses for storage in areas with maximum sales volume can reduce the transit cost and delivery time.
Identify Open Spaces to Increase Storage 
A warehouse may have vertical open spaces that can be diligently used to increase storage. Rearrange the storage facility by identifying the open areas and utilizing vertical spaces.
Optimal Use of Resources
Underutilized resources such as facilities and fleets lead to incurring extra costs by the organization. It is essential to identify and utilize the resources.
For example- Organizations witness a surge in orders during a specific season or month, renting or collaborating for warehousing would be a better option than owning the space as it would remain underutilized during other times of the year.
Other Tips for Cost Reduction in Logistics Management 
Managing time and efficiency in storage units and warehouses through robotics
Maintaining cooperation and coordination between workers to avoid over-production or over-processing.
Upskilling and providing regular workshops to maintain a motivated environment and introduce new efficient methods.
Create a supplier's consortium to purchase logistics supplies in large quantities at a competitive cost.
Conclusion 
Logistics and logistics management are essential for the smooth functioning of every organization. It is the backbone affecting sales, operations, and customer satisfaction. Thus, implementing cost reduction in logistics management time and again can give profitable outputs like increasing revenue, sales, expansion of reach for business, and customer satisfaction.