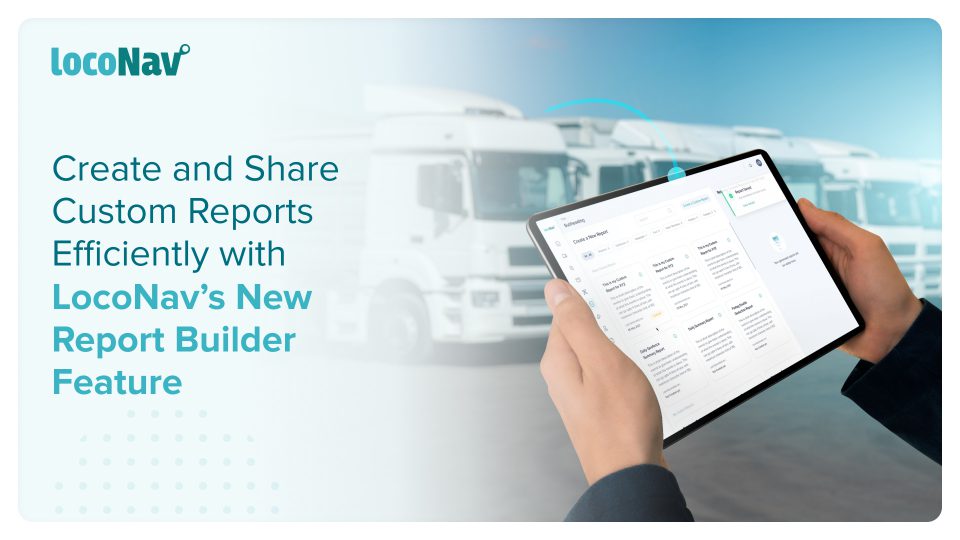 Create and Share Custom Reports Efficiently with LocoNav's New Report Builder Feature
As difficult as it may be, it's no surprise that smart reporting combined with excellent analysis can have a significant impact on your ROI. You may discover that there is little time for analyzing while you are constantly planning, routing, and tracking. Most of the time, data is either nonexistent or scattered, and you spend far too much time gathering it. It's not always clear what data to look at and what story it tells.
This is where LocoNav comes in with its new Report Builder module. Report Builder is an easy-to-use dashboard that helps you create custom reports more efficiently and share them with the team in a secure manner. Report Builder will help you categorize reports in terms of column addition, deletion, placement rearrangement, and deploying custom metrics like stoppage duration, idling, and overspeeding.
Manage your fleet efficiently with LocoNav's Fleet Management Solutions!
Features Of Report Builder:
Do you have an existing report which has all the details such as distance covered, speed, and fuel consumed, and do you wish to calculate a value based on this data?
Add a new column with user-defined mathematical functions.
For example, your standard report may have fields like Running Hours and Idle Hours and you may wish to calculate Engine Hours. To achieve this, you can add a custom column with the formula for calculating Engine Hours (Running Hours – Idle Hours).
Do you wish to access your fleet data for custom time periods?
Define the time period you wish to view your data – Hourly, Daily, Weekly, or Monthly.
Do you have an error-filled report that you need to proofread?
Set alerts to identify real-time errors in data presentation.
Do you want to view your data in different formats?
Choose your preferred currency, time, measurement scales & fonts.
Do you want to make the most of your fleet reports?
Increase the readability of reports by adding custom graphs, KPIs, and tabular charts & download your report with all these functionalities in a PDF format.
You can also assign different colors to highlight important information.
How Report Builder Benefits Businesses:
Predefined or Custom Templates
Build your own reports from scratch or use our pre-made report templates and view real-time data.
Multiple Vehicles Supported
Review performance data of multiple fleet vehicles at once with insightful analytical capabilities.
Seamless Third-Party Integrations
Easily integrate your report with multiple third-party platforms to enhance data analysis.
Create and share secure reports that are available in multiple languages.
Reduced Operational Costs
Compare and benchmark the available report data with standard values to improve analysis.
Understanding your fleet's behavior is made much easier with LocoNav's custom reporting feature, Report Builder. Reports can be easily accessed and generated within the database for better decision-making and driver behavior analysis. With a variety of standard reports to pick from and the ability to build an unlimited number of custom reports, information on driving occurrences may be downloaded, customized, and scheduled daily, weekly, or monthly.
Please Note: Report Builder is a gated feature. Reach out to your LocoNav Key Account Manager to activate it today!