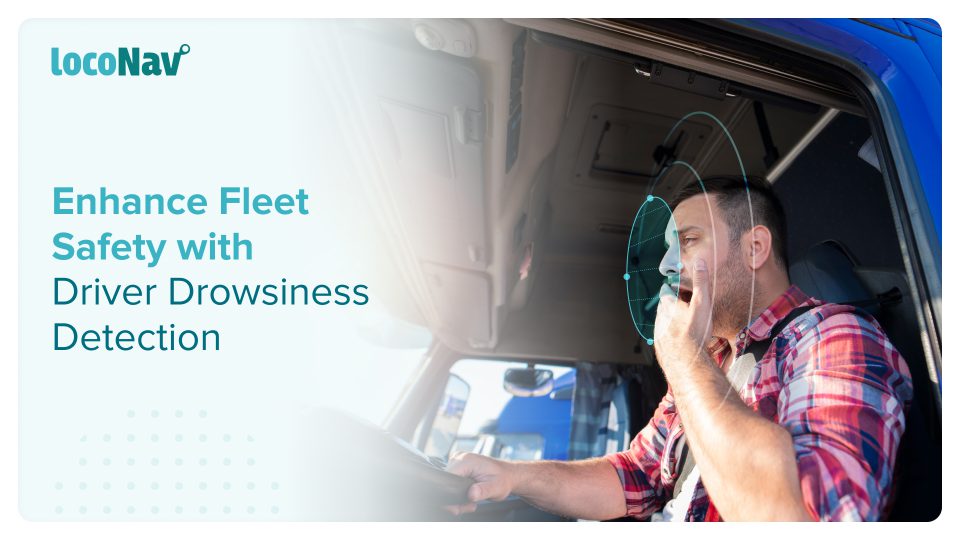 The Use of DMS to Detect Driver Drowsiness
Fleet and driver safety is a common concern for all fleet managers. Be it any industry, safety is a top priority. Due to the nature of their job, fleet drivers are expected to drive for long distances and hours. Most heavy-duty vehicles are only allowed to commute during the night as per legal compliances.
With not much fault of their own, drivers may often find themselves driving while they are drowsy. This largely contributes to commercial vehicle road accidents. These accidents not only affect your fleet of vehicles and drivers but also endanger the lives of other people on the road. This common occurrence has given rise to the need for a driver drowsiness detection or a drowsy driver alert system.
Driver Management Systems come fully equipped with driver drowsiness detection systems. Driver Management System (DMS) is a method of managing fleet drivers to assure their productivity and safety. Fleet managers generally focus on their fleets while overlooking drivers, who are an essential part of the operation. This is where driver management systems come in handy.
In this blog, we will discuss all aspects of driver drowsiness detection and how effective driver drowsiness systems can improve road safety.
Advanced Video Telematics Solutions at Ridiculously Accessible Prices!
What is Considered Drowsy Driving?
Driving while drowsy is a risky combination of driving and sleep exhaustion. This commonly occurs when a driver has not slept adequately, but it can also occur as a result of untreated sleep disorders, drugs, alcohol consumption, or shift employment.
When a driver's hands are on the steering wheel of an automobile while driving at night, they cannot pinpoint the precise moment when sleep takes over their body. While falling asleep behind the wheel is harmful, being sleepy has an impact on your ability to drive safely even if you don't fall asleep. Drowsiness:
Reduces the driver's ability to pay attention to the road.
Slows reaction time while braking or steering suddenly.
Has an impact on the driver's ability to make sound decisions.
Why is it Necessary to Identify Drowsiness?
We're all aware of the dangers of drinking and driving or even texting and driving, but many people overlook the perils of drowsy driving. According to the National Safety Council, drowsy driving causes around 100,000 collisions, 71,000 injuries, and 1,550 fatalities each year (NSC).
Here are some key statistics related to driver drowsiness that necessitate driver drowsiness detection:
How do DMS Driver Attention Warning Sensors Detect Drowsy Driving?
The two most popular methods for driver drowsiness detection are:
Driver Eye Monitoring
Infrared light is used by driver eyesight cameras to assess where a driver's eyes are gazing, as well as how open they are and for how long.
Some driver eye monitoring cameras will even measure pupil size while driving, indicating exhaustion or drowsiness.
Driver drowsiness detection systems can detect whether a driver is focusing on the road or some other object in front of them by using driver eye monitoring.
Distracted drivers will receive an alert with visual indicators in their vehicle instrument panels.
Driver Head Movement Monitoring
Driver drowsiness detection systems detect head movements and notify drivers who appear drowsy or distracted, as well as those who do not appear to glance in the direction they are going before changing lanes.
The movement of the driver's head may also help detect if they are distracted from steering activities in some driver attention warning systems. This can include how much or how frequently the person moves their head while driving.
How does Driver Drowsiness Detection Warning System Contribute to Road Safety?
Driving while being sleep deprived is exactly as dangerous as driving intoxicated. As is often the case, technology has devised a novel method of monitoring driving behaviour and automatically detecting indicators of tiredness. This safety feature could help prevent driver fatigue by letting people know when they should take a rest.
Driver drowsiness detection and attention warning systems detect symptoms and advise the driver that they should take a rest. This is accomplished by closely monitoring the driver's performance and the vehicle's behaviour. Some systems also monitor the driver's grip on the steering wheel and can detect tiredness through the face and eye movements detected by onboard sensors.
If the driver's drowsiness detection system sees cues of tiredness or inattention, it will generate an alert with an audio and/or visual warning that the driver is fatigued. Tired drivers are advised to park in a safe location, drink something caffeinated, and rest for 15 minutes, so receiving this message should cause them to at least consider taking a break.
Fewer drowsy and tired drivers on the road will automatically make roads much safer for all.