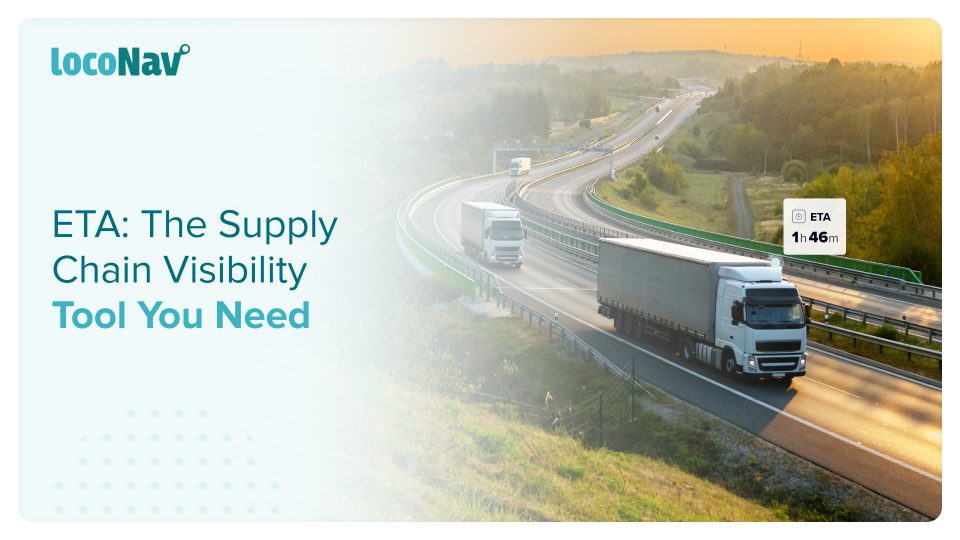 Importance Of ETA In Logistics And Supply Chain Management
The supply chain market today is a battleground. E-commerce firms, freight brokers, and logistics companies compete for brand loyalty and consumer money. Those who provide the best services for the lowest prices with the best warranties are more likely to survive in this competitive environment. 
It is difficult to predict your product's estimated arrival time which is practically a moving target. Unpredictable factors like weather and traffic congestion, combined with capacity constraints and equipment shortfalls, have a significant impact on each arrival time. Every touchpoint in your supply chain is prone to delays.
This is where shipment ETAs can help supply chain managers and logistic managers. ETA, or estimated time of arrival in logistics, is a term that predicts when a mode of transportation or freight shipment will arrive at its destination. Obtaining an ETA for a shipment in transit has numerous advantages in the world of logistics and supply chain management.
In this blog, we will discuss the benefits of ETA planning, the challenges in ETA tracking, and how you can use ETA to boost your supply chain operations.
Manage your fleet efficiently with LocoNav's Fleet Management Solutions!
Why is ETA Planning Crucial for Supply Chain?
When ETA is predicted accurately, data visibility in real-time is boosted throughout the supply chain network. Appropriate utilization of ETA tracking has many benefits. These include:
Improve Service and Customer Satisfaction
Real-time and accurate updates regarding delivery prediction are useful tools for enhancing customer experience. ETA planning lets the customer access up-to-date information about their orders and allows for a customized delivery experience.
Reduce Administrative Load
Knowing accurate ETAs can help organisations cut administration costs by automating procedures and allowing employees to concentrate on exceptions. This enables shippers to better utilise teams that previously performed time-consuming tasks such as sending delivery updates, calling carriers to touch base on the whereabouts of deliveries, dock scheduling, and payment processing via workflows.
Increased Transparency 
Real-time ETAs also provide shippers with greater visibility into carrier operations. This transparency helps to ensure that freight costs are fair and reasonable, especially for unforeseen costs through workflows.
Create a Dynamic Supply Chain
With ETA planning, you can proactively identify and prevent possible sources of disruptions. This allows you to course correct on time and create a more dynamic supply chain.
Problems Associated with ETA Prediction
As with any technology, there are significant challenges in ETA predictions as well. These include: 
Multiple Checkpoints
The ability to predict accurate ETAs from source destination to final destination is especially challenging. This is because your asset or vehicle goes through multiple checkpoints throughout its journey. Considering the number of touchpoints involved in the end-to-end movement of a logistics vehicle, there are various sources of risks that can disrupt the supply chain.
Lack of Visibility
Of the various areas that a logistics vehicle is expected to cover, all of them might not have the appropriate visibility for real-time updates. This can ultimately lead to inefficiency and costly delays.
Tips For Optimizing ETA for your Fleet
Here are some things shippers can do to increase their chances of success with ETA optimization:
To generate an accurate ETA, it is necessary to analyse high-quality data to understand the current state of a shipment.
Use the Proper Technology
Manual ETA planning is rarely accurate and agile. To receive dynamic, reliable, and consistent ETA alerts, use solutions like LocoNav.
Maintain Operational Consistency
To fuel your ETA planning engine, you must commit to a steady supply chain.
Review Your Data Frequently 
It is a good practice to review the ETA of a shipment with each geolocation update to monitor for existing and forthcoming factors.
Get Started With LocoNav's Trip ETA Planning & Alerts
Rather than tracking each trip individually, fleet managers can now monitor all ETA and arrival alerts on the map itself. Users can check the ETA status of individual trips on the map and even create alerts based on the anticipated remaining time to manage post-delivery processes with LocoNav.
How Can the LocoNav ETAs Feature Help You?
Increased Efficiency: By displaying the ETA status of all individual trips on a map, fleet managers can better analyse timelines and maximise fleet productivity.
Insightful Alerts: Set different alerts for different locations and receive assistance in scheduling operations whenever a vehicle departs from or arrives at a checkpoint.
Data Analysis: For the effective organisation of your future deliveries, compare scheduled time with the actual time taken to complete a journey.
Proper Management: Stay on top of the details of your journey by tracking the ETA of upcoming checkpoints and individual locations in one place.
FAQ
How is ETA Calculated?
The current time plus the leftover drive time equals the estimated arrival time. It estimates the time when you will arrive at your destination.
Why is ETA Planning Useful? 
ETA planning is useful because it provides a comprehensive view of the arrival time, which eliminates labour-intensive dispatching processes and reduces driver stress due to time-critical planning.