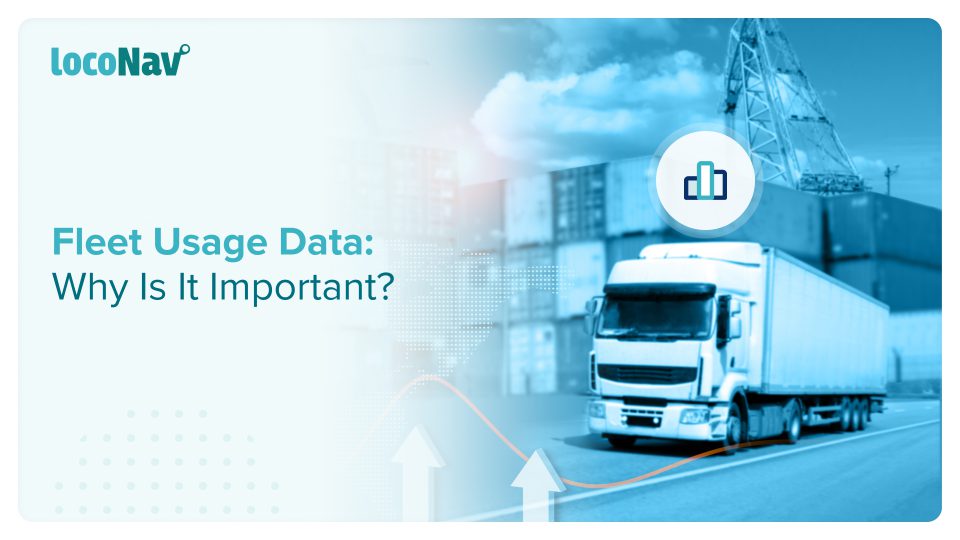 Why Should You Monitor Fleet Usage Data?
Fleet Management Solutions work to provide users with comprehensive information about the health and operation of their fleet. As additional software linkages become available, such as finance, human resources, and other organization-wide connectors, the risk for data overload grows.
Tracking fleet usage data is critical to the operation of any fleet. Any data type can be tracked, from where vehicles are to what assets a fleet has on hand to drive, how the assets are being used, and vehicle safety. All of this information is critical for fleet managers to understand to make their fleet more effective and productive.
What exactly is fleet usage data, and how can it help fleets become more efficient?
Manage your fleet efficiently with LocoNav's Fleet Management Solutions!
What is Fleet Usage Data?
One method of measuring supply and demand balance, and thus market price, is to monitor asset or fleet usage data. It is a measure of an asset's actual use divided by the number of assets accessible for use. The fleet utilization rate is the difference between total fleet mileage capacity and actual mileage traveled over time. It compares your fleet's potential capacity to actual utilization.
What are the Benefits of Asset Usage Data Tracking?
Here are some of the benefits of Asset Usage Data Tracking in Fleet Management:
To control vehicle downtime, rotate vehicles for service needs.
See how the weather affects trip distance so you can alter shifts accordingly.
Determine which vehicles could be replaced with EVs.
Before retiring a vehicle, ensure that it has reached the end of its useful life.
What are the Challenges in Fleet Data Management?
Although fleet management data can be used to resolve most of the issues faced by a modern fleet, some challenges come with the data itself. Two of the most major challenges in fleet data management are:
Decentralized Data
Data stored in many locations (databases) with no automatic connecting points cannot provide you with credible data about what is going on in your fleet. One of the most difficult difficulties in traditional fleet management is data decentralization, which also explains why operations are slower and less precise than in a fully digitized fleet. Unnecessary costs cannot be recognized unless all necessary vehicle data is linked and merged.
This problem can readily be solved with fleet management software. Using solutions such as LocoNav, you may enter all of your data in one single spot and connect it using automated procedures and workflows. You can add and access all vehicle, driver, maintenance, and analytics-related documents. Also, you can upload and save all vehicle-related documents such as registration, pollution, insurance, FASTag, state permits, tax tokens, and national permits. Get easy access to all driver-related data such as name, contact number, Aadhar number, active/inactive status, assigned vehicle, license number, driving license issuing date, driving license expiry date, guarantor name, tracking ID
Manual Data Management
Many fleet managers use spreadsheets to keep track of all vital fleet data. This can lead to a number of issues. Spreadsheets, such as Excel, are frequently not linked to a cloud solution. As a result, in the case of a failure, all of a fleet's data can be immediately erased. Furthermore, user-entered and managed data sets are far more susceptible to error than automated alternatives. Manual workflows take far more time than automated processes.
These errors can be avoided using fleet management software. The program enables you to acquire an effective overview of fleet events without missing critical data points. The data is automatically linked and pulled, allowing you to work with complete transparency.
What are the Multiple Sources of Collecting Fleet Usage Data?
Fleet usage data can be collected from multiple sources:
Odometer/hour readings from vehicles and equipment, or data derived from daily inspections of those assets
Fuel logs are used to compare fuel use to hours documented, odometer readings, and asset assignments.
Odometer readings/engine run hours: Odometer or hour meter readings are perhaps the most popular and easiest measure to track when it comes to asset usage for vehicles and equipment.
Tracking vehicle idle time and distinguishing between real and operational idle time will assist you in determining where unnecessary idling can be reduced, whether by route optimization, driver coaching, or the use of appropriate on-site tools and equipment.
Consumption of Fuel: Having a benchmark for fuel consumption for each asset to evaluate against — by trip or by hours in use — and using that historic fuel data will help you truly get a handle on your fuel use.