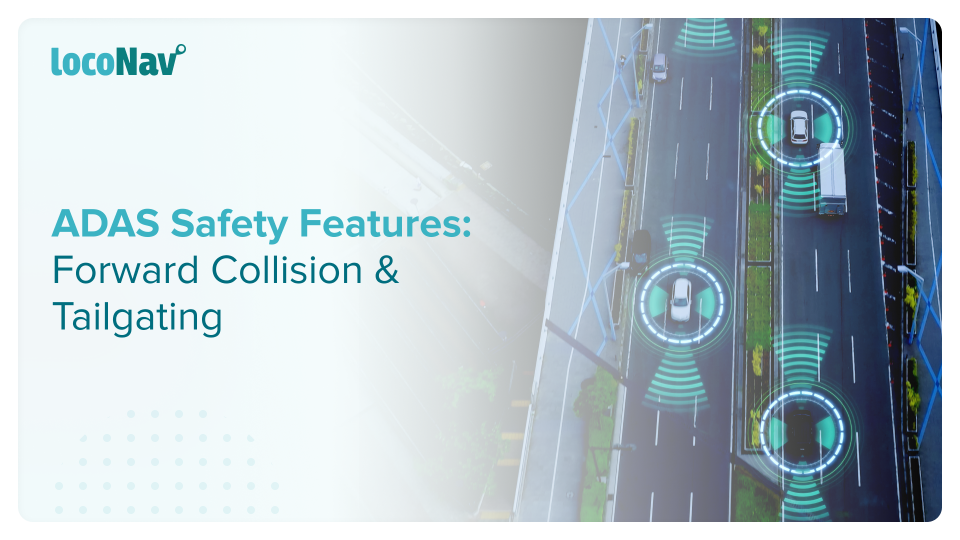 LocoNav ADAS: Making Your Driving Experience Collision-Free
Road accidents are one of the leading causes of death, hospitalization, and disability across the world. According to a report by WHO, approximately 1.3 million people die of road accidents every year. One of the main causes of road accidents is negligent driving practices.
As the road-accident-related death rate increases every year, the need for collision prevention is greater than ever. To address this need, vehicle manufacturers are offering Advanced Driver Assistance Systems as a standard feature. Many of today's most promising ADAS technologies are designed to detect and react to potential risk factors faster than a human can, and to then alert or assist the driver in order to avoid or mitigate a collision.
LocoNav's Video Telematics is one such promising technology that offers 2 major ADAS features to reduce the occurrence and mitigate the severity of road collisions. These features are:
Forward Collision Warning
Tailgating Warning
Advanced Video Telematics Solutions at Ridiculously Accessible Prices!
Forward Collision Warning (FCW)
What is it?
FCWs are designed to detect and notify the driver of a hazard in front of them so the driver gets the appropriate reaction time to brake or swerve to avoid a collision.
How does it work?
A forward collision warning is issued when the ADAS system detects a slow-moving or stationary object in front of your vehicle.
To activate an FCW, you are required to set a Time-To-Collision (TTC) threshold beforehand. When the ADAS system scans the road and detects an object or vehicle in front that is below the TTC threshold, a forward collision warning is generated.
The ADAS system generates an in-cab audio alert warning. It notifies the driver that if they maintain their present speed, they are at risk of rear-ending the vehicle or object in front of them.
How is it useful?
A forward collision warning system alerts the driver in case of an impending collision. This not only safeguards the well-being of the driver, but also protects your fleet vehicles, and the valuable cargo they may be carrying.
Liability Risk Prevention
Road accidents expose your business to various liabilities – both regarding money and your company's reputation. By employing LocoNav's ADAS, your vehicles are at a significantly lower risk of being involved in a collision which prevents the risk of these liabilities.
By protecting your fleet from collisions, you can save on expensive vehicle repairs as well as hospital bills for the people involved in the accident.
Tailgating Warning & Violation
What is it?
A Tailgating Warning & Violation is triggered when your driver is following another vehicle below the safe Time-To-Collision (TTC) threshold for an extended period of time.
How does it work?
To activate tailgating warning, you are required to set a Time-To-Collision (TTC) threshold.
When the ADAS system detects that a driver is within an unsafe TTC for an extended time period, it generates an in-cab audio warning.
Drivers are expected to slow down immediately upon receiving the Tailgating Warning alert.
If they fail to comply, the second alert calls out a violation.
If the driver slows down after the first alert, the driver's safety scores remain unaffected.
However, if the driver continues risky driving, the second alert is triggered which indicates a violation and affects the driving score.
How is it useful?
Detect Risky Driving Behavior
A Tailgating Warning has the potential to ensure that every driver in your fleet is following safe driving practices. This provides fleet managers with actionable intelligence to manage their drivers more effectively.
Most insurance companies recognize the systems employed for fleet safety and benefit the fleet owners with reduced insurance premiums.