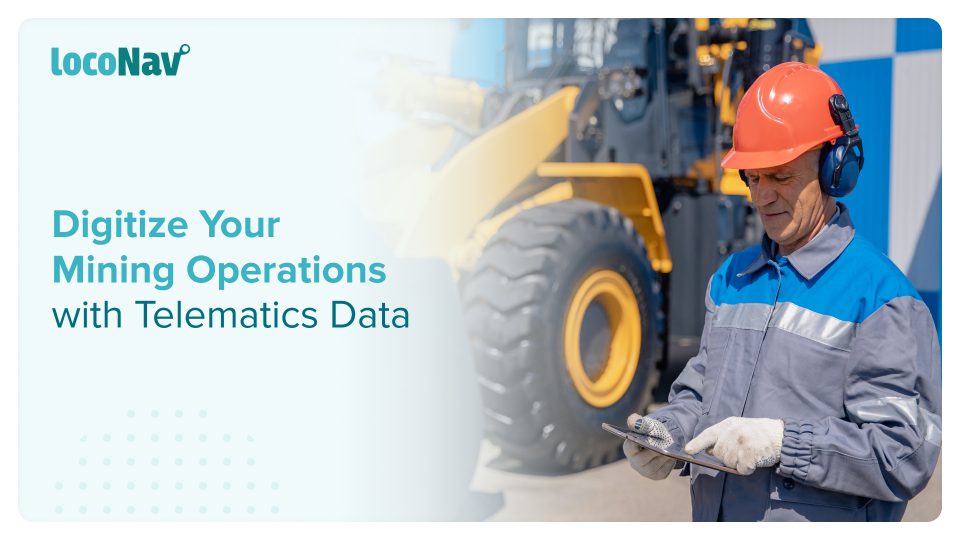 How to Optimize Mining Operations With Telematics Data?
If you work in the mining industry, you understand how isolated it can feel: mining sites are large and remote, and keeping track of your employees and assets across numerous locations can be difficult. Handling a mine site is a difficult task with heavy-duty vehicles and industrial equipment all operating at the same time. This is where telematics for mining industry can be your saviour.
Whether it's keeping drivers safe or maximising asset productivity, the right tools and practices can make or break your business. However, your company's survival depends on it. And while you can't control rising fuel and labour costs, you can improve operational excellence and efficiency.
In this blog, we will discuss why telematics for mining industry should be your next big investment.
Make your business more profitable with LocoNav's Telematics for Mining Industry
Why Does the Mining Industry Need the Intervention of Telematics Systems?
With so many assets and people working at the same time on a mining site, managing it all is a difficult task. This is especially true on large-scale sites where asset visibility is both difficult and critical. In this section, we will discuss the challenges that the mining industry faces and how telematics for mining industry can be used to address them.
Challenge #1: Lack of Operational Visibility
Solution: Because large machines often have limited visibility, collision avoidance devices will warn the operator of nearby vehicles or machinery. This reduces the risk of a collision by sending alerts via telematics for mining industry to a server for review, as well as notifying the operators in the cab. Forward-facing cameras can offer valuable insight into any incidents or areas of concern for operators, ensuring drivers' safety and protection while also providing you with the telematics for mining industry information you need to make improvements.
Challenge #2: Inefficient Asset Utilization
Solution: Telematics for mining industry can help you manage your daily operations and keep everything running properly on your site, from existing resources to asset placement in real time.
Mine managers can resolve bottlenecks and make real-time modifications by monitoring haul cycles. Telematics data indicates where delays are expected to occur based on fleet data, and these may be remedied quickly.
Mobile light towers are used extensively on mining sites, however, they can be an expensive resource when workers must visit and manually inspect each one. GPS tracking enables remote tower administration, with data such as fuel level, engine statistics, and light status being supplied live to the server.
Challenge #3: Safety Issues
Solution: Integrating your assets with operators improves communication and makes the site a safer place to work. Telematics for mining industry provides alerts that inform operators about the state of a parked vehicle in their proximity and whether or not the vehicle's operator is still inside. Operator-facing cameras detect indicators of exhaustion or distraction, and notifications are delivered via GPS tracking so that it may be determined whether the operator needs a break or can continue.
Telematics for Mining Industry: What Are The Benefits?
There are multiple benefits to using telematics for the mining industry. These include:
Mining industry fleet managers can use solutions like LocoNav to collect data about fuel economy, driving habits, and vehicle upkeep costs.
LocoNav's driver scorecard can be used to ensure that drivers are driving safely. This not only helps in the timely delivery of materials but also limits your mining business' exposure to accident liabilities.
Telematics data insights can assist managers in better utilising their assets, allowing them to get more out of what they have when demand increases.
The precise visibility of your fleet provided by LocoNav can ensure the safety of your team and fleet in the field by providing data and insights in real-time, no matter where you are.
Mining businesses must reap the benefits of technology in order to prosper in 2022 and beyond. Aside from ensuring the safety of your employees, integrating your fleet with LocoNav Fleet Management and telematics for the mining industry allows you to boost productivity and capitalise on the thriving mining business.