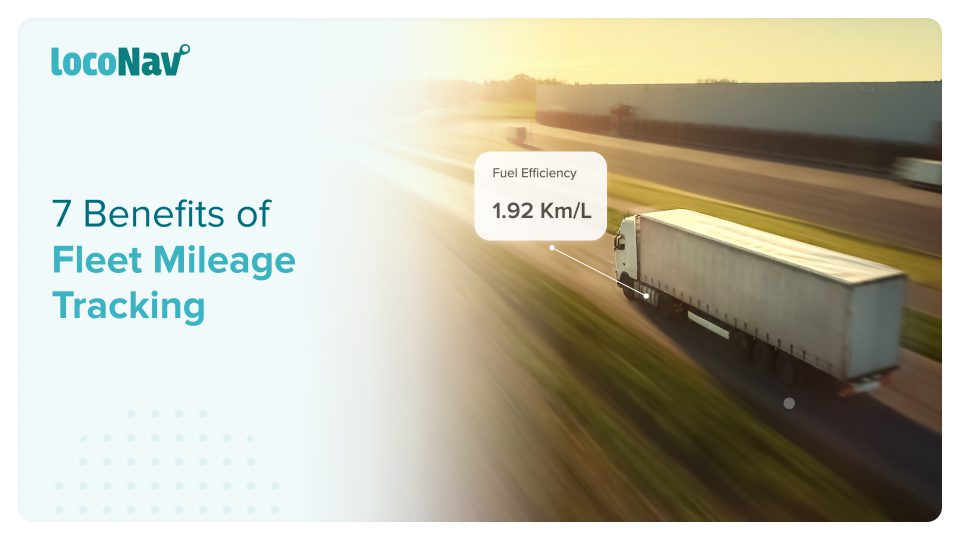 Role Of Mileage Expense Tracking In Fleet Management
Fleet management, irrespective of industry, comes with a ton of paperwork – regulatory documents, training, trip logs, driver monitoring, mileage log, vehicle inspections, the list is endless. However, tracking certain metrics, such as vehicle mileage, benefits your fleet more than any reporting agency.
A mileage tracking system is an essential component of fleet management. Mileage tracking will lead to substantial cost and time savings, regardless of whether the firm provides a fuel card or reimburses vehicle users. After all, a mileage tracker may provide a wealth of information to help you manage your fleet more effectively. Mileage expense tracking has taken on increasingly various formats as the modern workforce has become more mobile and technology has significantly improved.
In this blog, we will discuss what mileage expense tracking is and its positive and negative impact on your fleet operations and budget.
Manage your fleet efficiently with LocoNav's Fleet Management Solutions!
What is Mileage Expense Tracking?
Mileage expense tracking is the practice of keeping a log of miles or kilometres driven. That implies that every kilometre driven for deliveries and maintenance runs counts as business mileage for your fleet. Mileage expense tracking is monitoring money spent on every business kilometre. This information is mostly used for tax deduction purposes.
How Can Mileage Logs Improve Fleet Operations Management?
The most apparent requirement of every fleet is to reduce operational costs. By employing mileage expense tracking, a company can get the following 7 benefits:
Route Optimization: fewer miles equals lower costs, less wear and tear, and lower CO2 emissions.
Compliance: All journeys are documented with exact mileage to the decimal point.
Fraud Prevention: The data provided by mileage expense tracking makes it easier to combat fraud while also serving as an added incentive.
Tax Management: Designed to distinguish between personal and business visits and to avoid benefit-in-kind administration and expenditures.
Financial Reporting: You receive exact KPIs, including trip costs.
Driver Management: Keep track of driver flaws such as harsh acceleration, excessive braking, and speeding.
Time Optimisation: Better utilisation of an employee's time stems from more efficient planning, which includes recognising idle time.
What are the Consequences of Incorrect Mileage Tracking?
Inaccurate expenditure reimbursement is one of the oldest and most prevalent organisational challenges. However, for businesses with workers who drive for work — commercial fleet drivers — a lack of software management systems causes employees to fail and almost invariably results in severe losses for the business.
Here are some consequences of incorrect mileage expense tracking:
In some cases, drivers are required to pay for fuel and it is later reimbursed by the fleet manager. When mileage is tracked incorrectly, employers frequently over or under-reimburse/charge their employees because they lack an accurate means to distinguish and account for these mileage kinds.
When mileage is reported more than the actual numbers, extra mileage and inefficiencies mount up and end up costing a business far more than they are technically required to pay.
If an employee incorrectly records his or her business kilometres, he or she will be denied reimbursements to which he or she is legally entitled.
How can LocoNav's Expense Tracker Help Fleet Owners?
LocoNav is a full-stack fleet management platform that helps you monitor all fleet-related data from compliance to maintenance, GPS tracking, fuel logs, expenses, and more. Analyzing the total cost of ownership for each of your fleet vehicles allows you to combine your industry knowledge with current data to make better-informed decisions about vehicle utilisation and replacement policies.
LocoNav's expense tracker can help fleet owners by:
Keeping track of all expense documents, from depreciation to fuel costs, including recurring charges by using the Documents and Expenses tab on the LocoNav platform.
Uncovering areas where you are overspending and obtaining insight into areas where you may cut costs and generate efficiencies.
Exploring your most pressing inquiries about overall spending and relative costs of various vehicle groupings and types.
Tracking the cost of each car in real-time so that you can respond appropriately to changing market conditions and unforeseeable wear and tear.
FAQ
What Information Does a Mileage Report Include?
A Mileage Report keeps track of the number of kilometres driven in your fleet vehicle for business purposes.
Should You Calculate Fleet Mileage Manually?
Depending on the size of your fleet, you can decide whether to maintain a manual mileage log or not. For a small fleet, it might make sense to calculate fleet mileage manually, but for typically a larger fleet, manual fleet mileage tracking might become a very cumbersome task.
How To Track Fleet Mileage?
Every vehicle should have a logbook in which drivers can track their distance. Fleet managers can keep a notebook in each car's glove box or construct an electronic record, such as an Excel spreadsheet with a separate tab for each vehicle.